>
Skins

>
Cool Devices
Technicalium
You sure deserve it !!
You sure deserve it !!
Redesigned buttons, bugs fixed, components full updated.
Download skin
| | | |
| --- | --- | --- |
| October 1, 2003 by Jakov Sosic | 281515 downloads | |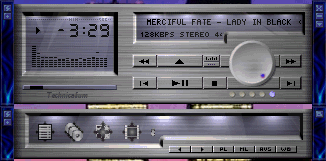 Staff review
Nice first start.
New and improved.Equalizer is hard to operate tough. please fix.
Comments
jaynius - I *love* it. Don't know why the others complain, I find it simple to use and very very pleasing to the eye. If you do make any "improvements", can I give it 6 stars? - March 14, 2003 by Jay Morris
Excellent!!!!!! - Great skin!!! Definitely one of the Top 5 skins for Wa3!!! - September 20, 2002 by Tonci Damjanic
Minor quibbles... - I am sure all of this has been mentioned, already, but my major complaints are the resizing issue, the lack of preset button and I am not real keen on the selection buttons for the playlist, thinger, etc. on the main console. I hate having to hover to find out what a button does. putting the shuffle, repeat and crossfade buttons is iffy, since that means you have to have the EQ open to toggle those items. - September 16, 2002 by No Longer Torn
Volume Knob - I love the volume knob mad props for acutally making it work the way it does. Don't like the fact that it only works inside the knob area, but that's understandable. I do like the fact that it does stop, an doesn't just keep going around and around. - September 12, 2002 by Maxim Corp
Great Skin - Fix the LCD display in the EQ and this one will be a great skin Yes I love Brushed Aluminium stereo components I have 2 Brushed Aluminium Panel Tape Decks one a Classic Sony with Glass Ferritte Heads with a LCD VU meters I use for recording my tapes onto the computer and making my own MP3's. - September 11, 2002 by Gerry Pement
Excellent job... - Its one the best skins I've come across. But there's a minor bug apart from equaliser being very hard to operate. When I place the mouse pointer on "Forward 5 sec" button, the tooltip has a spelling error, it says "Porward 5 sec". Also, please make it resizable and give some lighter shades of color themes. - September 8, 2002 by Anurag Nigam
Hmmmmmmmmmmmmmmm............ - It's a classy skin but as other ppl have said the EQ coul REALLY do with improving and IMO a preset button. The Thinger would be better if the icons were a bit bigger. Despite the niggles the skin was still worth the download. - September 1, 2002 by Barrie North
Your First Skin? - Dood this is a sweet skin, even for a first time. Simple, good looking, and EVERYTHING's skinned. Very very nice. Only problems are the resizing issue and...the EQ is pretty tough to use. - August 29, 2002 by Brian Weider
Resizing? - A nice first start indeed. The equalizer wave window could use some work though; and the placement of the volume knob on the main window could have been executed a little better (It creates an odd shaped LCD screen and doesn't mesh with the equalizer controls). Overall I think it's the best available winamp3 skin though, big fan of brushed metal. but...how do I resize the windows? Is there something I'm missing? That's the only thing that *really* bothers me. - August 27, 2002 by Aeluned ?
Keith - Very nice skin,needs work on the buttons and scale,opacity. Great first skin it's now my primary. - August 26, 2002 by Keith Robinson
Perrty Nice - This is a very good looking skin as it had nice style and colors. I do however wish it had Pl and EQ buttons on the main window. As well the ablity to toggle 'windowshade' mode with the playlist editor. Other wise a very nice skin. - August 26, 2002 by Jordan S
Not bad.... - It's one of the simpler, smoother skins that's been coming out from Winamp3. I do still miss a couple of buttons, and I've also managed to squish the main window and haven't figured out how to get it back. It's not all that user friendly. Still, I like the lines and colors of it. - August 26, 2002 by Hannah Swain
Thank you! - Thank you so much for this skin. OK, equalizer is hard to operate. But all the rest is really brilliant. Thank you. - August 26, 2002 by Flo Bier
Bad A$$! - This is a Sharp Clean skin with good colors and legibility. It does lack some the buttons of other skins, but I like it a lot, and await a more complete version. - August 26, 2002 by edward nigma