>
Skins

>
Cool Devices
T800
WOW
WOW
New and Updated For Winamp 5.523D-rendered by Quad-Helix \\Skin has song memory buttons coded. \\Hold button down for 2 seconds to save song location\\This skin has alot of animations and features that took quite some time to make.\\ Hope you like the skin.\\ The T-800 slighthy varies from the movie but not that much.\\Try to find all the buttons that make it operate.
Download skin
| | | |
| --- | --- | --- |
| February 9, 2008 by QuadHeliX Barber | 256076 downloads | |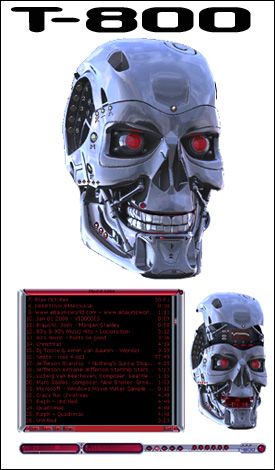 Staff review
The talking head is back.
intricate details, very good work. although the nature of this project might require you to double size your player.
Comments
Excellent! - I love Terminator 1&2; and this skin is brilliant! I'm having fun figuring out the buttons and such, but I think most of all, I just love seeing it on my desktop, hehe. AWESOME skin. - February 24, 2009 by Deanna G
Cool - Like it alot, but, as stated before, a little small (needs to be twice the size).Otherwise, I think it's one of the best skins out there!Keep up the good work! - December 29, 2008 by Kerry Harrison
pow wow - a skull....!!!!!!!! this like terminator i think, that T-800 mean terminator 800,, amazing, but playlist still conventional, but great to you - April 28, 2008 by yudha kids
Love the concept - I love it, and hate it. It is really a cool looking skin, I'm all for skull and cross bone stuff. Only one draw back really is it took me forever to find the hidden buttons. The animations make it worth the download I give it a 4 nice job Quad - February 27, 2008 by Danny Fagan Sr