>
Skins

>
Stylish
T i t a n i u m
Sharp clean & stylish design that fits on any desktop.
Sharp clean & stylish design that fits on any desktop.
Hand made detailed pixel per pixel for a best optical relief.

Perfect look on winamp 5x cause clasic's never dies!

>Polished scratched titanium cover.
>Bright blue electro-active touch screen.
>Smart color scheme display.
>Steel & plastic butons.

-------------------------

Other products by Nemesis:

Microcosmos v70 series
Light Amp series
Epic series
Brass Silver
-----------------------
Questions? comments? special requests?
please to: [email protected]
also visit www.nem-pro.tk for special goods & other cool stuffs.



Download skin
| | | |
| --- | --- | --- |
| January 13, 2005 by Eliseo Quirarte | 1635792 downloads | |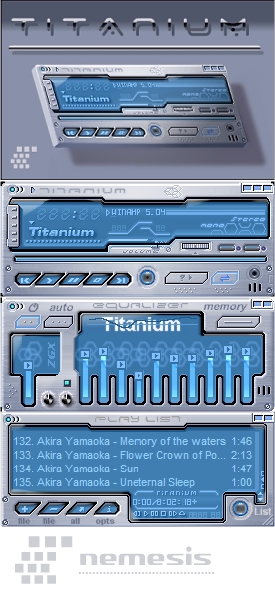 Staff review
It's a beauty
Razor sharp classic skin, great futuristic design, shows there is life in classic skinning yet.
Comments
great skin - I really like it. Especially the coloring of blue and gray, which go well together. - June 5, 2005 by Aaron Boswell
TITANIUM - the coolest skin - May 30, 2005 by delphine sindynata
It's amazing - it's amazing - May 10, 2005 by Fabricio Murillo
Again... - this is one of those skins that people download because the staff give 5 stars, not because looks good... anyway, I don't give a damn! - May 10, 2005 by David Abenza
Hmmm - Its ok but there is room for improvement.... not one of my favourites I must say. - May 6, 2005 by Karen Casey
No - Unhip.. don't like it at all - April 27, 2005 by Pad Lamb
Very good:) - Its a very good skin,when I saw i tooth its a freeform skin (modern):-) Just, i dont like "GENEX" Its a great skin and you should designed genex with 3d,but its good. I made skin too,not like titanium,but i dont now how to change background,text color(...) in library,can eny1 tell me? [email protected] - April 21, 2005 by Nikola Sunajko
awesome! - one of the bestest classic skins ever, and its shiny too!!! hooray for Titanium! - April 18, 2005 by Melanie Angel
Love iT! - I think it would be good looking if you changed the blue color to darker blue! I still give 5 stars! - April 15, 2005 by Andres Jiang
The Best Skin - This is the best titanium skin that I know. Nice work Eliseo, Keep it cool man! - April 14, 2005 by tutung rudy
ivan - er - April 13, 2005 by zeljko pincir
the good`ol classic skin!! - the best skin in a very long time if I could I would give it one millon rating stars!!(asowm skin dude)!! - April 11, 2005 by murray massey
good - como hay que hacer para poder suvirlo, hace un siglo que estoy tratando de subir uno y me rebota lo siguiente: Please submit screenshots that are more descriptive of your skin/plugin. In Regards to Component: AriXilimitado3501(144721) ya nose que mas ponerle al screen!!! mira mi direccion es [email protected] si me podes dar una mano te lo agraderia de corazon!!!! de paso te muestro mi skin y nose compartimos un par de ideas dale? muchas gracias!! - April 8, 2005 by Leandro Cortese
Awful! - Nqh! I'd give it no stars, but I'm feeling happy this morning. - March 24, 2005 by Stoycho Ganev
My review.. - on this skin is only OK.. I really dont understand people that give it 5 stars.. maby 4 but not 5! Maby its a really good player and stuff, but it took me "years" to understand it so I just gave up on it.. - March 22, 2005 by Anatoli Cepeda
Daaaaaaammmn - Very Nice. Can't give you enough credit for this one. And it's true, the classic skin never dies. - March 8, 2005 by - Nocturne -
fr?n - asdfghj - March 6, 2005 by jocke nordin
ayumi hamasaki - ayumi hamasaki - March 4, 2005 by Hamada Katsuo
Nice Skin - Low noice - March 3, 2005 by Micael J_Walker
=D - Mui bueno trabajo, el design es limpo e mucho lindo. Espero los proximos trabajos! - February 27, 2005 by Paulo Antunes
OuterQuest.com - This skin is cool, clear and collective. We at www.outerquest.com give it two thumbs way up! - February 20, 2005 by OuterQuest Vincent
Titanium - Great skin - love the design - would be nice if you could add some other colors to it down the road. Other than this it is truly a neat amp and adds to the ones I have already downloaded. Keep up the good work. - February 19, 2005 by Eugene Edwards
Great skin but... - I think it would look cool in a red or black - February 18, 2005 by GrphixSkinz Inc.
great - hi this nice ! - February 7, 2005 by puneet sharma
Superb. - The best skin in a long time. - February 2, 2005 by Tom Hespero5
Nice Skin - Realy nice design... I like buttons on this skin they are very well done. The colour of the skin is nice. Classic skins can still bi nice done. - January 23, 2005 by Micky Limbahtter
Titanium Goodness - Very simple Clasic skin that looks a bit like a modern skin. I recomend it. - January 22, 2005 by Adam H
Good 1 - This is realy nice skin design. I like the design of the buttons... But I think that I like it more, because I like a blue colour :) Very nice... :) - January 20, 2005 by Micky Limbahtter
Quite cool - Pretty good job, I like it...but numbers could be more...visible :) - January 19, 2005 by Czaroo oorazC