>
Skins

>
Stylish
SynDRome ReD v2
Featured Skin, November 6, 2003.
reD aDDiction... experience syndrome red...extremely disturbing!!> updated with text changes> wallpaper included
Download skin
| | | |
| --- | --- | --- |
| November 6, 2003 by neville dsouza | 148810 downloads | |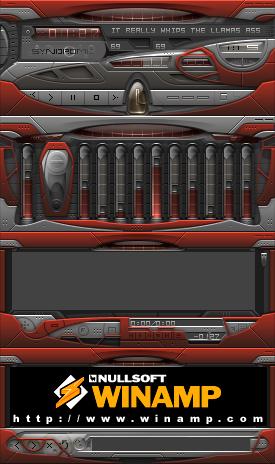 Staff review
Great skin, but.....
The text color is too dark to be user friendly.
Comments
looks good but unusable - Really stylish design But Text in Media Library and playlist is to dark! The Media Library text ist away. Only the higlighted text can be seen. - October 27, 2005 by christian Rosenstolz
Amazing! - I can't believe I haven't noticed this skin before. This one's awesome! - October 30, 2004 by Scott Snively
- July 16, 2004 by Mya Levis
ARTIST! - Neville is a freeking artist!!!! - January 9, 2004 by james morris
woah! - Very nice skin!! - December 11, 2003 by Stephen Jones
rockin - this is some seriously attractive skin, good work my friend. - November 30, 2003 by MAJIK STiK
congratulations - congratulations,it is a very nice skin - November 28, 2003 by hamdy nabil
HELP ME ! ! ! - Have you got 'nothing of emptiness' skin, if you have, please mail it to me! [email protected] - November 28, 2003 by altair4444 .
Nyce! - Yeeees, that's nice! Playlist text should be brighter, but OK anyway. - November 24, 2003 by Lukasz Marciniak
Nice! - WOW! And I thought red was a bad colour. Well, it's not one of my favourite colours but it looks good on this skin. This looks better than those two Bosnian guys that slept with each other. In fact, I saw that Admir guy skipping and prancing down the hallway in school. Man! He really is gay! I told that girl that he hates about it, and she freaked out and laughed her ass off at the whole thing. Those guys got some issues. Anyways, you did a hell of a good job on this skin. Keep it going! - November 20, 2003 by c/o '04
Kick Ass - thats a nice ass skin, i like it mostly 'cause it blends in with my windows scheme of red and grey... i load the main windows, playlist and avs and let it go while i do other things, its pretty sweet looking i hope you keep up the good work 'cause of all the hundreds of skins ive tried this one doesnt bore me :) keep it up!, -RaW - November 19, 2003 by RaW !
no freakin wayy !!!!! - this is a major mind freakin skin one of the beast thet i have erver see - November 15, 2003 by t.c2004 shwartz
Sweet - You have the best textures of any skinner I've seen - November 8, 2003 by James Potter
Amazing!!! - Great job...I liked it!!! - November 7, 2003 by sako joldasov
SynDRome ReD - Simply ReD .......the color choice sets this skin in motion-the controls,visuals ect ect are very very niceee.! - November 2, 2003 by VICTOR QT
YAHOOOOO - AL fin un skin muy chido, no esta tan lleno de lineas y colores como otros, pero tampoco esta tan simple, chido! - November 2, 2003 by Adrian Casta%eda
Awesome - I don't think that you've ever made one bad skin. Totally amazing! - November 1, 2003 by Alex Adamovic