>
Skins

>
Stylish
Symplicipod
A simple skin
A simple skin
just a simple skin with a few bells and whistles :)
Download skin
| | | |
| --- | --- | --- |
| September 1, 2006 by hammer head | 173990 downloads | |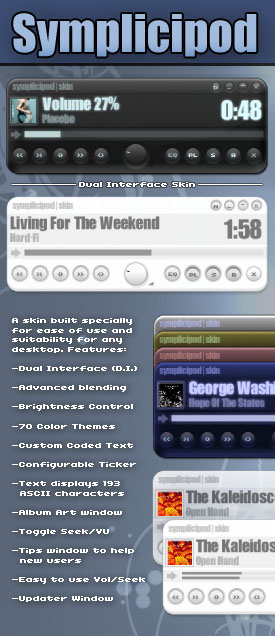 Staff review
Sympli stylish, I love the night mode.
Comments
extra :) - Really cool skin. Very user friendly, very simply, nice for eye. It is not brindled like much skins are, so it is very elegant! - October 9, 2007 by Dejan Kovacevic
Love it! - This is the only skin I've used since I downloaded it initially. Sleek, easy to use, love the colour themes! - May 26, 2007 by Yzz Iphixamendios
Almost perfect.. - I love what you've tried to do here and the end product is almost perfect, especially the night mode! My only gripe is the playlist. It is a too bright and jars with the main window (the main window is simply gorgeous tho). Maybe if you reversed the colors and made the PL background darker with lighter fonts for the normal songs and the brightest being the current? I think it would be hard pressed to find any competition then :) - May 12, 2007 by Raoul GP
Looks good, doesn't work for me - Really wish I could use this skin. Crashes my Winamp (5.33) with Windows XP Professional SP2. I get it flash up momentarily, then the winamp classic skin shows up (although this skin is ticked) - then a "Guru Meditation" error, then it crashes out with an apps error (instruction at 0x7c910e03 referenced memory at 0x1212a60c could not be written). - March 16, 2007 by Ken Rayner
Amazing skin! - It looks great, plays great and its so professional. I cant fault this skin, the day and night mode is cool. Recommended!! - February 22, 2007 by Mikey Sorbo
"Simply" Amazing - Without a doubt, one of the most visually-appealing and user-friendly skins ever! This skin definitely rivals that of the Nucleo Alienmind - the only skin I've used since Winamp 5. Excellent, excellent job indeed! - February 1, 2007 by Dom Toretto
Grrrrrreat!! - Splendid colours and lay-out! But I've found a little bug: I want to show the bitrate and samplerate in the main window, but it's not possible (even though it says so in the configuration panel). - December 10, 2006 by Per Johan Hartviksen
Very Sleek! - Quite a little sleek design with just the basics, and it multiple colors. The simplicity of an iPod, but for winamp. - November 29, 2006 by Andrea Schiefer
Symplicipod - I love this skin with ONE exception: I am a professional DJ, and it is crucial that I know how much time is left on my song. The time remaining is not functional. Other than that, I absolutely love this skin. It ranks as my all-time favorite from those I have downloaded. - November 9, 2006 by Marco Simmons
Best skin i've ever seen...but... - It's an awesome skin, i really enjoyed it, but i just cant find where to disable that Songticker that keeps scrolling near the tray... While listening to radios it keeps popping and wont stop, had to change the skin to listen to the radio... if its just me that couldnt find the place to disable, someone could help me.. thx - October 15, 2006 by Henrique Fingler
Symplicipod - wicked ! - Great looking, simple and functional. is it possible on the next update to include a total playtime / selection playtime at the bottom of the "play list" window ? cheers - September 20, 2006 by four four
Nice - Looks fantastic, but irritatingly no button for Media Library. - September 18, 2006 by damon stewart
Beautiful - Gourgeous, clean skin. Great selection of options, intuitive interface, and the automatic change from daytime to night time mode is coooooooooool. - September 17, 2006 by Xanthine X
Gorgeous - Absolutely Gorgeous, with a cracking Interface. 5* - September 17, 2006 by Adam L
σouπα - σouπαΕλένα ΠαπαρίζουДидюля - September 16, 2006 by David S
Nice design yet blurry - Very nice design but text is very blurry on a notebook. Clean up the text and it is very usable. - September 11, 2006 by Grail Knight
Nice looking skin - Good looking skin, with a userfriendly interface. Too bad the album art display doesn't work for me. (Ain't got cover.jpg's, have them embedded in the tag tho) - September 9, 2006 by Abi S.
Nice design w/ blurred letter-numbering - Maybe it is just my computer but the test and numbering is blurred and looks like the screenshot. Clean this up and you will have a winner. - September 8, 2006 by Grail Knight