>
Skins

>
Games
Super Mario Bros v5
Super Maro Bros. Amp
Super Maro Bros. Amp
If you ever owned a NES, you had to have owned and loved Super Mario Bros. I have created the Super Mario Bros. skin for all the true die hard Mario fans out there that love and appreciate how awesome the original game was. I have made the skin work entirely with the amp itself, having all the parts actually work, as well as even a hidden block in the eq. This is my first serious skin, and I hope you like it. Thank you!
Download skin
| | | |
| --- | --- | --- |
| May 1, 2005 by Nullsoft Classicz | 264421 downloads | |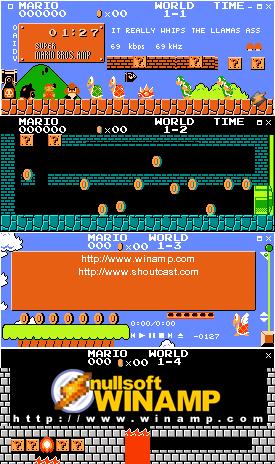 Staff review
The map to our subconcious is drawn on a dot matrix.
I?m on the sycophantic jock with this one. Everything is just right on target; everything does something, usually what you want it to do. Each screen is a different level, starting with Big K's zone at the Mini Browser. There's even a secret coin-bank, and if you're a true 80s kid you'll know where it is. The only possible suggestion I could possibly make would be to make the cursor into a fireball, but only because I this author has me thinking in those terms. Also the main controls dont make themselves obvious, but come on, Mario is obviously PLAY if you listen to your heart.

I'll be expecting allot more out of these things from here on out. This one is going up and staying up. The very definition of keeping it REAL. I'm honored.

Original Design by The Warlock.
WA5 update by Luigi Hann.
Comments
Thats stupi skin - November 27, 2010 by [email protected]
sick - i signed up just cause i thought this skin was so awesome - July 27, 2007 by Dan Sintoni
Definatly Sweeeet - I may have been born in '88 but this is definatly the best mario-winamp rendition I have seen. Keep up the good work, Oswald - February 12, 2006 by Peter Oswald
Ah, Nostalgia - Man, this skin brings back some memories. My only suggestion is that the red-shelled turtle should have been the stop function. Red, stop. Maybe it's just me. Great job. - January 20, 2006 by Carl Weedens
Lotsa Retro Fun - This skin was definitely well thought out. Everything goes together nicely. Nothing seems out of place. I agree with the other reviewer about the flag for the playlist scrollbar. Very nice touch! A custom cursor would be nice, especially over the buttons as they can be hard to determine at times. This is the only reason I didn't give five stars. Overall, though, it's a nice flashback to the Eighties (always a plus with me)! :-) - January 17, 2006 by Chris Fannin
WOW!!! - I feel 6 years old again in 1986. :) This skin is AWESOME! The graphics are GREAT, the creativity is spot on and the bullet moves very nicely across the screen. Love the idea of the flag for the playlist scroll, and the hammer brothers for selecting repeat and shuffle. I have no problem with this skin whatsoever. If you loved the original Super Mario Bros on your NES (or Famicon) you will LOVE this skin!! - November 16, 2005 by Kris Mancuso
Retro Goodness - What else can I say? It rocks, Classic VG goodness mixed with Winamp! A win for sure! - November 4, 2005 by Akito Yagami
Awesome - Very cool. I love it. Everything\'s made... playlist, equalizer... beautiful. Just beatiful - October 26, 2005 by Link _
Mmmm - Beautiful... - August 7, 2005 by Zane Paul
cute - ........ - June 20, 2005 by esther lee
titillating - there is even a level skin for Album List! Thankyou GOD - June 15, 2005 by bobo 666
wow! - Quite possibly the best Super Mario skin ever created for Winamp. - June 5, 2005 by Aaron Boswell
panimocna - fghrwtu65u56u 57665u563yu uh433uht34htr3p4qr rgr454yh54 5y5q4yh - June 4, 2005 by doda helena
OMG - What can I say.. it's just fucking awesome. Download it now! NOW! - May 3, 2005 by Tom Bamford