>
Skins

>
Entertainment
Starsky and Hutch
Burnin' Rubber!
Burnin' Rubber!
Set in the 1970s in a metropolis called "Bay City," this is the tale of two police detective partners, Ken "Hutch" Hutchinson (Owen Wilson), and Dave Starsky (Ben Stiller), who always seem to get the toughest cases from their boss, Captain Dobey, rely on omniscient street informer Huggy Bear (Snoop Dogg) and race to the scene of the crimes in their souped-up 1974 Ford Torino hot rod, telling the story of their first big case (as a prequel to the TV show), which involved a former college campus drug dealer (Vince Vaughn) who went on to become a white collar criminal. Be sure to check out Starsky and Hutch only in theatres March 5th. User interface and Coding by Petrol Designs.
Download skin
| | | |
| --- | --- | --- |
| January 30, 2004 by Petrol Designs | 392103 downloads | |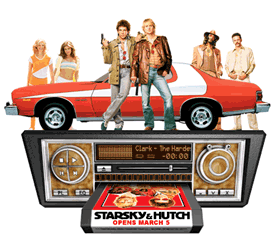 Staff review
For those of you old enough to remember the original TV Series
Check out the movie
Comments
Won't do.... - This is a typical comersial skin. Nice design with a boring look. You'll forget this one very fast... - March 15, 2004 by Peter Manning
Nice - The thing that makes this skin great is the Picutre at the top. Altogether, I think this skin looks really Nice... Great picture, and Great Idea. Very Original. - February 14, 2004 by Scott Kuehnert
well done - i like this skin alot and i cant wait to see the movie. \"ben stiller, you are my favorite mutha****er!\" haha - February 4, 2004 by GOOMBA STOMPER!