>
Skins

>
Cool Devices
Sony Ericsson
W595: Sharing My Music
I Love sharing My Music
Tired of head-bobbing all alone? Now you can share the beat with your coolest buddy and of course, burn the dance floor! Sony Ericsson W595 gives you the option to plug in an extra pair of headphones and get jiggy with it! The good news is that you can sample it all right here with this exotic new Winamp skin! Featuring as avtars are two adorable music aficionados. The lassy is your typical pretty girl next door and the dude is quite unmistakably a quaint rocker. The skin in all is vibrant, sleek, and uber-cool. Engraved with the black and red AC-DC logo, this skin is sure to increase the slick quotient of your desktop! Come, make a style statement! You know you wanna try it.
Download skin
| | | |
| --- | --- | --- |
| February 3, 2009 by prixa p | 290749 downloads | |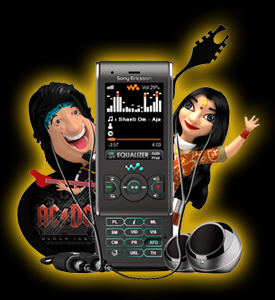 Staff review
sony ericcson w595
Well the w595 is a nice mobile phone and this is also a nice skin. The graphics are done in a nice manner with anti-aliasing, so ensure to have desktop alphablending turned on.
Comments
hi - hi hello like this skin winamp how can i upload this skin - August 24, 2009 by annyca hwang
Very Cool - Gostei bastante. t de parabns. - February 19, 2009 by Gabriel Barcelos
wireless wonder! - This all-new mobile phone lets you enjoy the best of imaging, video and multimedia experience. If you love music and like to rock your world, this phone is designed for you. Sony Ericsson W595 let you enjoy the best. It is equipped with some fabulous innovations for music lovers. - February 12, 2009 by Ashish Saraf
Cool and stylish - The design is super cool, especially for music geeks like me. It has a very youthful feel to it, and the two avatars provide a perfect fusion of East and West. Whatever your taste in music, you will feel perfectly at home and loving it with this ubiquitous skin. - February 10, 2009 by Prem Ninan
wow..looks lively - a great combination of mobile phone model with winamp capablities. The guy and girl in the bacground looks like if sharing there music with each other. surely would like to check out this mobile phone model at my nearest store. - February 10, 2009 by Preetesh Chouhan
Super cool - I love the super cute man and the woman dancing around the phone. The ethnic touch makes it really cool.. Good job.. - February 10, 2009 by Chanda Gohrani
Simply Fabulous! - I love the way these two avtars jus' jazz up my desktop... i also like the sleek mini version... Am listening to AC DC and I am thinkin' it can't get cooler than this! hot thing this... - February 4, 2009 by pavi sirius