>
Skins

>
Nature
Snowflake v5
let it snow
let it snow
This skin came first in the skinlove Winter contest.

Check the snowflake.txt for more details. To do this pres ALT + S while running the skin in

winamp.

Original Design by simon snowflake.
WA5 update by Jones.
Download skin
| | | |
| --- | --- | --- |
| December 9, 2006 by Nullsoft Classicz | 220367 downloads | |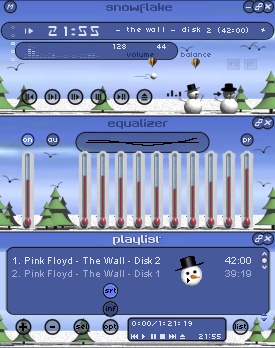 Staff review
And the winner is.....
Nice skin to match you winter desktop. On second thought, I hate winter, give me summer any time. Even so, very nice skin, well thought out and executed.
Comments
Cute - I don't really like winter but this is cute and clear. NiceMilla Valkeasuo 13.04.08 - April 14, 2008 by Milla Valkeasuo