>
Skins

>
Entertainment
Smallville Metropolis Winamp3 Skin
Featured Skin, September 18, 2003.
Under the glow of red kryptonite...strange things are happening in Metropolis. Clark is not himself - he has broken Lana's heart and seems to have turned into a different type of person. The Metropolis skin brings you into the flipside of the WB's hit show Smallville. Click on the news ticker for updates, and catch the season premiere on Wednesday October 1, 8/7c to see what unfolds.
Download skin
| | | |
| --- | --- | --- |
| September 16, 2003 by The WB | 196645 downloads | |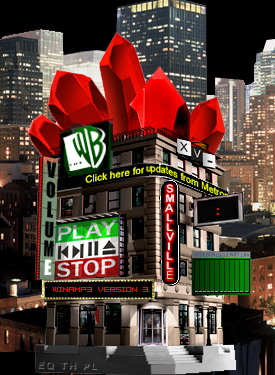 Staff review
Smallville returns...
for another season of adolescent super power mayhem. See what the WB has in store for you with the Metropolis Winamp3 skin.
Comments
hmmmm - Crazy, I just can't manage to like this skin cause its so BUSY!?! There is too much focus on the image, and not enough on winamp's functionality. It takes too much thinking and time in order to use. - October 30, 2003 by piekid _
Really nice - I like to be optimistic when writing about skins, but with this one you don't need to be. This skin is completely amazing. One of the best! - October 29, 2003 by Will Marshall
smallville metropolis - veryyy cool ;) - October 12, 2003 by heloisa rissi
Can you say original? - I can't believe this one didn't get 5 stars on originality. I've never seen anything like this before, it's an awesome skin! - September 25, 2003 by mike tores
Paint the town red - This is a fun skin. Reminds me of Metropolis - September 25, 2003 by bob boberson
movie theater - it's good - September 24, 2003 by tony ulloa
good idea! - I've never seen a skin like this before! Good work, but maybe too big... - September 22, 2003 by alex berri
smallville rules!!! - hey, anything smallville i like. but i gotta say, the lex luthor skin is way better. - September 17, 2003 by Jenn Ramos