>
Skins

>
Entertainment
Smallville Digital Album
Smallville Digital Album
Smallville Digital Album
Relive your favorite Smallville moments! Whether you love the theme song by Remy Zero or new music by Von Ray, or the Flaming Lips, the Smallville Soundtrack CD is amust-have for every fan of Smallville on The WB.Take a test drive with the Smallville Digital Album Skin. The specially programmed XML drawer will update you with the latest music, news, videos and much more. To kick off the launch of the Smallville Digital Album, Von Ray has given us their single "Inside out" for promotional download. Check back often - you never know what you'll see!Want even more? Change the CD album art to showcase your favorite Smallville character - Clark, Lex, or Lana. Cool functionality lets you print it out right from the skin.If you like what you've heard, why not buy the album (releases Feb. 25th, but you can pre-order now) and enjoy all the tracks. You're just a click away from getting your own copy.
Download skin
| | | |
| --- | --- | --- |
| February 5, 2003 by The WB | 182692 downloads | |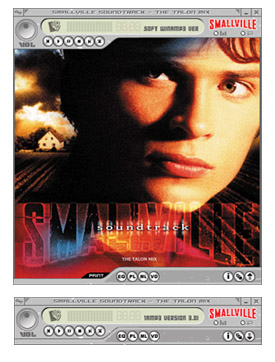 Staff review
Come for the characters, stay for the music.
The perfect tie-in to the Smallville soundtrack. Grab the skin and then check back weekly to get more songs, printable posters, and more. Cool.
Comments
It's good - i think this is a greatest skin in winamp.com - May 28, 2005 by wan khalil
well... - I love it I've been into supermanfor quite awile I just want to see some other character that would be great!! - July 25, 2003 by ashley keenly
Its okay..... - but it gets a bit boring after a while. - June 4, 2003 by Amy Garrard
Nice.. - it's nice.. but I think it's still looks standard. - May 31, 2003 by Sandhi Prajaka
cause shes hot - 5 stars cause that b!tch is hot! - April 23, 2003 by Kelvin Marrion
Good but... - I've been using this skin for a few days and it got old pretty fast. There's nothing special about it. - April 23, 2003 by bob boberson
very good - very good album!!!!! - April 13, 2003 by elisa jaakkola
Smallville - I love Tom Welling ... there's no greater way to appreciate Winamp than actually loving what you use as your skin! - March 15, 2003 by Melissa Ramai
smallville - a great skin. it's like the movie. - March 15, 2003 by hiladakis george
Dunno - Its great! - March 10, 2003 by Daryl Goh
Good. - Great skin. Easy to control. I'm really not a big fan of "advertisement" skins, so once I figured out how to minimize the cover art I loved it. ~ Just a Chic ~ - February 7, 2003 by Sara Campos