>
Skins

>
Stylish
Slick ReduX
Its ten times the slick!
Its ten times the slick!
I finished this skin for GaretJax, I finalized this skin three times before I thoght it was worthy. I kept most of the original design with some of my own tidbits added. I hope you enjoy this skin.Here's to you Jax.
Download skin
| | | |
| --- | --- | --- |
| September 22, 2009 by mike db | 3806188 downloads | |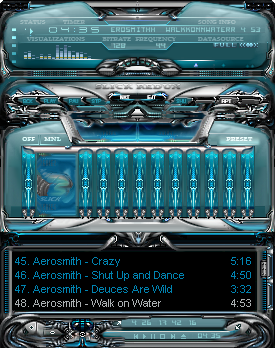 Staff review
I'm speechless...
You know, I love this kind of skins, full of details, lots of things to play with. Excellent job, great colors. Thanks for this great submission.
Comments
Love it - March 9, 2011 by Tommy
nice - January 17, 2011 by tweety
LOL for a second I was all excited to see a great skin by someone other than Jax :X Nice work, great colors, good lines, user friendly, A - December 14, 2010 by Forever Chaos
06041993 - December 2, 2010 by [email protected]
ne morem si namestiti radiaposlušam v živo yu folk pop - November 4, 2010 by Ivanka Kreft
good skin man. it makes winamp look like some sort of Quake heads up display. ^^ - September 13, 2010 by [email protected]
I like it - September 1, 2010 by [email protected]
nice - August 23, 2010 by [email protected]
thank - August 20, 2010 by Didi Rusdiant
Thanks for making one hell of an amazing skin. looks freakin awesome on a 56" HDTV lol - June 10, 2010 by [email protected]
) - May 10, 2010 by [email protected]
thank - February 20, 2010 by [email protected]
hj - January 29, 2010 by [email protected]
nice - January 19, 2010 by [email protected]
ok - January 13, 2010 by [email protected]
Good skin! - January 1, 2010 by
wonderfull - December 15, 2009 by Eskimo04 S
love it - November 25, 2009 by lilmizz.swagga
amazing!!!! - November 21, 2009 by avinewman08
i like this - November 7, 2009 by mandapanda460
schoon en zeer modern - October 31, 2009 by mister_kinky
the color is cool - October 28, 2009 by lee.thomas4890
awesome - The player window is great, the equalizer need work.4/5 - October 12, 2009 by bravetrash