>
Skins

>
Computer/OS
Skinner Atlas
The long awaited Template is here, now WA2.9 compliant.
The long awaited Template is here, now WA2.9 compliant.
Before you say that this skin is ugly: it is not a skin, it is a template. And reading the readme.txt is a must (at least the beginning of it).Did you ever want to know where the Lost Ocean of Monoster is? The Nonbitmap Fountain of Youth? What the capital of Resize is? The maximum height of the Clutterbar Range? All this information is now in your pocket! I hope you find this template useful - I tried to include every component and every active area as precisely as possible. Suggestions and bug reports are welcome.It includes a cursor copying utility by skinme!: CursorMultiply.Remember that the main publishing site for this template is www.1001winampskins.com, updates and bug-fixes are published there first.
Download skin
| | | |
| --- | --- | --- |
| May 12, 2003 by Jellby _ | 33116 downloads | |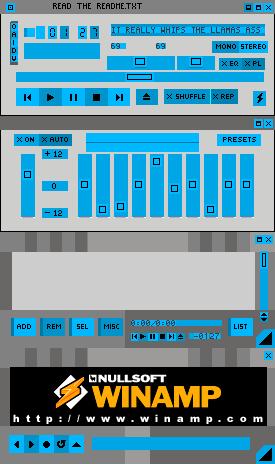 Staff review
It has finally arrived
This skin is not ment to be pretty, stylish or something like that, it's a template and it serves its' purpose well !!!Now WA2.9 friendly, you have no excuses now not to update !
Comments
love it - June 7, 2010 by Rukasuzu Tarukob
Very handy and helpful. - Worked quite well for this noob to skinning. - July 5, 2007 by Sloppy C
Very very good, but need updates - This skin has templates that helps a lot, my last skin was build with its help and I finished it in record time (5 days) with pretty good results. But it´s a little old because Winamp 5 or greater has brought new features, like the winshade button in general windows and the colors added on genex.bmp. - May 3, 2007 by Wilian Souza
godsend - Without this, I may not have made it through my first skin, making it the most influential skin to me. Enough said. A must-have for skinners. - August 29, 2005 by z l
thank you - thank you for this beautiful help! for me it is much easier now to create a new skin. also your description for the skin parts is very helpful! - June 14, 2005 by Paul Popowiczyk
simply wonderful - Wow, i think i'm in love. This skin helped so much. thx a million. - January 6, 2005 by stephen paulson
Handy indeed - This is an excellent tool for any skinner This thing helped me figure out a whole mess of tricks and such when I made my skin - July 11, 2004 by Kel Siros
truly... - a valuable weapon in any skinner's arsenal... - November 27, 2003 by Alex Luu
The very useful but awful skin - I don't rate it with 5 stars because its appearance, but it's the most useful skin I've seen. - November 20, 2003 by Dragon Mycen
Nicely done! - Okay...this guy might inspire me to become a skinner. Its simple, to the point and colourful. I tried doing a "Jackass" skin a few days ago but it looked crap. Anyway...back to this skin. As I said above, good, simple, to the point and nice use of colour. Quite old school-ish. Love it. - October 7, 2003 by Pete Morton
Easter Eggs!! - so many little tweaks you can do with winamp after reading the readme - July 23, 2003 by deductive reasoning 3367
Yer Good - Thanks. Yer good, ya know. - January 24, 2003 by Dael Franke
Fuuugly... - "this isn't a skin, it's a template" "Awful! - worst skin ever" don't ya looooove people who actually read what you write? :D Ok, that was bad of me, anyways, this is a must for new skinners and old alike, in combination with the tips and tricks publication, you are BOUND to discover something you didn't know about in the sea of bitmap joy! - January 9, 2003 by ~dimichan ~
THIS TIME I DIDNT READ IT! - last time i said it was great because i read the authors comment. but this time i forgot to read it and now i think this skin sucks! - January 9, 2003 by xenosomething ...
This is UGLY!!! - THIS IS THE WORST SKIN I'VE EVER SEEN IN MY ENTIRE F***ING LIFE!! ;) - January 9, 2003 by 883 [breed]
No Britney?!? - Dude, this skin is totally ugly - it looks more like sinew and muscle than a skin... Oh yeah, it is the sinew and muscle below a skin... Good work Jellby (and skinme!) - this template is high contrast without being nauseating, and the readme file explains everything well. Anyone learning to skin should download this before starting - it will save them many hours of frustration figuring out the quirks of WA2 skinning. - January 8, 2003 by John Sullivan