>
Skins

>
Compact/Utility
Simplistic Vision 2
Version 2.1
Version 2.1
I finally got around to making this skin fully compatible with Winamp 5. There were really too many things I fixed to cover them all, so I\'ll cover the main things. I fixed the font rendering problem introduced in WA5 (fonts are now the correct size again),components are pieced together better, volume/seeker sliders are new (and actually work well now), added a custon component close button (forgot the first time around), the ML is themed as best as I could really, also added minor UI effects throughout the skin. This is attempt #3 trying to upload 2.1, hope th db works this time.
Download skin
| | | |
| --- | --- | --- |
| January 22, 2003 by Drunken Master | 283408 downloads | |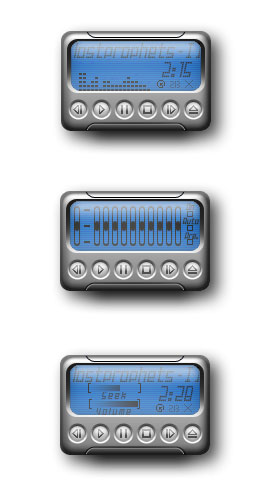 Staff review
Simplistic renovation.
Although it looks more like a new skin. Nicely done, equalizer and thinger are on the main (go look for them) and the other components are also skinned.
Comments
Nicely Done - It's compact, looks good and functional. Great work! - April 30, 2007 by Sjon Jones
Nice idea, but... - Lovely idea, neat and clever - but totally illegible. What a darn shame! - February 28, 2007 by Mike Farley
Not all THAT bad - might be personal taste, but i enjoy this skin. Neat and compact, easy to use, but one thing i dont like - make the thinger one of the menu options at the top and the equalizer slide out the bottom. Thats my opinion take it or leave it - August 10, 2005 by jonathan haha
by Drunken Master - 21 - October 28, 2004 by Helena Zimackova
mini excellence - very nicely done. most other "mini" amps out there only have the play and stop buttons, but this artist managed to pull every button off in nearly the same size. A+ work. - June 16, 2004 by Jordan M
Good job - Great skin - simple and beautifull. Keep up the good work. - January 28, 2004 by Djordje Trifunovic
Average - Its a nice skin and works well but for me, it lacks a little spice. This skin is best suited to someone who simply wants to play there music and nothing else. Its not recommended for someone who likes to organise there music or use the other functions of winamp. Good but not great. - November 22, 2003 by Ian Hamblin
reminds me of a pager - easy to use except, it's hard to tell what each button at the top does.. try also making a button for the playlist, cuz i didn't see one? the font for the song titles is kind of hard to read as well, since the glare is right over them, and the font isn't sll that dark. also, try color themes. =) - October 8, 2003 by kko n
Very easy - It's a nice compact and easy to use design. It's lacking a tad in versatility and color schemes, but other than that, if you're looking for an easy to read, easy to use skin, this one might be perfect for you. - September 21, 2003 by Dante _
awsome - its just so little and neat looks sweet good job man - August 15, 2003 by Mark Zippa
very simple and cool - very cool - July 22, 2003 by kyle kulseth
Very Usable - Skins like this don't get the recognition they deserve. This is a great compact skin that looks good and works well, as you as you are familiar with the common controls as some are not labeled (tool tips do help though). My only suggestion would be to add color themes and maybe some feature that would appear in the drop down panel or maybe an expandable side panel. Great job - July 4, 2003 by Dan Winner
Simple - It's simple it's blue, I like it. Although I don't like everything all bunched together forcing me to have that all open at a time. I like to have the main window open plus the playlist editor. I don't need all the rest, but with this I HAVE to have them all open because they're all together. NO! I don't like that. Unless there is a way to not do that, but I don't plan on looking because it is also a bit dark and I really think I decided on the MINIMA skin, yep I've decided. That's my true love for a skin. - May 30, 2003 by Miss Deceptions
Dis Sucks!!! - Well i dont mean no disrespect but try making it a bit more features.... - January 27, 2003 by Ryan George Francisco
Just Cool - It's just cool... - January 26, 2003 by Vladimir Sakovich
well - it what it says. - January 26, 2003 by michael jordaan
Shibby - This skin ownz, shibby. - January 25, 2003 by Andrew Walker
Simply outstanding! - This is the best and yet one of the simplest winamp 3 skins i have seen yet. i was trying to persuade my mates to change to winamp 3 and i think this will get it sorted. Wkd..... - January 7, 2003 by alex b
Great skin... - now how about some color themes and maybe a winshade mode for always on top. I couldn't tell what the tops buttons were just by looking, but at least there were tooltips. Great improvement from the 1st. - January 1, 2003 by P C
Little, but very good... - This skin is little.. and that's good! You can easily hide it somewhere on your screen... - December 24, 2002 by Klaas Broersma
Just great - Simple, small, does everything, not fugly, a very, very good one. - December 21, 2002 by Stef xxxxx
Simple yet 100% functional! - The best!! The best compact skin that is 100% functional... Clear, big font for the song title... i hate it when the song title is bearly visible... Nice choice of colours... it would be better to have some color themes though... and another thing is that maybe you can make the top buttons more decipherable (make icons or sthg) so that we don't have to pause the mouse there to wait for the pop-up tips. - December 20, 2002 by YY Chan
not every skin needs to be fancy... - I love this skin! Its title is "Simplistic Vision," so if you like alien skins that morph into mp3 players, etc., you have been warned that this is NOT the skin for you! The author put a lot of time into a quality, functional skin. 5 stars for Simplistic Vision!! - December 20, 2002 by Rock Lobster
Shut the hell up Yoshiki - If you think this is such shit, then please show us something better that YOU have made! This is a great skin! It looks great, it's minimalistic yet 100% functional. Combining functionality with great graphics is pretty rare theese days.. I agree with YY Chan about the top buttons though -Plague - December 20, 2002 by Linus Brolin
pretty BAsic - This skin is seems quite smooth eventhough pretty basic, just gray and blue - December 19, 2002 by master darkness