>
Skins

>
Stylish
_Scythe
Featured Skin, December 12, 2002.
something clever here.
alright, my first good skin...i put a alot of time into this, and here are some of the features:

+retractable wings
+over 30 color themes
+dual use "function buttons"-right click for cool dropdown menus, left click for mode change
+unique "remote" mode, which cuts CPU and desktop usage to nothing
+playlist that remembers what you opened last
+playlist shade mode
+makes coffee
+just about everything possible skinned

its non-desktop-alpha compatible, but i cant recomend it...i hope you guys like it half as much as i liked making it
Download skin
| | | |
| --- | --- | --- |
| December 11, 2002 by Jared Kole | 602240 downloads | |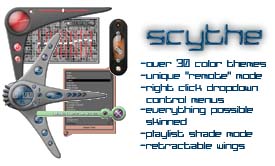 Staff review
Alien skin.
First question: What the heck is it, and does it really fly? Found in the Nevada desert, the government tried to keep this skin for itself, but it was liberated by a courageous winamp skinner. Fully skinned, but some things a little hard to find, depending on the color scheme you use.
Comments
Very Nice - This is a great skin, great variety of color themes and very good accessibility. I give it five stars, because it is the one I use the most. - November 9, 2003 by Jerad Vannucci
Wow... - This thing is really cool. It took me a few seconds to figure out where everything was, but I really dig the retractible wings. It has all the necessary functions right on the main control panel, and even has a remote thinger if you feel you need it. If you like nifty gadgets, this is the skin for you! This is one of my two favorite skins. - September 21, 2003 by Dante _
awesome - This skin is beautiful. comes with all sorts of color themes and the little wings fold in! hehe, love it - September 15, 2003 by MJ X
hhhhhhmmmmm........ - What to think, well i think it looks pretty cool. I like the design a lot but it looks kinda wierd, I like it!!!!!! - August 28, 2003 by Eric Sweet
great skin - thank you very much! - August 20, 2003 by jiang xuanxian
Nice! - If you remake it, give all of your components that wing function and extend the back pull-out thing. Other than that, I love it. Keep up the good(and original) work. - July 14, 2003 by Not Chabizness
DANG! - HOLY SHIET this is one of the best skins i have ever seen i mean DAMN how did ya do it. - June 23, 2003 by Justin Murphy
awesome - wow my first skin where im actually speechless.i love everything you did with.all the buttons.the retractable wings.and all of the themes you have on the skin.love them all - June 21, 2003 by zacheriah swiftblade
Almost there - I thought this was a very unusual skin in design. Really liked some of the colors. Only thing though, it crashes the winamp, tisk tisk. And where the hell was the visualition?? No spectrum eq?? All in all a good skin for those that take the time to figure it all out. Looking forward to the next version!! - June 17, 2003 by Wolf Bringer
best skin ever!! - .... - June 10, 2003 by darkling kask
Too dark - maybe it can be a little more shiny? it make me feels gloomy.. - June 6, 2003 by Ishak Ishwara
Colour themes suck - Otherwise, good design & functionality. - May 29, 2003 by Prashanth Srinivasan
Very Cool - This skin is very cool, kinda "alien" looking, I expecually like how the top and bottom of the skin fold in and out, Very cool...A+ but only 4 stars - May 26, 2003 by Sean Nelson
Great fun - I found this skin to be great with all the animation and easy to find buttons it was realy helpfull as many skins are made with impossible to find things. It looks great and isn't demanding. What else could I ask for? - May 21, 2003 by Zephir Mascord
great skin! - Fantastic job! It has everything I need right there where i need it, so it just sits in the top corner of my desktop with its wings closed playing music. No fiddly menus, no buttons so small its impossible to see, and some of the colour schemes are great too. My only gripe is that it looks sorta pixelated around the edges when placed on a light background (seeing as my desktop is dark, it dosent bother me), but other than that its a quality skin! Well done! - February 10, 2003 by Steve Groves
sweet - Stop crackin' on it!! its a good skin, and sure, its got some tacky color themes, but dont all skins? There are still enough sweet ones to match any desktop...As for the buttons... ok, ill give it to ya there.. but its still one of my favorites and has its home on my desktop! - February 2, 2003 by Someone Special
Completely ACE!!! - This skin is the best I have. The wing controlls are smooth and really stylish. The one thing about is the colour themes i want to see a PURPLE glow not just red,green and blue but on the whole a perfect skin. - January 28, 2003 by Jessica Lane
Not Too Impressive - Yea, there are cool shapes and all, but the color themes suck, the font is hard to read, and some themes don't even have test, it is the same color as the backround, so it's impossible to see what you are reading! sorry man, 2 stars only. - January 20, 2003 by Vinny Mahida
Kool skin - It is really a good idea, good interface and good looking, but has some problems. I.e. the minute counter has only 1 number. The rest, very good. - January 3, 2003 by cactor O_o
Scythe - Awsom!! - January 2, 2003 by Myles ?AYLOR
Sweet skin! - I love this skin, especially the alge coloring! It's excellent, hope you make more...have any others?? ^_^ - December 30, 2002 by Shiva Fyre
Frikin YEAH!!! - this is by far the best skin i've ever seen. i love that it's very easy to use, there's a little tutorial and everything!!! and it's just hella cool looking... oh! and it takes up NO room on your screen (for people with whimpy monitors like me! lol...) anyway, thanks for an excellent skin! i look forward to more!! - December 30, 2002 by Malea Thomas
It's ok - It's a nice skin but i wish it could be smaller. Other than that it's good. - December 29, 2002 by Kirah Brown
Great look - This Skin is awesome! It looks weird has lots of options and I simply love it:) - December 29, 2002 by Halred ben jechi
sea - good - December 24, 2002 by Lapoln Akarakajohnchai
Amazing - Quite possibly the best skin I have ever seen. I like how it can retract the wings, and the remote is nice, too. Too bad people that are too stupid to turn off Happy Mode can't appreciate it... - December 24, 2002 by Greg Webber
5 Star, but.... - I think this skin is definately one of the best on the site. It makes a nice change from things that are square! Anyway wen changed the color scheme it made the wings go wierd - the change color wen you make the wings close/open, but anyway this is a great skin. Although i think that some of the things on it are a little hard to work out or would take a while to get used to. I guess i prefer something like MMD3 cause i like to be able to see everything easily at once. But this skin is still easily worth the 5 star rating - December 23, 2002 by Dave Smith
Suuuuuuupreb!!!!! - It's Great but it crashes winamp when I turn it off - December 19, 2002 by Wiktor Konieczny
Hmmmmmm i like your flo - this is a good skin-not gr8 mind u but GOOOOOOOOOD:) the thing is altho i love the design and originality of this skin, the concept is a little vague, alex was right in saying that the screen was too hard 2 read, it definately meeds some attention (i dont think the rest of his reveiw was qite nessicary but ones opinion is their own ;)) ANYWAY as i was sayin, the design is great and there was obviously a fair bit of work gon in2 this skin.... i give it 4 1/2 (but there wasnt that option so it got 4 lol) it loses 1/2 a mark for the difficulty taken to use the controls....KEEP UP THE GOOD WORK!!!!! - December 19, 2002 by SYKO MOOLI_NZ
Great skin - One more thing: could you add a scrolling songticker for the playlist? How did you get the different skin colors for the playlist, thinger, etc. or were they different screens shots? - December 16, 2002 by P C
Interesting - Great style with a touch of class. Give you many props my man. - December 16, 2002 by Jake Smith
neato burrito - i love color themes so its great for that, its compact..but not TOO compact and its got style..i like it. you can actually use the buttons and i wont loose it on my screen..i like it alot........good job - December 16, 2002 by Evil Flying Monkey From The Wizard Of Oz
WTF - This skin has an extremely cool design to it and a great concept. But...when ever you try to open and close the wings too quickly the player crashes...WTF?! - December 15, 2002 by Jack Blenkinsop
what the... - ugh is it me or did u steal that idea off power rangers.... - December 15, 2002 by Andi wilmikins
SWEET - i love the wings and the +30 color schemes. the remote is tight and it can go anywhere and ill never loose track of it. The buttons work out perfectly for me and I never miss a function. Keep up the gooooood work. - December 14, 2002 by Jared Kole
stupid skin - retractable wings +over 30 color themes +dual use "function buttons ???????wtf???????it's just a skin for mp3 applications not a spaceship or an allien!lol and the design is a few suspect! - December 12, 2002 by lopin poclin
Mostly good - I like this skin. Well, for the most part. Is it really necessary to add something like weeeeeeela! or yipeeee! to everything? It gets annoying sometimes and it overlaps with stuff alot of the time. If you remake this could you please get rid of the extra words? - December 11, 2002 by Karl He
very nice - original design, very smooth and flowing. i like the wings....good job - December 10, 2002 by Brian Nunes
some suggestions - great skin, but it needs some work on the popout bar on the left od the main plane thingy. first, the song doesnt scroll, and second, i cant see all of the slider part... - December 9, 2002 by wesley krueger
Very original - Really nice design and overall performance. - December 8, 2002 by Kathy Stewart
I Like It, I Like It - Very original,simple skin with the features I use most where I like them. A fine change of pace to my fave, MMD3. - December 8, 2002 by c settles
hmm the design and the texture seem... - ...a few beginner.Something original but not really a top skin : / - December 7, 2002 by trevor bull
WOW - i like your style. - December 5, 2002 by Tom Whitehouse
Wow - This skin is very original. While I don't exactly like everything about it, it is a sweet skin. It is very functional, and when I get used to all its functionality, it may be in my top 3 (behind Mercury and MMD3). My favorite parts so far are the shade for the playlist and the dual mode of the "remote" between thinger and eq visualizer. Props dude, this really rocks. - December 4, 2002 by Stripling Rz
Excellent - An excellent skin. Original, and pretty cool. - December 4, 2002 by Squell Dinchthart
ABSOLUTELY INGENIOUS! - dOod...ive been supporting Jared all the way since his winamp 3 skinning days. i also liked his last ones from winamp 2, but you have to admit...this thing tops it ALL!! just look at the sleek design of this bad boy, with foldable wings and all. OH AND THE BEST PART...RIGHT CLICK REMOTE!!! check it out, on the thinger. if you look at EVERYTHING on that skin. you can see this guy know his MAKI. ORIGINALITY like WHOA~! this is straight up eyecandy with all the pretty themes, lol. you gotta love it!! - December 3, 2002 by Rome Kenmepol
WTC? - What the Crud? I have no idea what the heck this is, but I like it. It is easy to use and fun to look at. Something you don't see everyday. - December 3, 2002 by Jeff Wheeler