>
Skins

>
Computer/OS
Scattershot
It's like a treasure hunt for Winamp. New scatter on load feature.
It's like a treasure hunt for Winamp. New scatter on load feature.
Scattershot is a chaotic skin with a button array that, at the click of a button, scatters randomly about your entire desktop. The buttons can also be tiled for easy access. It has a main control window with a main display, EQ, thinger, and various options. Scattershot includes fifteen different color schemes, many of which are based on my past Winamp skins. Version 1.11 fixes a tiny bug in the scatter script that would be very unlikely to be noticed by anyone else. Also, the scripts have been recompiled with the latest compiler, and the skin seems to run a bit faster.

Note: this skin doesn't work in Winamp3, only Winamp5.
Download skin
| | | |
| --- | --- | --- |
| January 19, 2004 by flatmatt | 263505 downloads | |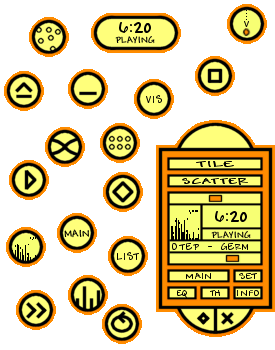 Staff review
Skin for the scatterbr.....whatever.
Be carefull what buttons you push, things going all over the screen.
Comments
the coolest skin i've ever used - you'd think it wasn't practical, but this skin was designed so carefully and completely that it's 100% customizable, not to mention fun, and now i don't want to use anything else. - November 5, 2005 by jo c
Flatmatt - There needs to be a spot just to review Flatmatt! Love your skins...fun & innovative. :) - April 30, 2005 by Keifa Herzog
Amusing! - With so many different skins available, this is to me the funniest so far! How will you ever be able to surpass this one? - March 12, 2005 by Even Lorentz Bergh
Awesome skin - Very original skin. I like it a lot. - February 18, 2005 by Fanya Clops
didn't work in 5.05 lite - installs but shows up as default winamp setup - November 1, 2004 by Kat s
Wow. - I'm not a big fan of modern skins -- I'd go as far as to say I hate 95% of them. This one, however, is amazing. The overall look is smooth, it has a vast selection of colors, and there is of course the scatter button that keeps me entertained. I wish they made more modern skins like this. - October 18, 2004 by Johnny Blough, esquire.
WARNING!!!!! - This skin immediately after download screwed with my entire system. Took me 30 seconds to download the damn thing and 30 minutes to delete it. It is interesting that I came upon this skin by doing a search for the word "bugs"...Consider yourself warned... - June 2, 2004 by doug bush
cool - most definately different but fun n.n - March 26, 2004 by mylinda beach
Neat idea - Five stars for originality and nice colours! - February 7, 2004 by skinme! (wa2skinner)
So orginal! - I really like this skin. It is strangely functional. Nice one! :) - February 2, 2004 by Will Fisher
Ohhh...It HAS color themes - The New scatter on load feature perfects it I THINKS! - February 1, 2004 by Peetr Pan
Sweet!!!!!!!!!very well done...and everything works! - This skin is great! very creative and fun too! the only addition it needs is color themes. - January 29, 2004 by Peetr Pan
dd - dsfsdg dgg dgf ddg ddv edd dfdg ddg ghjh gfh jgf kjg fd fdh jhgh fdf h ggfdfgs hgfh sf - January 25, 2004 by jh yh