>
Skins

>
Animated
Samurai Champloo
Now shut up and enjoy the show
Now shut up and enjoy the show
This is based on an anime that's fairly new so you probably haven't seen it yet, but if you have the chance I'd definately recommend checking it out.
The skin's design is modeled after and uses an image from the show's intro sequence. I tried to keep a more minimalistic and stylish look than in my other skins.
Visit http://www.samuraichamploo.com/ even though some of it is in Japanese.
Download skin
| | | |
| --- | --- | --- |
| May 2, 2005 by Luigi Hann | 134642 downloads | |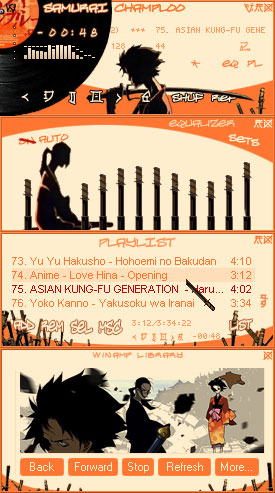 Staff review
Nice and minimalistic.
Not one of the best Luigi's skins, but certainly one of the most memorableones. I love the wakizashi (or is it ninja-to) playlist. Could use a tad more details though.
Comments
*faints* - It's just simply amazing! Colours match, it is just b-e-a-u-t-i-f-u-l-l! *drools* - March 26, 2006 by Tiia Forsman
cool graphics - youre wrong i have seen samurai shamploo and i love it. i've only deen a few episodes, but i like it. what's-his-name on top is my fav character.more please! sho hikari signing out! - September 25, 2005 by sho hikari
beatifoul! - a really nice work! - September 7, 2005 by German Bonfa
Samurai Champloo - SC is one of my favorite animes and you did pretty good with this skin.. It's pretty hard to make a good Samurai Champloo Skin... 3/5 Average - August 30, 2005 by Shrumru Simegato
simply brilliant - what the title says :) - August 24, 2005 by VenQWish ~nyo
... - cool - July 6, 2005 by Yuna Heartilly
yo! good work - good skin. well designed and well organized. great work. but the only thing is that there's only shadows, but looks good. - June 15, 2005 by Aero Tech846
frekin awesome - great skin, simple, easy to find buttons, and stylish, and if ur a fan of the series, this is a must have - June 5, 2005 by Haaris Ahmed
Very nice - this is a very nice winskin im a newb so im wondering how do u get the winamp library to look like the one shown on this webpage - May 30, 2005 by imma airhead
great - wonderfully done - May 24, 2005 by Beverly Huang
gooD! - ???? ????????.~ - May 15, 2005 by kim meejung
Another Work From Luigi!!! - Hey Luigi, this is Yokai From Dev if you dont know who i am! Anyway, very nice, and the only thing thats hard for me to use is the equalizer (for some reason... lol Anyway, nj - May 9, 2005 by Yokai ONI
Yeh man just the thing i whas waiting for!!! - wow man nice... finally someone that made this one, i was also thinking of making a skin for this anime but i just havnt made one jet so.. this is much better, verry nice! - May 8, 2005 by Maarten jungen
It's pretty tight... - I like it. Is there any way to change the fonts of the songs and titles (like as seen in the playlist) to be more of a samuari type font? Anyways, I'm giving you 5 stars in anticipation of the butt-head pimple faced teen goons giving you ones just for the hell of it. I'm no bully! 5 stars. Do some more. It's tight. :) John - May 6, 2005 by john hastings
cool - artisitc and very interesting. - May 6, 2005 by Bob Lawrence
Good - Its a good skin for loosers - May 3, 2005 by Emeric Olah
Very Slick! - A great, slick skin, very expressive. Although I must remind you, it's spelled -definitely-. But seriously, great skin with subtle style. If only it weren't orange! - May 2, 2005 by Phyltre Ryoken