>
Skins

>
Cool Devices
S2 High End
Second Generation
Second Generation
color themes now available, please visit georgeharrison.deviantart.com or trailermusic.blogspot.com
Download skin
| | | |
| --- | --- | --- |
| June 19, 2005 by K Kartal | 3335168 downloads | |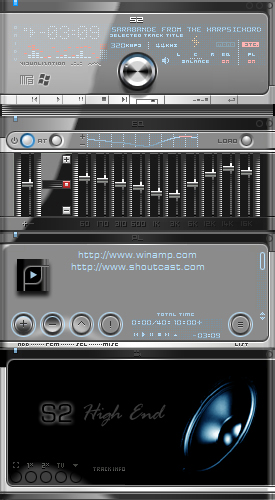 Staff review
Shiny stereo, not too bad. A bit too much gray though.
Comments
no, this skin is a small, very little option :( - February 6, 2010 by [email protected]
..yes! - This is one of my favourite. Excellent work! - August 6, 2009 by CLA r
Kickass - I like the look of this skin a lot, one of the best Ive ever seen. But there is one thing, why on earth I cant resize the main window xD - May 24, 2009 by matiasyli
That' s... - ...very, very, very... good skin. It' s also. I think that, this skin is the best one I ever seen. I hope that my comment is written in english correctly... I' m from Poland... ;P - October 3, 2008 by Patryk Jezierski
wow - Well its more like a stereo system. - August 10, 2008 by Rishabh Tiwari
it,s great - are a perfect design - July 4, 2008 by Nagy Tibor
, - asd - April 3, 2008 by faruk yavuz
.. - good - March 6, 2008 by Park youngmi
OK - this is good!!! I think... - March 1, 2008 by John John
great!sophisticated - continue to develop better designs,yet it's the best i've seen so far..... - September 5, 2007 by stewart alvarez
oki - to bardzo dobre bye - September 1, 2007 by danny segieta
sasa - cool - August 23, 2007 by sasa sasa
I just wanted to rate it ! - I just wanted to rate it ! - July 3, 2007 by Kris Lee
Great ! - - May 17, 2007 by Rabbit Lu
Rather Spiffing - Lovely skin, well done. Err .. too gray, that's the style of the skin, that's like saying the Queen is too British. Silly man - October 23, 2006 by Bryn Thompson
* - * - October 3, 2006 by mihmih mihmih
:(( - I absolutely love this skin except maybe im a retard and cant find a setting to make it bigger so i have to give it a 4 bc its too small for me to read.. dude make a bigger one and i want it!! - March 8, 2006 by Jenna Gray
manieczki - JhS24pCcTKZJ - February 26, 2006 by Leon Leonek
LINDA - It's look high - November 27, 2005 by warat sirivechaphun
S2 High End - Its super skins - November 27, 2005 by radek grabowski
WixXxen - Der iss Gammelig Der Hurensohn Genau Der Jude Der - November 16, 2005 by kai krickan
WoW WoW! - Thrum Up!!!!! - November 11, 2005 by Watthanachai Paisarnchit
just clean - so clean, so simple I love it!! - November 8, 2005 by rock dog
WOW - i have a lot of time using winamp in my life, and ive never seen a skin like this one, it is so coolll wow the volume and the cursor omggg i will give you a 10 out of 10 - November 3, 2005 by jonathan morales
.GOOD. - I really like the volume controler and the cursor. - November 2, 2005 by DIANA nguyen
disappointing - Gray? Why are you people always afraid to use something more than plain grey color? It gives a skin that irritating cheap look. The only good thing about this one is the stylish frame, eq and the buttons on the playlist. Everything else kinda sucks. But the thing that actually compelled me to write this is actually the pathetic lack of a progress bar. S1 was a pretty good skin and i very much liked it, but to use it i had to edit it\'s components to improvise a progress bar. Which is, if you ask me, the main purpose of the main window. I really don\'t want to bother with that again. That\'s a big pretty volume knob you have there, but not a good reason enough to hide the progress. The skin needs some more adjustments. - November 1, 2005 by Matija L.
niceeeeee - i would give it 6 stars if they had a progress bar visual. and color themes. buttt its alright i like it. - October 30, 2005 by Mark Mariano
Great skin... but needs some improvements - Very Professional looking. Just needs to have some improvements for better functionality. 1. Progress bar needs to be visual. (I was thinking small blue dots to match the background without ruining the look of the skin. 2. The text needs to be bigger under the [ADD] [REM] [SEL] [MISC] [LIST OPTS] buttons. You can hardly see them. 3. Media Library is a little bland. Doesn't really match the rest of the skin that well. I hope you take these into consideration for the next version. Even with the list above... this will be my main Winamp skin for a long time. - October 26, 2005 by Eric Sievers
Kibly - a very beautifull skin - October 26, 2005 by biaunie nicolas
Almost great - This is a great skin ruined by a gimicky simulated glare. Why is there glare on a skin? Ugh...Without the glare this is a great skin and I'd give it 5 stars, but the glare ruins it for me. I hope the creator reads this and makes a new skin without that glare. A piano black version would be nice too. - October 25, 2005 by df df
super gut - einen besseren hane ich nicht gesehen - October 25, 2005 by Dark001 loller
Simply Perfect. - i'd call it love on the first sight.beauty in simplicity.Great Skin. - October 23, 2005 by Muhammad Ahmad
my review - This skin is buetifully made its about the best I've ever seen right size colors I think. For some reason it reminds me of like WMP though Iunno grade job though. - October 22, 2005 by Kurt Miller
dffvfgfdf - fbsdcfasdacadas - October 21, 2005 by sanket patange
So good - Very clean, good detail.. some buttons are hard to see at higher resolutions, but thats always the case. Jus a few glitches, but overall very solid feel and good looks, I especially like the mouse, looks like it was modeld after, if not taken from the game Star craft. Very nice... good job! - October 15, 2005 by Sparks Gooding
good - very good the skin ;P - October 8, 2005 by Henrique Boeing
Thoughtful artistic work! - An S2 "stereo system" with chromed buttons and central knob, featuring an electronic, lighted dot-matrix display beneath a frosty protective cover. A perfect rendition of a stereo system. However, I was expecting more funky layouts instead of the usual Winamp-like stack-above-each-other windows. Nevertheless, worth the download! - October 4, 2005 by nchua Chua
i'm gonna use this!! - need improvement.. but potentially this is a GREAT skin :) grey is a CHOICE! but effectively seeking bar and the bitrate infos and others are UNREADABLE!! even the time counter is not so visible.. but this are just little easy adjustments.. IMHO the equalizer needs a litte bit touch of "style" but at the moment is a DAMN GOOD classic skin! keep on this way and you'll be great! ^^ - October 1, 2005 by Calcifer asdasd
Ummm... - Well, it is really beautiful... not too clear though. Volume and seeking bar are impossible to use. - September 27, 2005 by Nicolas Radwan
Love it - I don't care what the staff review says. I love the grey. It's real slick. - September 16, 2005 by Viv T
Awesome - This skin is CooL, Great, Awesome! It looks perfect! :D - September 14, 2005 by Michael Szalajko
stylish - A really stylish and worked thru skin, but my eyes skip the time and vu-meters.. they are only barely visible. - September 13, 2005 by Henrik Mj�berg
Polished and elegant - Polished and nice skin. I like the dark,greyish color. I hardly can see the buttons and other details--a bit blurred and small. But again, I still recommend it with high praise. - September 13, 2005 by Archimedes Lachica
superb - Podobaja mi sie ttego typu skiny. GRATULACJE!!! - September 8, 2005 by Lolo LoloYoung
Shiny Smoothy - Almost complete. The Minibrowser is not skinned though - September 7, 2005 by zentinal zentinal
Congratulations - Too greyish ? I like it this way ! I'll use this skin, it's a great one. And comfortable, albeit the lack of clarity with the commands, a standard weak point to most Winamp skins, except a few like MMD3 - September 5, 2005 by Philippe Fromont
Nice skin - It's cool that somebody tries to draw realy clean and nice look skins yet. - August 27, 2005 by Gray Dark
I really like it. - Should be able to change color and windows size. - August 25, 2005 by Roger Bellinger
nice - i like him - July 30, 2005 by tal levi
Awesome! - This design is damn stylish and the first skin in ages that makes me wanna grab it from the screen! Fantastic concept! - July 23, 2005 by Florian Zeh
very cool - nice job - July 17, 2005 by przemek pazdyk
Great! - This skin features a look and design comparable to that of the modern skins. The silver color is an excellent color. there is a little difficulty when turning the volume up or down and when fast forwarding because the status bar is missing. other than that, this is an excellent skin. - July 5, 2005 by Edgar Hernandez
You gotta love it! - I've been using Winamp for some time now, and this is tha s**t! Xcellent shiny, metallisch and high-end colours have been used. If this could be bought in stores, i'd buy it immediatly!!! Keep up the good work. - June 29, 2005 by Alex Israel
Shine - Looks quite good. The shine is cool. I can't seem to find the exit button. Is it that blue thing? But yeh, alright skin, not the most user friendly though. - June 20, 2005 by Tim E
Well done - Well thought of colors. Clean and un cluttered. Almost minimalist but with a metal feel to it. XMMS like it very much. Thank you. - June 20, 2005 by Cortes Banks
Great - I really like the OLED type display. The Video window needs some work. - June 19, 2005 by Orlando Sanchez