>
Skins

>
Retro
ROYAL RSTD
Tons of rusted metal with a twist of Futuristic displays
Tons of rusted metal with a twist of Futuristic displays
My Third skin published! This is not one of my best skins (sometimes i think its awful) but i like it mostly because its simple. Again i used a rusted texture because rust is never enough for me, i just love this texture. This looks like a futuristic device heavily used, i included tiny green screens to make it look cool.
Download skin
| | | |
| --- | --- | --- |
| November 5, 2005 by JuaNN Vendramin | 362501 downloads | |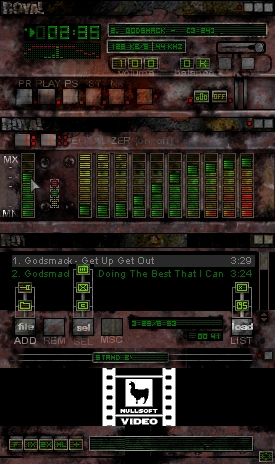 Staff review
Double wow
Oh, I like this even more than the other one, more lovely rust but the displays really set it off, excellent work.
Comments
nice - cool skin :) - September 13, 2009 by Hiena88
awesome - I really love this skin. It's actually one of my favorites. The only thing I dislike about it is that it's missing a dragable slider on the seeking bar. Other than that, great job! Rust rules. - July 14, 2008 by stormsiren 609
Really Rusted - This skin is designed to be rusty, but JuaNN Vendramin has gone to far. This skin should rust away - February 28, 2006 by Tom Jones
One of the best - This skin is so unique and the whole rusty looking is so GREAT. - February 25, 2006 by Rory White
I like it - I find the way it looks worn out and old looks really awsome - February 2, 2006 by Tyler McLean
Just plain awful - Why on earth does this have over 86,000 downloads? This is horrendous. You can barely even distinguish where the buttons and labels are on interface. The coloring just seems splotchy and random. - January 26, 2006 by Aaron Boswell
wow - this is a vary good skin everything about it is great... all i can say is WOW - January 21, 2006 by bio hazard
Congrats! - Congrats on the highlight! As I told you before, I like this one, specially the equalizer. - January 12, 2006 by Veronica Mogni
Great skin :o - This looks like...WOW I really like that EQ and the rust is cool too :o - January 11, 2006 by Alex Popa
It is cool - It is one more which excellent work has pleased me ROYAL RSTD 2 ROYAL RSTD I think that you should to try do modern skins. They are more popular. You are really talented But I cannot understand why you skins do not become popular - November 18, 2005 by Bahmet John