>
Skins

>
Sports/University
Red Star C Zvezda
For all Red Star fan
For all Red Star fan
The best Serbian club
Download skin
| | | |
| --- | --- | --- |
| November 6, 2003 by R Gajic | 40289 downloads | |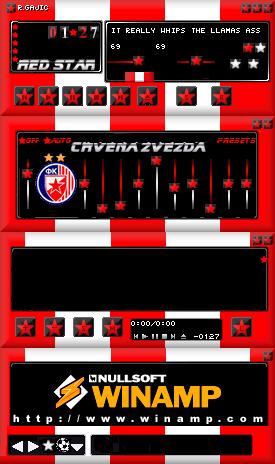 Staff review
Giant red stripes on Winamp!
This has a really nice overall feel. A bit of 3D shadowing and the EQ sliders really make it a strong one. -fm
Comments
vaks - Zvezda mi je sveee...to Majstore - May 29, 2007 by vaks reks
SRBIJA DO TOKIJA - ZVEZDA JE ZIVOT OSTALO SU SITNICE - March 15, 2006 by Luka Stodic
WHAT CRAP- KOJE SRANJE - OK nasi ste. ALI MNOGO SMO JACI PARTIZAN.PARTIZAN.PARTIZAN.PARTIZAN. - October 10, 2005 by Simon Jovanovic
SRBIJA_DELIJE - SRBIJA SRBIJA SRBIJA SRBIJA SRBIJA SRBIJA SRBIJA SRBIJA SRBIJA super skin!! pravi vise srpskih!! - May 25, 2005 by Aleksandar fjaksdf
winamp - i like the club - March 5, 2005 by Hazim Zdralic
partizan ruls - Sve ti je to super ali je partizan zakon napravi jedan i za grobare ipak smo mi ve?ina P.F.C. - July 19, 2004 by Miodrag Brkljaďż˝
Nice nice - Nice one but... It's too easy... Can you make modern skin red star ? _________________________________ Have all ***** Stars like your on skin... Deya... - July 8, 2004 by Deyan Yankovich
Delije! - Ovo si odlicno uradio care, ne znam kako si ovo napravio ali ako bi mogao da napravis jos koju verziju! (Ovo odlicno izgleda,SUPER, samo kad bi se dugmici play i stop malo bolje videli) - March 22, 2004 by Dynamic Dynamic
CRVENA ZVEZDA ZAUVJEK - Najbolji tim na cjelom svjetu.....to care!!! =) mwa - September 29, 2002 by izgubljena .
Too bad Mile left Crvena Zvezda - But even without Milenko Acimovic, they're cool, and so is the skin. - May 25, 2002 by D'Arcy Chapman
ZVEZDAAAAAAA!!!!!! - Zvezda is the best Yu football team!!! - April 28, 2002 by Paul Ignatiev
All pro Red Star - A fan from Rome: "After a very long waiting finally the best worldwide skin!" - April 19, 2002 by Andrej Tchmil
Zakon - Najbolji Skin, Najbolji Tim, Najbolji Ljudi.Pozdrav svim Srbima preko celog sveta.Srbija Do Tokija. - February 1, 2002 by Djordje cetnik
Hrvatska do Zemuna - skinovi su ti u kurcu ko i delije - January 23, 2002 by Dejan Oreskovic