>
Skins

>
Cool Devices
Qwest V2
The Highway Q v.2...
The Highway Q v.2...
has a brand new look and some hidden features. See the inner workings of the skin with the Press of a special button on your keyboard. Check out the new color modes in the menu area. It's an open road, a place to chat, check out tunes, get great gear and hook up with your community. It's all here - enjoy the ride! At Highway Q. Download the New Winamp 3 Highway Q skin now. Secret mode on the "Q". Try it out! User Interface and Coding by Petrol Designs.
Download skin
| | | |
| --- | --- | --- |
| November 19, 2003 by Highway Q | 449352 downloads | |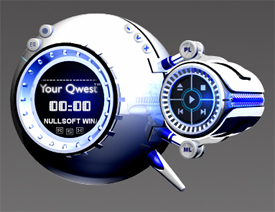 Staff review
Come back for more.
The original Qwest skin was so popular that they wanted to keep the ball rolling. Version 2 boasts a host of new features and improvements. Check it out.
Comments
great skin - very nice looking skin. only complaint is i cant seem to resize the media library. otherwise very worth the dl. good work. - February 22, 2004 by Eric Jones
Awesome! - WOW! Looks wicked, nice layout too, Download it NOW! - December 22, 2003 by Sinan
Very Nice - I really like the look, the shade toggle, and the volume bar, but I'd like to see more options for color themes. - December 15, 2003 by John Harag
very nice - it is very nice. sharp looking and goes nice with the rest of my computer :P - December 15, 2003 by Greg Criss
quite okay, but still - boasting with things like: alot of hidden features. what good are they while hidden? I'd like to use them, ever seen Invicta (complete walkthrough on the skin). might help! special mode isn't really that special, kinda ruins the original design and the winshade mode is still way to big. idea is great, too bad it's not my style. - December 13, 2003 by Arvid Verstraten
Loads perfect! - and marc curtis, u suck! - December 8, 2003 by asdf sdf
Great version - Ahem, marc curtis, don't give 0 stars just cuz u can't d/l the thing correctly, dumbass. Anyways, awesome skin man. I already liked the first version you had made, and I think this one is a great upgrade. The only thing is...call me a jackass if it's obvious and I'm just blind, but where's the Pause button ? - December 4, 2003 by Max P.B.
didnt load - woulda been nice if it worked... looked good, but doesnt want to load for me - December 3, 2003 by marc curtis
oh..... - nothing to say but NICE!! :) - November 23, 2003 by i rontz
the best skin ever - thanks man for made this skin - November 21, 2003 by jonasa jonasz
Ticht - Efficient, complex, but the vis bars are uneven and the numbers look like those of a late trendwhore. - November 21, 2003 by Estepha Francisque
Coolest skin - This is a coolest skin!I like it very much.Thanks for people who made it! - November 19, 2003 by Alexey Sharikov