>
Skins

>
Cool Devices
Project DU
Download this customizable RSS Reader!
Download this customizable RSS Reader!
Have you heard about Project DU yet? This tricked out skin is their latest masterpiece. It?s got tons of bells and whistles like 3-D animation, plus a kickin? retro look. Open the mini browser and check out the FREE Project DU blog reader with instant headlines to some of the most entertaining, note-worthy and darn-near addictive blogs known to man.



No shirt. No Shoes. No Spyware.
Download skin
| | | |
| --- | --- | --- |
| November 3, 2004 by Project DU | 453536 downloads | |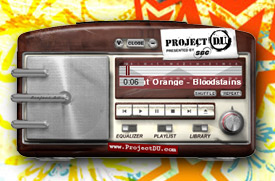 Staff review
Learn to read while using Winamp.
Now you will be forced to drag your laptop into the toilet with you. This skin features an RSS feed. Cool.
Comments
Extraordinary - I love this skin which is extra-ordinary: litterally out of the ordinary. - July 6, 2006 by Daniel Chautard
I like the looks... - but (you all know me) no notifier double reapeat but plus 1 cause of the built in equalizer - May 21, 2005 by Sandar Kleven
Um...ok - Its good, and very simple. Exellent for "unexpierienced winamp" users! Like the animations though! - January 31, 2005 by Kermath Davies
one color---yippy - hmmmm, boring---- and well its smooth anyway. - January 9, 2005 by C Deiter
good - i love it - December 11, 2004 by silvia hoi
messy - i don't like this one bit. it's totally uneconomical with space - the borders of the windows are huge, and it just looks totally amateur. - December 6, 2004 by despondentrock_tk __skatepunk_mp3s
Nice, but not enough - I don't like it. it's simple, but simplicity isn\'t in top fashion any more. - November 28, 2004 by Cosmin Serbi
ricks review - i think this looks totally awsome i have it as my skin!! - November 20, 2004 by Ricki Hastings
Great skin - ITs a great skin, pretty detailed but also choppy on the edges. But Good job anywayz - November 14, 2004 by Brace Mobius
America sucks - This is great! IF YOU HAVE A VALID ZIP CODE. I live in the UK where we have POSTAL CODES and zips are things on you pants. You may call them 'flies' but in the uk 'flies' are not things you want on your pants. The point I was trying to make is that you can only have the blog reader if your American, because the rest of the world doesn't matter. Unless they have oil. - November 14, 2004 by Adam Luttman
+++ This is FABU! ++++++ - I offer to you 1000 thank yous. The skin is nice but the prize in the box is better!!!! So much blogs in the download from the window. I LOVE IT!!! How about some blogs on hacking, or computer hardware stuff. PLEAZZZZZZZZZZZZZZZzz - November 11, 2004 by Bobby Field
nicely done - ... very nice, especially the animation for the eq ;) (though it's a bit buggy) what i don't like is the lack of color themes, and the commercials that are two times on the skin. it's got a nice and also useable shademode, the components are nice as well... btw, i couldn't find the rss-feed-feature the staff mentionned :( - November 5, 2004 by i rontz
RSS Love - Nice skin, love the mini mode. -=RoNtZ= : I found the rss feed. It is actually a blog organizer/reader. There are links on the site to get it... Beware It comes pre filled with some addicting stuff (lost 4 hours last night, reading these things) Good stuff. - November 5, 2004 by Felix Man