>
Skins

>
Games
Pretty Peach
Princess Peach Toadstool v2.9
Princess Peach Toadstool v2.9
UPDATED - Fixed the Media Library for Winamp 5.

I like Princess Toadstool despite the fact she almost always needs rescuing from Bowser. (What's with that guy?) She deserves a nice skin and I've created a fruity looking skin at that. :) It has the usual stuff, but this time I've created a skin for the MikroAmp. (Please tell me if there's any problems with it.) Plus a special thanks to the folks at the WinAmp forum for helping me with the equalizer and the icon tray. I really hate those bars.
Download skin
| | | |
| --- | --- | --- |
| June 17, 2003 by kayak - | 81099 downloads | |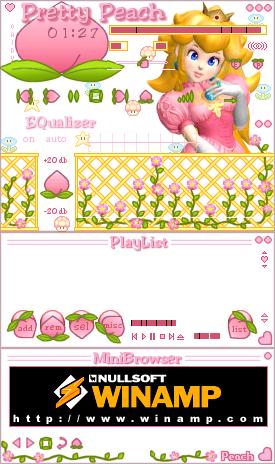 Staff review
sweet
You did a great job on this one. And the mikro works fine aswell.
Comments
Ja! - Me like, me like.... :-) Kjeeeempesøt! - April 4, 2007 by Maria Hanoey
Pretty Peach - I have been using Pretty Peach for a while now and it is my favorite. It does everything I need. I love it. - August 14, 2005 by sj webb
great peach skin - I'm glad I found this skin, that Equalizer is great, and everything is implemented very well! - April 16, 2005 by Luigi Hann
YES! - YES! I Really Like This One....Kayak Did a Great Job!!! I'm Giving Credit Where Credit's Due!!! The Garden Row is Beautiful and the Little Dancing Peach that comes up when You Put Your Mouse Over the Menu Button is Too Cute Yes! I Really Do Like This One!!! Thanks Kayak! J. - April 2, 2005 by J Ec
Good - Aww, this skin is so pretty! Peach is cool and i love the way you made the buttons! Colors are great and a very cute picture! - January 23, 2005 by Yuna Heartilly
Peach - This is the absolutly the best winamp skin its clear and not fuzzy, And.. Its Girly! - December 18, 2004 by Aflackduck122 Futura
nice - nice work! i have this skin 4 my winamp and i love it!! keep up the good work! - June 22, 2004 by Kiggy Sukamate
Excellent. - Great skin with my favorite Smash Bros. character. Excellent job. Only questionable part would be the black background of the library, though I don't really use the library anyway. :) - February 27, 2004 by flatmatt
Pretty Peach - Haha, this one is a cutie. - June 11, 2003 by Spooky Chic
:) - I really like this. Makes her look so angelic. haha. - March 22, 2003 by Sarah Flesch
Fun! - Great job! Everything looks great and fits together perfectly. The animations are stunning -- and lots of fun to play with. I especially like the equalizer bars and the volume (though I understand how they could have been a pain to make). Just know that it really paid off. :) - February 2, 2003 by Lady Elwen Skye