>
Skins

>
Cool Devices
PioneerDEHP80
New Pioneer Auto Stereo
New Pioneer Auto Stereo
I modeled this after the new Pioneer wma/mp3 indash player I got for my car.It is fantastic. I hope you like this.
Download skin
| | | |
| --- | --- | --- |
| September 11, 2005 by Bill Donaldson | 430278 downloads | |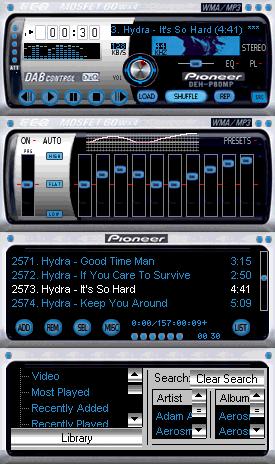 Staff review
Well, this is messy.
It's not messy in terms of bugs, there are some, but not too much. It's messy in terms of buttons not matching, some odd design choices (the picture under the song title), no seeking bar etc. The volume is a nice touch, but badly executed. Overall, this could've used a bit more work. Like this, it doesn't distinguish itself from the crowd of similar skins.
Comments
ddddddddddddd - dddddddddddddd.++++++++++++++++ - May 20, 2008 by bruno dj
Leon - JhS24pCcTKZJ - February 27, 2006 by Leon Leonek
Great - Great skin ! - December 11, 2005 by Luiz Vaz
Pioneer - . - October 30, 2005 by 123456789 987654321
Looks Great.... - Looks Great.... But, you lose one star for no ability to resize, and for looking very pixelated in double mode. Maybe I am being too picky, but I run my screen at 1280x1024 so on my screen this skin is simply too small to see. On the plus side in 1024x768 this skin looks awesome. I would probably use this skin if it wasn't for the sizing issue, but great job none-the-less - October 11, 2005 by Andre Netz