>
Skins

>
Cool Devices
Pimeer v2-2 Ultime
a Home Cinema skin
a Home Cinema skin
My first modern skin for winamp 5.x



UPDATE FOR 2.2 : you can choose special grid & special wood for the speakers.



pour la version FR : http://perso.wanadoo.fr/pimousse38/

http://www.winampfr.com/ la communaut? francophone de winamp.



Especially Tip :

You can choose a grid, special wood textures and see (or not) screw for the speakers !

You just have to select the equalizer, look at the button Right SPK (and of course Left SPK) and right clic on it.

A special menu will appear. You will see that twice speakers can be adjusted separately.
Download skin
| | | |
| --- | --- | --- |
| August 9, 2004 by Patrick NOURRY | 6167665 downloads | |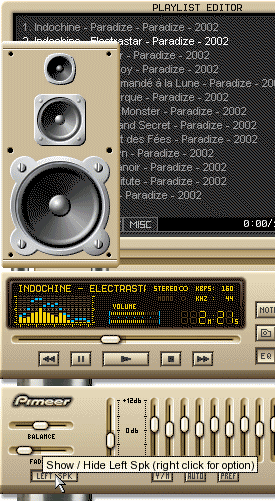 Staff review
Hi-Fi componentry for your desktop.
A well put together and easy to use skin.
Comments
very antique excellent system....WOW!! - March 7, 2011 by benjaminbillion
Just one word, Excellent - November 24, 2010 by Saiful
My favorit skin - November 18, 2010 by Alexandr Shoff
Patrick, It is nice skin. I think I found error.Middle tone speakers do not work as rest of them. I mean it makes opposite shadow, more black when it goes forward and less black when it goes backward. - February 14, 2010 by Mile Mile
the features are very cool. - January 27, 2010 by josephdaleigh
Modern - December 31, 2009 by Eskimo04 S
i like this since style. - December 1, 2009 by rajkumar_nol
My favorite skin.I just love the way it looks. - November 16, 2009 by lincolnbrunell
Awesome!!!! - It's everything retro and the future all wrapped into one skin. Easy to work and fun to watch too. It even makes Pink Floyd sound better. - October 15, 2009 by edandjillh
good skin, but... - A small window appears with the artist, title, and other information and previous to winamp version 5.5, it would fade after "n" seconds. It is no longer fading. That seems to be the only issue encountered. - April 7, 2009 by Lou Lange
Great but... - I have used this skin just about since I downloaded it and winamp....love everything about it, the ease of use, the collapse-ability and compactness of it.However, one bug has shown up recently, with the update to Winamp 5.551, and that is the notifier window that comes up with each song change is now no longer functioning as it should, it does not fade or slide in and out, it just sits there. If you click it it brings up the notifier preferences window and then if you right click it it disappears. This did work before and with the update it no longer is supported or something, however the fade in/out does work with the big bento skin. Something to fix, otherwise a great skin.Keep up the good work! - April 7, 2009 by George Lange
Great - Great skin - I especially like the now playing module.I like everything about this one. - March 26, 2009 by Roger Blakley
Just like the good old times - This is one of my favorites! It is great! - March 10, 2009 by Giloz Lodiaz
Wonderful - This is the best skin ever. I've been using it for a couple of years now. I have tried many other skins, but not one of them impresses me that much! Great job, Patrick! - March 3, 2009 by Alexi Nicolov
Beautiful - This is the "Classic" skin for me. - January 9, 2009 by LEROY PEA
:) - :) - November 9, 2008 by Arek Igor
ewsta xulo - graaaaaaaciasssss - October 27, 2008 by fran jimenez
WOW - Dude this joint is sweet. This is the perfect skin.. out of all of the thousands and thousands of skins, I look no further... I am satisfied. Thanx for this!! - September 26, 2008 by gyminii gyminii
super 5 Sterne von 5 - Design: xxxxxBedienung: xxxxxAnsicht: xxxxx - June 22, 2008 by Harald Kohlmann
really nice - I Fall in love with this skin - May 12, 2008 by Jens savard
Wow! - Best skin ever for any platform. Clean, simple, so easy to use, beautiful. I'm surprised that it's not at the top of the popular list. Speakers are a nice touch. I love the window shade mode. - April 3, 2008 by Mike Nelson
THIS GAY HAS STOLEN MY SPEAKERS - THIS GAY HAS STOLEN MY SPEAKERS!!!Please, see al at this page.http://www.quinnware.com/skins.php?skin=197 - do you see some like this ?3 years ago I created skin for QCD player with \"live\" speakers. And image of speakers I created in Photoshop myself.Best regard to all!!And now this gay present \"HIS\" skin. - January 14, 2008 by Shah Mustafa
i loooooooooooce it!!!! - i hev neva seen such a gr8 skin b4...it is like da best en i really recommend it guyz! - November 24, 2007 by Caroline Nziyana
classic look but very nice - very simple and great skin - November 10, 2007 by Jeffrey Vega
verrygood - verry good - November 10, 2007 by divya sekhar
very good - it is the most impressive skin that i ve ever seen - October 28, 2007 by lee jeff
Done right - Now this is what a skin should be! - September 29, 2007 by Alonzo Gonzo
perfect - i like that skin,nothing unusual & all what i need - September 27, 2007 by egg green
The Best Skin - This is one of the best skins i've found. Nice, easy use, and classical-modern.congratulations to PatrickRodrigo - September 22, 2007 by ROdrigo Munoz
Fajna skrka - Naprawd polecam. - July 19, 2007 by Wojtas abcd
ok - ok - July 6, 2007 by Pawel Ppp
I just wanted to Rate it - I just wanted to rate it - July 3, 2007 by Kris Lee
parda - Hodn kvalitn, pehledn, klasika... - June 30, 2007 by Michaela A. Kovarova
thank you ;) - thank you all, that always done as much pleasure all these compliments. - May 2, 2007 by Patrick NOURRY
Best one ever - Great skin. I'm using it since the start, I tried some other skins but I keep falling back to this one. - May 2, 2007 by Onny deQ
Jason79 - Fantastic,thanx a lot - April 23, 2007 by Anssi Bragge
I like it. - Very good design. - April 3, 2007 by Yuriy Shooft
EDINEI SANTOS - GRUPO MAIS ECONÔMICO - muito bom - April 3, 2007 by Edinei Feitosa
SUPER - This skin is easy to work and very useful.My favorite skin for now. - March 17, 2007 by Nikolai Batinkov
what? - It's pretty cool and so far from top lol - January 23, 2007 by zmiennik zmk
Great Skin - 1 Problem - Great Skin - 1 Problem Do not turn off the amp, for I see no way to get it back on... If you do, let me know how... - January 17, 2007 by L Bro
nyce - I think that this is a damn good skin. it nealy maches my amplifire (or even my Ex-Amplifire). i may be asking for too much but can you get the skin to react with the real amp? (if i still had it, it'd be cool!!!) YO READERS!!! I RECOMEND YOU DOWNLOAD THIS!!!!! - December 11, 2006 by Ashley Devine
Nice skin but... - It's a bieutyfull skin but it doesn't minimize, so you'll always have it on your desktop, fortunetly you can still put the windows in a smaller format... - November 3, 2006 by F M
A truly great skin, very impressed. - And I don't impress easily. It really shows well, the buttons are not overwhelming and it's simple to use. My neighbors were totally impressed with it. - October 28, 2006 by GhostRider W
fd - fds - October 25, 2006 by Gelo Gelo
Pimeer v2-2 Ultime - the pimeerv2-2 Ultime is like having your own shelf system and a flat screen on your desktop and it`s user friendly thats the best part thanks J-Dog - September 28, 2006 by jason braun
Well played! - Like this a lot, nice and simple yet effective. Well played! - September 23, 2006 by ian de_quadros
pimeer v2-2 ultime - perfect for me - September 2, 2006 by pintilie carmen_elena
Pimeer, the pioneering hi-fi style skin - That's simply brilliant. Usable, practical, well designed, looks brilliant, and the speaker feature is unique and superb. Congratulations and thanks! - August 22, 2006 by Zoltan Holbok
pimeer - skin excels, practical, easy to use. beautiful and simple perfect in my opinion. - August 16, 2006 by gg breizh
Great Job!!! - This skin rocks, I can't imagine ever using another one. It looks great: like a real stereo, with the Bumping Speakers looking great. People always assume I've got some fancy DJ program, but its just a cool skin. Whoever designed this - thanks - August 9, 2006 by Stephen Scott
Awesome - WoW, this has to be the slickest, smoothest skin ever ... the only tiny little criticism is the rough pixelated edge around the large volume control on the equalizer. Looking at the graphics inside the .wal file, there is no seperate graphic for the volume knob so I assume the knob is rendered in some other way. Apart from that though this skin is booootiful :) - July 28, 2006 by JedOi Knight
I always come back to this skin... - ...it seems that I try other skins, but I like this one the best. I wish there some others that work the same way. As far as the pop up, that shows you the next track and the speaker are pretty cool too. - July 18, 2006 by Sergio Albarran
Very good for "old" music freaks - I like this skin very much ! Its really good looking esp. for "old" music freaks (from the times when computers could be only found in computer centers ;-) Well done! - June 17, 2006 by Sabine Telakoff
Excellent . . . - Just as the title says. I found out bout it 2 years ago, and i haven?t stop using it ever since . . . I particularly like how it looks in silver and blue . . . - May 27, 2006 by Juan Topo
Good one - its nice one I like it. - May 20, 2006 by Hisham Abougrad
color but not enaugh - I really like this skin!! I love the color choices, especially how you can change the text color. I also like the pop-up that comes up on the screen, you can choose where. The only thing I don't like about this is the lack in color choices. Great selection already but you should add more. - May 1, 2006 by dan CK
The best skin I've ever used! - This skin makes all of Winamp's best Function's available for all to enjoy easily, and adds so many additional features that we didn't know Winamp could even do as a bonus. If you hate right clicking and going through menus to get to the thing you wish should have been as simple as a button to press; this is your skin. If you want clean clear and concise controls and more options than you thought you had before with Winamp, This is your skin. If you LOVE your music, This is your skin! All windows skinned, plus a few that I didn't know existed. Excellent work! - April 29, 2006 by Bruce Flanagan
Outstanding player - Thank you for making such a great looking winamp player. Very easy to use and looks like a very professional skin. I set it up on all my computers as a sterio system with the speakers in the top right and left corners with the screen in the center streached out with the to control boxes beside each other at the bottom of the screen. Looks so cool. Thank you very much. - March 27, 2006 by Anthony Altano
lool;p - zajebisty ale co sioe niiechce wczytac i to mnie dosyc mocno irtuje;) - March 13, 2006 by Kami Maks
Not much more - Well, I think the whole speakers thing is kind of interesting. Like you said, it's the only new update. I used the regular version 2 of this skin for a while, until I found some more. It's pretty good, but not entirely what I was looking for. You seem to have done a good job anyways. - February 15, 2006 by Tim Gibbs
Review - Very Good, Color adjustment specialy for old eyes to read the data moving accross the machine. John Some of the designs can't be read. at all. - December 28, 2005 by John Dickerson
One of the Best Winamp Skins - By far one of the easiest skins to use. The vibrating speakers are a nice touch, you can almost feel the bass! - December 25, 2005 by Justin Walker
Awesome - Great skin, easy to use and looks awesome. Been using this about six months now. - December 16, 2005 by Jarkko Kyngas
GREAT - been using winamp for several years, this is the best skin to date. very user friendly. muse of ky - December 4, 2005 by Doug Muse
Awsome - This is an awsome skin. If set up right it looks like you have a plasma screen entertainment system on your desk top. Great job. - November 22, 2005 by Jon Medlin
I LOVE IT! - I can't live without this WOW skin anymore!!! I tried a lot of other winAmp skinz and...damn this one kickz ass! There is no other skin with such nice speakers...and these effects on them...and this vision of creating a digital Pioneer music system on my Desktop is fulfilled...thanks et merci Nourry! - September 29, 2005 by Rima Amir
nice skin - very cool skin.i like the grids and the wood textures,but it could use more color themes - September 23, 2005 by Resul Ainur
just dreaming... - ...If I could only have a real stereo system like this one...I'd probably still be here (as I have for the last few hours spent on browsing+reading+smiling (laughing). The skin is a killing type, got me on my knees. Patric, I suppose You've become a new "Elvis in skin show business" I guess ;) Just one more thing: I am not sure anymore which is a bigger fun:browsing the skins or reading all those coments of yours, Winamp People. Anyway, I am enjoying both like hell! - September 20, 2005 by ela grabowska
cool skin - very cool skin but if you want the last version click the author and then his website you can find there more skins - September 4, 2005 by Resul Ainur
great skin - This is a great skin. I love the way you can change it. - September 2, 2005 by John Ziembicki
Prekrasan skin! - Ovo je ba? onakav skin kakav sam htio na svom desktopu! Dobiti relisti?an prikaz klasi?nih linijskih komponenata u ve?em formatu od obi?nog. Za svaku pohvalu! [email protected] - August 30, 2005 by Marino B
i had it for a long while - i have been trying new skins all the time, but since i had this one, i cannot cast my eyes on another new skins. it looks sleek, it is user-friendly. i really recommend it. - August 30, 2005 by john quinn
Coool skin - nice skin with cool textures and grids its my favorite skin yet,who created this skin could put some more color themes to match the speakears - August 24, 2005 by Resul Ainur
very good - i like this skin very much it has a nice sound and apperence i would like to have it on my screen. - August 8, 2005 by bob groenendijk
AWESOME, EXCELLENT, WOW! - Simply put -- the best skin for Winamp I have seen. The color schemes are very nice. The speakers with animation are amazing. - July 30, 2005 by Gary Evans
Excellent - Top Gun - In my book you take top honors and have put all other skins in second place. This is the slickest skin I have every seen. You deverse a 5 star rating. Easy to work with and easy on the eyes. Congradulations .. Great Job !! - July 25, 2005 by Ken Fitschen
Wow ! Excellent - This has to be the very BEST skin yet !!! I hope "Patrick NOURRY" will create many more !!!! More colors would be nice. But this is FANTASIC !!!!!!!!!!! - July 20, 2005 by Dick Quick
Awsome Skin!!! - Very well done!!! I am more than impressed. Good work! I just wish more color theames... that would be awsome. You rule! /Janne - July 19, 2005 by Janne Petkovski
this is good..! - I like this skin... i love it..! :D ;) - June 23, 2005 by Pyry Korhonen
Good Work! - I use dis skin for a long time.. ..an I still love it! I would say its the best skin for winamp, very comfortable easy2handle.. there could be some mo' colo themes but anyway...PIMEER RULEZ!!! peace Jah'all - June 21, 2005 by Saman Alameddine
Great !!! - Simply the best - June 1, 2005 by filo lolo
EXCELLENT - THE BEST SKIN - I really think your skin should have a much better rank, as it's cool in design, simple yet sophisticated. It's the best Hi-Fi skin yet. Keep it up. Hopefully you'll be kind enough as to give us more color themes sometime. - May 6, 2005 by Julian Kaztman
NICE!!! - I like it!!! - May 6, 2005 by David Avila
Excellent Skin - Congatulations Patrick on making a magnificient skin. Love the speakers skins and grids. If you make an update in the future maybe you could add some more colours. I would have to rate this as the best skin i have seen. Keep up the excellent work. - May 5, 2005 by Michael Pomfrett
Nice - Nice and clean - May 5, 2005 by Courtnex69 Love
EXCELLENT!!! - the greatest skin I ever seen! it\'s spectacular! - May 4, 2005 by Luis Majano
pro - Very Greate skin - May 1, 2005 by Meiko Lainela
Very..... Very Nice - Really enjoying this skin right now.. Espacialy - April 20, 2005 by Lars Jongste
YEAH! - YEEAAAAAH!!!!!! - April 15, 2005 by Erkka Toiviainen
Excellent Skin! - Very nice job done on this skin.I thought it would be another Skunk.5 stars goes to this skin. - April 13, 2005 by Ron W
You Are The SKINNER! - Professional, Maxium WOW to You! - April 5, 2005 by Aron Molnar
Very Cool! - Love this skin! Lots of options... easy to read controls! Could use a few more color schemes though. All-in-all, great! - March 13, 2005 by Aidan Wolff
1 Of The Best Skins Ever - This is really one of the best skins ever for Winamp. Very easy on the eye and really easy to use. Really good skin!!! - March 7, 2005 by Frank Soul
Dude! - Love It - March 6, 2005 by Tao Harris
This Is a MUST HAVE - Hey, I downloaded your skin I think...2 or 3 weeks ago, and fell in LOVE with it instantly. You guys are fantastic. I love the whole "color scheme" idea...giving the skin users their OWN choices, making your skin not only fantastic, but more freedom is given to the user. I also love the little sliding bar that appears on your screen and notifies you on which song you're playing/listening to...this comes in handy when I'm listening to winamp radio. Thanks a million guys, KEEP UP THE GOOD WORK! Sincerely, Gore - March 5, 2005 by Gore Illa
Wow - You guy's are great. All the featuers of the real thing. you will have hours of fun with this one. - February 22, 2005 by Jeffrey Crispe
Stunning - I've downloaded many many skins before and never felt the urge to submit a review, until now. Stunning looking and with some neat features like changing the textures on the speakers. The fault I have with most skins is that buttons and text are not that clear. Everything is crisp and easily visible on this. It will be my default skin for a long time to come. - February 12, 2005 by Paul K
GREAT - GREAT skin! :D but !have never seen a tweeter move before =P Very nice TV (Anthracite theme is much beautifuller than standard theme...) - February 4, 2005 by Otto vanZanten
Good skin - I like it. - February 2, 2005 by Theo Dixon
Very nice! - Cery nice skin :D - January 30, 2005 by Otto vanZanten
Complete IT - Yes, it's cool. It's was idea for my EPS skin. Some tips to the author: use getVis() function instead of get__VuMeter() for speakers and add the antialiased. Rewtite volume knob script with using the rotationlayer.m. Good work! - January 29, 2005 by Egor Petrov
Pimeer v2-2 Ultime - Super ! :D:D:D:D:D :) - January 20, 2005 by Ula Urszula
LOOKS SO REAL - This skin looks so real you could reach out and touch it. - January 18, 2005 by Brent Nicolet
good - more colors would be nice (like chrome or a more shiny black), but its good anyway. i do like the speaker screens! gives it a real feel---- if you like skins that dont look like toys, this is good. - January 8, 2005 by C Deiter
Good - Very good - January 6, 2005 by San cava
pioneer - exelent - December 18, 2004 by Richard Zundert
Nice One! - lovez it! - December 16, 2004 by Tao Harris
Rockin and the Most sexiest Skin. - this is the most sexiest and hardcore skin i ever head... Keep it up ..... Everything is seemless....Beautiful :) - December 16, 2004 by Dj_nick joshi
big up!!!!! - well what can i say...excellent colour graphics and a dogs bollox set up..everything clear and accessible..well done mate - December 16, 2004 by Darren Roberts
Verry good - It is verry nice to see it play - December 15, 2004 by Richard Zundert
Realism makes this virtualy the best - This is the best skin that I have seen in along time. I used to have one favorite, even though it was a 2.x skin I still used it in up to 5.7 until I found this excellent skin. I still have one favorite, Pimeer v2-2 Ultime is it now. This skin makes use of so many of the options available in Winamp so seamlessly accessible that it makes it hard to believe that many users miss out on some of Winamps features because they are only accessible through a menu or an extremely well created skin such as this one. - December 14, 2004 by Bruce Flanagan
I like this one alot - theres something really cool about skins that look like real gear. the speaker anima is cool too. nice work! - December 7, 2004 by rob nygard
Full Interactive - this interactive experience and elegant desing, good to see. - December 6, 2004 by Hugo Aldazoro
Awesome - This is one of the best designed skins i have ever seen!!! User friendly, very clean and with lots of options. I particularly like the speakers! - November 23, 2004 by Michael Braedley
star - aaaa - November 21, 2004 by derya alici
quiero este en mi pc - esta ok - November 19, 2004 by rene espinoza
Pimeer v2-2 Ultimate is great - This is really cool. If you don't have a Home Theathre speaker system, with this skin you can feel that you have one. And this version is even greater then the previous one. The speaker texture selection, the grid selections are great. The only problem is that is using a lot of resources, and is decreasing the performance of your PC. - November 18, 2004 by Kislaki Ruben
It's very cool - It's cool remember old times - November 11, 2004 by Sady Colindres
exelent - tres fun j'appreci bocoup ce skin - November 10, 2004 by scred scred
Just great - Easy to use Great features thanks guys - November 10, 2004 by Russell Traders
Fantastique!! - Very good looking...lots of options...I love it !! - November 4, 2004 by Laine Rose
SIMPLY THE BEST!!!!!!! - IT'S THE BEST SKIN I'VE EVER FOUND FOR WINAMP 5. CONGRATULATIONS TO THE CREATOR, IT'S TERRIFIC. - November 3, 2004 by edgar franco
Pimeer v2-2 Ultime - I need it free - November 2, 2004 by Alomgir Hosen
Primeer is tha shiz! - This is fabulous. I applaud the effore and keep exploring new ideas. I truly love this skin. 5 stars! - November 1, 2004 by Marcus LeGall
Superbe - oubliez les autres skins voici un des .... non, LE MEILLEUR de tous !!!!!! Il est G?nial, d'autre comme ?a serai le bienvenue !!!!!!! - October 26, 2004 by Mike Mike
AWESOME! - This skin is awesome! I love how you can change the grids. Very rock solid! - October 24, 2004 by Thomas Ellermann
I can't download it - I've tried 4 times and can't download this skin. I've downloaded many others with no problems. - October 23, 2004 by Ed Walker
felicitations - Rien ? dire du beau travail. Superbe - October 21, 2004 by CHAUVET olivier
super ! - just great ! thank you from France Serge - October 20, 2004 by Serge Berrard
Great Work! - My Favorite! Feels like having a home entertaiment system in your pc. A few more color themes would be a nice addon. - October 20, 2004 by Freddy Guerra
Pimeer v2-2 ultime - godbye to the another skins heloo pimeer - October 15, 2004 by Christoffer Nyland
Nice - Excellent looking skin, but unfortunately can't make it work. Have Winamp 5.05 and other .wsz skins are working. Any idea? - October 14, 2004 by Stefan Kralj
this is a Modern Skin - hi Stefan, this is a Modern Skin, Winamp 5.05 FULL is necessary. thanx a lot for your comment ;-) - October 14, 2004 by Patrick NOURRY
nice - very nice - October 14, 2004 by flavio paula
Awesome work - This is very very nice skin, actually it was so good i even adverticed it a bit :) definately a number one for those who seek style their winamps! - October 14, 2004 by Atte Sauvola
Awesome - Very nice!!!! - October 13, 2004 by Winston Soetosenojo
This is KILLA! - This is the best skin that I have come across in a long, long time. This so cool. The different options that you have and the ease of it makes it nice. - October 13, 2004 by Craig Markie
Best skin yet - Absolute class!!! Nicely designed, easy to navigate around. Well thought out design... I definitely reccomend it! - October 12, 2004 by Joel Toby
The Best Winamp Skin!!! - Um Skin Completo, Varias Op??es como CrossFading, sem contar com o visual do skin que ? muito legal e presonalizavel o melhor skin para winamp 5 at? o momento! Bem como serial inultil sem musicas ou clipes deixo aqui meu MSN para quem quiser me contactar para trocarmos figurinhas... sou colecionador de video clipes e mp3 do genero Dance/Tecnho/House antigos ok um abra?o... Thalles de Souza Torchi MSN: [email protected] - October 11, 2004 by Thalles Torchi
Pimeer v2-2 Ultimite - pretty good - October 9, 2004 by chuck platt
Fantastic Skin! - I just downloaded and installed it. This is a really fantastic skin. I've never before rated a skin but this one is so good I couldn't resist. Patrick, you do fine work! BobAx - October 7, 2004 by Robert Arceneaux
Easy to use, just great! - Easy to use, just great! Waited long for this! - October 6, 2004 by smart smart
this skin is for Winamp 5.0x - hello Alex, this skin is made for Winamp 5.0x update your winamp ;-) - October 6, 2004 by Patrick NOURRY
THANK YOU - ITS BEAUTIFULL ON MY COMPUTER SCREEN I HAVE'NT NOTHING TO SAY. IT'S THE PERFECTION. tHERE IS MANY PRETTY SKINS BUT THIS ONE IS MY PREFERED. THANK YOU FOR THE MAGNIFICENT WORK. - October 6, 2004 by Julien Campeau
Excellent - There are a lot of skins out there. While many are very interesting, and visually stimulating, they can be difficult to use. The Pimeer skin is the only one I use because it's simple enough to be intuitive and easy to use, but at the same time a great looking skin as well. A+ - October 6, 2004 by john billinger
I love this skin! - The only skin that I have stuck with. Great stuff. The speaker animations are a wonderful addition. Nice simple easy to use design. - October 6, 2004 by Galpin Jimenez
A wonderful Skin - Dear Patrick Nourry, I like your skin very much. It looks just like a set of real AV. But in my personal opinion, the main appearance is fat some. at this point , I perfer Pinneer v2.0. V2-2 Ultime is lose. It can be thinner. Best wishes to you, as well as to NUllsoft and Winamp lovers. - October 6, 2004 by Dery Wong
Unable to use - Hi da, It is an excellent skin. But unfortunately I am unable to use this skin. I use Winamp 2.80 version. Can someone pls help. - October 6, 2004 by Alex W
the nobel price - this man must received the Nobel price for this perfect skin.... - October 5, 2004 by patrick olive
It does it all! - This skin exceeds in all areas. Wow keep 'em coming Patrick. Awesome. Djpete - October 3, 2004 by Peter Zawacki
Cooler Skin - Er ist echt empfelenswert - October 3, 2004 by Matthias Georgius
nice - very nice! - September 30, 2004 by kob god
Great stuff!!!!! - Love the look, great for us nostalgic 42 year olds.Easy to use fantastic looking, nostalgic, one of the best skins yet. Keep up the good work.!!!! - September 30, 2004 by Ady Price
cool - this is the best - September 29, 2004 by Rafael N
=) - It's wery COOL ! =) - September 28, 2004 by DAN Weed
Very Cool - Cool - September 27, 2004 by Vladimir Kovtun
Some Things you can fix - i like this skin but i think you shoud also have a set ofsmaller speakers for window shade mode but other then that it rules - September 27, 2004 by dennis tomczek
SOKHI - THIS IS GUNNINE SKIN FEEL VERY INTERSTING - September 26, 2004 by sukhdev singh
muy bueno - me parece muy bueno solo le hace falta un boton de acceso para las opciones por lo demas es exelente para acesar directamente a su pagina seems to me very good a the access boton for the options for it does him lack demases he is exelente for access directly to his pag I hope to have (subj) or may place(subj) one paginate in Spanish - September 26, 2004 by jesus serrano
exelente - gracias es exelente - September 26, 2004 by ernesto 007
Cool skin - I like this one - September 24, 2004 by Val _
My choice - This is my favorite one. - September 24, 2004 by Rafael Tesoro
*Mind absolutely boggled* - I had version 2, and I honestly thought this skin was as good as it could possibly get. I was wrong. With the options in speaker wood and covers, This skin just BOWLS me over! If I could give more than 5 stars, I would. Of course, everything is still easily accessible. This is the ONLY skin that even comes close to winamp modern (don't worry nullsoft, you're still the best) Patrick NOURRY, PLEASE make more skins!! :) - September 24, 2004 by Noah Burge
The Pineer is great - I've never seened a skin so interesting and wonderfull like this. Is just like I have a high performence audio system, with all the grear stuffs.... - September 24, 2004 by Kislaki Ruben
Pimeer v2-2 Ultime - good - September 22, 2004 by Sexy Cats
WoW! CoOl! - Download it now!!!!!!!!!!! - September 22, 2004 by 5566 Marquez
Nice stuff with the speakers - its cooler than da first skin becouse it hase this options for the speakers.... but the bad thing is that "da" :) main window and the equalizer ar to high... i don't know how to say this... on the last version they were FLATer... anyhow GOOD WORK! .. P.S. Ad more options for the speakers and ad more color themes... BYE - September 21, 2004 by Adrian Boiciu
Ultimate version of Pimeer - thank you for your comment, but it is the ultimate version of Pimeer, therefore I would make there no more modifications. I want really to pass to a new skin (after 9 months on this) - September 20, 2004 by Patrick NOURRY
Got a question..... - This would have to be one of the best skins out for winamp, due to having speakers incorporated with it that move to the music. However in my opinion i would like to see this skin have a second pair of speakers added to it, as i like having lots of speakers on the screen running with winamp. It would match this skin perfect giving it that same feel as having a stereo with surround sound. Plus matching the actual appearence of the skin itself. - September 20, 2004 by Grim Reeper
How do i use this skin - I have downloaded this skin but i do not now how to make it work. - September 18, 2004 by Shane Batchelor
Pimeer Modern v2 - Hi, i find the design is beautiful, i just could not find the right loudspeaker, but I?ll continue to research. Best regards, Yalcin - September 17, 2004 by Yalcin Ekin
monday - pimousse38 left in weekend it returns Monday you will see 6 texture moreover drink of them (including 4 made by me) and 6 grids veiled small before taste for you [img]http://img44.exs.cx/img44/9332/pimeermodeleenceinte.jpg[/img] - September 17, 2004 by florian fontaine
The Best - Hey youve hit over a milllion, so wheres v2.2 If you do come out with it soon please add more speakers. Once again this is by far the best skin ever. - September 17, 2004 by Austin Jones
wow - this is really a great skin....it has everything standard skinned very nicely, plus the speakers and the notification system, which is very practical. Color isnt hard on the eyes, and all the buttons are easy to see but the design isnt boring at all. Really very well done, download it people! - September 17, 2004 by Adam Kriegl
nice skin, worth it - good on any desktop - September 16, 2004 by xan K
Radical - Pretty nifty. The speakers look a little funky with the different color patterns but that's no biggie. It would be nice if the spectrum analyzer had a color spectrum or faded though. - September 15, 2004 by Will Hinds
it is fantastic - hello, I have made a v2.2 of my skin PIMEER, with wood textures and grids for the new look speakers. I still check that all is perfect and I would make the update after the v2 passed the million ; -) thanx all and with soon - September 15, 2004 by Patrick NOURRY
Excellent! - I never give my opinion on skins... until now. A commendable job. The attention to detail is outstanding! Can't wait to see your next modern work. - September 14, 2004 by Bill Roush
Really Cool Skin - This is the best skin I've ever seen for Winamp. I love the animated speakers. - September 8, 2004 by George Sherman
Nice. - Very neat and well done with the Pimeer. Nice little gimmick with the speakers. I love it! - September 7, 2004 by Rory Frazee
F***ing Amanzing!!! - A liked very much this skin!! I?ll never change that!! Thanks! - September 6, 2004 by Raphael Guessada
Very cool, but how can I install it? - I can't run any XML files here, and I don't even know how to run them... Please, anybody, help to have this skin installed here, what can I do? Sorry fo may my bad english, I'm brazillian and tried to do my best! - September 6, 2004 by Luiz Lucena
Excellent! - This skin looks great. It's clean and easy on the eyes. Easy to manage too, unlike all the garbage skins where you have to spend all day just to find the stop button. - September 6, 2004 by Anders Eriksen
TomekJankowski - SUUUUUUPEEEERRRRRR!!!!! - September 5, 2004 by Tomek Jankowski
Bravo Patrick - Bravo Patrick, you are the best of the best. Amiti? Patrick de Francis... - September 5, 2004 by Francis KLEIN
looks great - absolutely amazing best skin i have seen yet - September 4, 2004 by Davie me
Patri?IIIIIIck ! - Bravo! C'est la meilleure skin "chaine hi-fi"-like que j'ai vue. Mais comme il y en a un bon paquet (de skins hi-fi-like), tu perds une ?toile pour l'originalit?. Je trouve aussi que tu aurais pu avoir une police un peu plus travaill?e pour les indicateurs volume, kbps, fr?quence d'?chantillonnage et timer. Mais tout le reste ROCKS. (je m'?tonne qu'il y ai pas dans les reviews un blaireau amerloque patriote qui t'aie descendu en flammes, mais ?a va peut-?tre venir). tcho - September 3, 2004 by Vincent Garnier
they is marvellous - Fantastic, in "Top All-Time Downloads" after 25 days. I thank you all for your comments and your downloadings. thank you very much. I am happiest of the French skiners ;-) - September 3, 2004 by Patrick NOURRY
Finally an Uncluttered, Clean and Easy Skin - Very nicely done......kudos to the French Bon chance Adieu Ciao - September 3, 2004 by Alex Djordjevich
exelent boulot pimouss ;-) - bon ba tu voulais un commentaire en francais alors j'en fait un this skin is superbe ta vu j'ai un bon anglais lol ba ya rien a dire c'est mon skin prefer? et t le meilleur comme on le voit avec tous les dl continue comme sa a au fait c flory7490 qui parle :-) - September 2, 2004 by florian fontaine
Not bad! - Nice skin! That's all I got to say! - September 1, 2004 by Ante Klecina
Excellent - Nice one, keep up the good work. - August 31, 2004 by Matej Mirkac
WOW ! - Cool speakers with great interface! One of the coolest skin I've ever seen. Keep going man. - August 31, 2004 by Mahtabul Bari
Nice - Nice piece of work mate haven\'t seen something like this in a While Keep up the good work P.S Nice Speakers keep up the good work - August 30, 2004 by Desmond Fial
Simple and Elegant - Simplicity and Elegance goes a long way in making this product highly usable. -Dumeel - August 29, 2004 by Dumeel Pandian
bravissimo - For your first skin it s a big shoot.... - August 28, 2004 by patrick olive
Wonderful Job - Wonderful job you done here dude, the different color modes are just sweet and the speaks are cool, you see i have both of them out One above the start button and one above the tray it makes my systems desktop look so sweet Cheers keep it up - August 27, 2004 by Simon -
German - altough you are a French guy and I am Dutch, i have to use some German : ?berskin!!!!!!!! I love this one and the speakers :) anyway keep on the great work cyalz later - August 27, 2004 by Rien Dreijer
Bravo!! - Bravo!excellent travail!C'est un tr?s bon skin,beau fonctionnel,j'aime beaucoup les petites enceintes! - August 27, 2004 by kevin xxxxxxxxxxxxxxxxxxxxxx
Audio/Visual Beauty - Perfect skin for the music lover. The speakers actually PUMP!!! I love this skin, its so slick its ridiculous. Nice job. Niiice job :?, - August 27, 2004 by AL Hussain
This skin is great! - This is probably one of the best skins I have come across for my taste. It's easy to read and understand, very functional, looks pleasing. The left and right speakers are cool! :) - August 26, 2004 by Mark Headrick
trouble - when a saw that skin a foling love but i`ve a problem i don`t know why. I download it and nothnig going to change my skin!Why? If you know write to me [email protected] thanks for all ideas I had to have that skin - August 26, 2004 by Krzysztof Wlodarczyk
Excellent! - This skin is just great! - August 23, 2004 by monia galaxja
Sleek - Great skin, I love skins with active speakers in them, skin is looking great, a must. - August 23, 2004 by Mike Mortimer
i love this - I love this skin i love the moving speaker i hope u come with a better one this skin is a most have!!! - August 23, 2004 by Jr Perez
from Andrea Scaramussi - hi patrick, first sorry for my english... but i'm italian (only for language!!) i'm not angry with you but with the winamp staff... i'm not understood how winamp staff "give the stars"... your skin it's very beautiful, even if i don't like small skin ;-) ...it's more accurate than mine.... (your downloads confirm) continue "on this way".... you're great!! thanks a lot Andrea - August 23, 2004 by Andrea Scaramussi
incredible - oldies style but goldies effect great great - August 20, 2004 by FRENCH WINAMP
cool but not that great - cool features but not that special i'm keeping the original winamp modern skin. - August 16, 2004 by Maher Korek
Nice - Ist's very nice too be inportet - August 16, 2004 by Jens Huhn
Excellent Skin! - One Of the best I've ever seen....good work! - August 13, 2004 by Isaac Rosenblum C.
Thank You - it's super. 39000 downloads in 3 days. I do not believe my eyes of them. ;-) - August 12, 2004 by Patrick NOURRY
Badabababa, I'm lovin' it. - Nice work... for a Frenchman :P (no offense). But really it is brilliant. Love the speakers. Although it kind of clutters up my screen, I like having it all out. This shall probably be my usual skin for now, lest I fin another one. 5 green magical toasters out of 5 green magical toasters for you, my frog-eating companion.(twas a joke as well) - August 12, 2004 by ChrisP Bacon
Outstanding! - This skin is a masterpiece. I love it....Nice work! - August 9, 2004 by Jon Horst