>
Skins

>
Animated
Peanuts
Unrequited Love
Peanuts - Unrequited Love
I hope you enjoy it, and more important to me, I hope Mr. Shulz would have liked it. I like to think so. This skin is complete - it includes mikroamp support, mb.ini support, custom cursors etc. To those Peanuts fans out there - happy downloading! - BG
Download skin
| | | |
| --- | --- | --- |
| August 5, 2006 by Nullsoft Classicz | 150453 downloads | |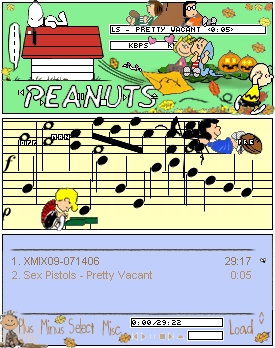 Staff review

I like the concept. Been awhile since anyone has seen Peanuts. I feel that you start out strong and then gradually decline through each window. For instance, the play list and mini browser could use a bit more attention. Keep having fun, and I look forward to its evolution. CO

Original Design by The BullGawD
WA5 update by Jones.
Comments
Yes Peanuts!! - I love the Peanuts gang!!! You did a great job. - June 10, 2008 by Elizabeth Warren
Definitely cute - I think "Sparky" would like it. If you take the advice of another commentator and try to improve it, please keep the playlist as an (improved) music by Schroeder panel -with Lucy, of course. Important for listening to Beethoven! - March 10, 2008 by Robert Smith
miss u - u r always on my mind - October 26, 2006 by EMMA TAYLER
nice idea - it's simple but a nice idea, watching peanuts wile listing music ;). for that five stars :-) (this is my favorite skin) - August 30, 2006 by William Claassen