>
Skins

>
Transportation
Overdrive
Take this one for a drive.
Take this one for a drive.
I wanted a clean, easy-to-use interface, so I chose something nearly everyone is familiar with. Tach moves with the music, while the speedometer is the seek. Wheel modeled in Caligari Truespace, dash in Bryce. Both textured and modeled in Bryce, and the rest done in Paint Shop Pro.
Download skin
| | | |
| --- | --- | --- |
| November 15, 2003 by Ian Novack | 723766 downloads | |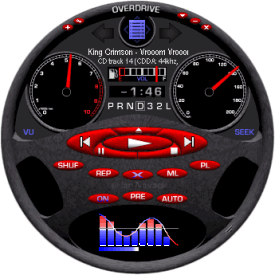 Staff review
Vrooooom....
I like both the main and the windowshade modes, now don't run out of gas and keep up the good work.
Comments
AWESOME - I CANT SAY ANYTHING ELSE AWESOME. - January 19, 2005 by Brent Nicolet
REAL CAR!!! - This is like a real car wheel, rpm, speed!!! I WANT TO DOWNLOAD IT NOW!!! Happy driving! - January 13, 2005 by Kancsar Thomas
Overdrive - Its The Best Ever!!!!!!!! () () () (___) - November 25, 2004 by Matt Leblanc
so its not bad - When i discovered this skin i thought that it is shit but i want to give five stars for thisbeautiful skin - December 8, 2003 by Michael Shkolnick
Overdrive - Execelente - March 7, 2003 by Tarcisio Oliveira
Good - I like it. It looks nice and when i downloaded it i thought it waz gonna be real stale but it turned out 2 be real good.*Shortee* - December 23, 2002 by Shortee Chavez
Way Cool - Loved the dashboard design.... - October 15, 2002 by Lou Lange
Good... - not completley skinned..that bugs me - October 8, 2002 by Pejanock Habzun-Fiqiled-zolcksy
Vroom vroom - The best!! - October 4, 2002 by Andre Conti
totally friendly - totally cool the best i've seen,will keep this creator in my favorites...very easy to use. - October 2, 2002 by rick whit
My new favorite - Then art can use a little work, if I want to really nitpick. What you've got here is an easy to use interface, with a unique flavor- I love the implementation of the EQ as the tach. The "Thinger" stays in the main window, all the buttons are here, and the cool features of W3 like opacity and scale are faithfully supported! - October 2, 2002 by Rick B
Edges a little... - poorly drawn, but other than that, great skin! - September 30, 2002 by Lee Roy
A very very cool skin. - This is my favorite!! I just wish when it shifted into overdrive, it didn't take everything she's got. - September 30, 2002 by Greg Mathews
great - esta skin esta bem feita.. um bom desenho..bem manegavel. - September 30, 2002 by Fabio Fonseca
This skin definitely isn't stuck in neutral! - Ian Novack's simply a genius! If you don't have this skin, get it now, unless you're some sort of wimp or your hard drive's packed (in that case, get some disks, cause you'll love this skin). Ian, keep burnin' rubber, and keep the skins coming! - September 29, 2002 by Spike Spiegel
Oh yeeeeeeaah - Yeeah, simple, tranparent, easy to read, size is OK -mean not small not big- scale and opacity included,mmmm, VU!!!! Keep trying, I am looking forward for next version. // what about kilometer meter-how long it takes to listen my mp3 :-) or Today I want to hear just 5km.... // - September 25, 2002 by Ladinek Smolik
JUST GREAT!! - What a refreshing clear and precise skin , and not a large download either . Lets have some more please Ian . - September 25, 2002 by LACHIE WILLIAMSON
Good And useful - but still just another good skin keep them comiing - September 25, 2002 by Benjamin Gruenbaum
good idea !!! - is a good idea congratulations ! - September 24, 2002 by octavio mora