>
Skins

>
Transportation
Overdrive 2
Featured Skin, October 31, 2002.



Updated for compliance with Winamp 5



It took some German Engineering and a lot of work to turbo-charge this skin. The German Engineering is in the form of aid from Sven Kistner, author of MMD3 and Winamp Modern. The lot of work is the following set of new features:

- more detailed leather and steel wheel

- completely redone buttons, now integrated with the wheel

- completely redone equalizer

- small items and bug fixes, ex: skinned tooltips

- improved color presets (try the Night Driving preset)

Download skin
| | | |
| --- | --- | --- |
| January 17, 2004 by Ian Novack | 2165226 downloads | |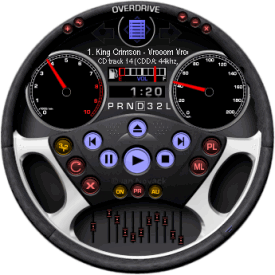 Staff review
Hey, I like this one better than the last one.
Very good skin, Look at them gauges move. Night driving, very nice!!!
Comments
1 - 1 - February 3, 2008 by Karas nikos
hai - cooll - May 14, 2007 by tony gazeto
My opinion.... - This is really good work guys. This is my kind of good style. Keep up the good work! - May 4, 2007 by m Harwell
Kewl - Really cool skin. Pretty functional too once you get used to it. - March 6, 2007 by Barry Rose
sweet - great idea easy to use - January 20, 2007 by LIKEN ZEDIKEN
overdrive 2 - it blast into overdrive! - December 13, 2006 by arthur barrera
good skin - think that this best of skin in year. - October 16, 2006 by seehadet mukto
good work - nice n cool - October 6, 2006 by irene legend
Awesome - I love it. It's not too small, not too big & I love Hotrods, music & Racing! - June 25, 2006 by Mona Lynam
volan - tova e prekrasno - June 24, 2006 by slav 4au6ev
Overdrive 2 - Absolutely blindingly NEAT! A work of art. I love driving and even though I'm an old codger, nearly 70, I just love to see this wheel on my desktop. Truly excellent! - June 8, 2006 by Denis Cronin
Overdrive 2 - Very Good Skin - March 9, 2006 by Adrianus Suwito
BEAT?FUL - G?ZEL - November 7, 2005 by mtrcn mtrcn
visual excellence. - Best Winshade mode I have ever seen. period. And a prety cool desing idea, too. - October 25, 2005 by travis rempel
very nice - love night driving... heeh, great colors, smooth interface, 5 stars - October 10, 2005 by Andre Netz
Here's how - To set Night Driving (or any other preset), either click the "sound wave" button (second from left up a the top) or right click anywhere that isn't a button. That brings up a menu. Choose Options -> Color Themes -> Night Driving (or whichever). Happy driving! - September 17, 2005 by Ian Novack
COOL! - This is definitely my choice... But how do you do the night driving preset? Mind telling me how you do that? - September 13, 2005 by Ronald Lai
A GREAT ONE - I have only one word for this skin - FANTASTIC . I really like it!!! - August 20, 2005 by TURBO Turboto
This is the best - I like this the most.... - August 20, 2005 by silver sillasoo
Wow - Vroom Vroom! am damn impressed - August 20, 2005 by AnishBabu Pillai
otimo - bom - July 11, 2005 by leonardo lisboa
decent idea but... - well its cool enough but if you scale it up even a tad I noticed a bad cropping job around the outside edge, its all jaggedy. Should have cropped at a higher res. Other then that cool stuff. - May 27, 2005 by Myles Twine
Still the one and only - Still my favorite skin ever. I like it so much that i didn't downloaded winamp 5 until now. Hope to see more skins like this with all the buttons we need on a very easy interface. And by the way, Night Driving preset is my favorite one. Thanks a lot Mr. Novack. - March 30, 2005 by Guillermo Mendoza
Good Skin - This has to be one of the best car themed skins I have seen. I just perfer the more traditional style skin. To Jeremy Moore who said "bad thing takes up half the screen and is way to large" I say what s**t are you on cause I want some. - January 27, 2005 by Michael Braedley
F***en cool!!! - To my mind, that's really cool skin, which is very useful for such a user, as me. Moreover, it's rockin''cause of easy use. Thats why I gave it 5 stars! - December 25, 2004 by Alexander Demidow
doido - massa - December 8, 2004 by Raphael Vieira
Help! - I'd really liked that skin so inusual and funny. But i don't know how to put the Night Driv color preset, who know how, plz write to me! Thxx a lot! Ciao! - December 6, 2004 by Erry Sylver
Not what i Expected - Good thing easy to use bad thing takes up half the screen and is way to large - November 7, 2004 by Jeremy Moore
A Must-Drive Skin! - For anyone who loves a good drive, there'll always be something pleasing about this. It's irresistable cruising candy - September 6, 2004 by LionHeart Khanna
excelent, Ian - When I use it for the first time I fell in love. Easy to use, and with real special effects like if one is in a top model car. Congratulations - June 3, 2004 by Gonzalo Segura
Vrooom! - This is an excellent and really creative skin with decent color schemes. Here are my only suggestions: Make the Gas Gauge the song progress meter, make the Speedometer the volume control, make the Equalizer bars retractible, and find some way to put a visualization in Windowshade mode. The VU meter is great, however I wish it were a bit smoother, as it is not dependant on the timer resolution. Perhaps that's just my computer though. - June 1, 2004 by Brady Kahn
Overdrive 2 - Simply Awesome! - May 28, 2004 by George Marshall
COOOOOL - COOOOOOOOOOOL - March 21, 2004 by Mart Jensen
Suggestion - GREAT SKIN, Only one suggestion, Make the gas Gauge the Progress meter, and the Speedometer the Volume Control - February 3, 2004 by John Muller
ooo - eh - January 22, 2004 by danny jones
good idea!!! - i like it - December 4, 2003 by tang ting fung
Overdrive2 - GOod skin - November 25, 2003 by Marc Honsberger
Functional at least - It's not a bad skin...at least the buttons are clear and concise enough. But even in windowshade mode it's big. - September 20, 2003 by Dante _
Over drive 2 skin ROCKS - this skin rocks. specially with the night driving. - August 12, 2003 by Bryan Bedoya
My one and only skin - This is soo nice and it has all of the features i need, without any of those anims or thinks like that. Even the better can be improved, this is the sample. Way to go Mr. Novack. - August 6, 2003 by Guillermo Mendoza
Overdrive 2" - its an art piece - August 3, 2003 by pradeep ban
Nothing to amazing - Its alright but the playlist is really ugly - July 28, 2003 by Mike Durrant
EXCELLENT OVER DRIVE SKIN - waht can i say, i fell in love the minute i saw this skin. it's best skin i've ever downloaded- instantly became my favorite - June 21, 2003 by Damion Richards
WOW best ever - WOW this is the best skin I have ever had my hands on..... I love the color Scheme the creative way to integrate the song time and the VU meter.... Its just great keep up the good work. - June 19, 2003 by Ryan FIschels
Ooo nice! - Brrrrrrrrrrroooooooom! kool! - June 14, 2003 by Hanabi
Overdrive 2 - My absolute favorite, although the raven is conceptually off the charts. My only gripes have already been pointed out...i.e. the playlist doesn't fit well (a third size choice would be great for the wheel, too) and the purple text on black can be a little hard to read when night driving. I like the one reviewer's idea of having the transmission letters be the function keys...once again, my very favorite skin ever, hats off to the author (and gloves on) - June 12, 2003 by Stuart Baldwin
????????????? - is this for winamp 3???????????????? - June 12, 2003 by Hakan Neset
Almost there.... - A really nice skin. Looks cool, but it needs a little something to kick it up to elite status. For one, the playlist editor just doesn't work. There is no where you can place it that it looks OK. Second the font used for the track title just doesn't work. The font looks like its been pasted on and the color (stark white) glares too much. Also, the little gas pump symbol next to the volume unbalances the window. E---F could only be fuel so the symbol is redundant, and 'vol' underneath tells you all you really need to know about the meter. Last, it would be REALLY COOL (IMHO) if the gear indicator functioned as play, stop, pause, etc. buttons. 'D' for play, 'N' for pause... well you get the picture... Anyway an excellent skin overall. Keep up the good work. - June 6, 2003 by Patrick McKane
nice - lol that tach kicks ass, I would be going through engines like dental floss. Well, I mean, I don't really floss much, but like, you know what I mean. - June 3, 2003 by Joel Leavelle
Great layout - Very impressive. Great layout. Nicely executed. - May 19, 2003 by Tom Frankowski
AWESOME!!!! - When I saw this skin, I had to get it! The MPH and RPM gauges actually work! COOL! - May 19, 2003 by Ben Dobson
Nice!! - I like this one, works good, different color schemes load fast, looks good!! - May 16, 2003 by Kathy Staggs
overdrive2 - its cool - May 4, 2003 by susanta singha
Top of its Class - Well its no Ferrari, but a very clean skin. A little rough on the edges and whatnot but overall very nice. Would have liked for the Playlist and EQ to look a little more like something original. Gearshift and petal maybe, I dunno. Anyhow keep up the good work. - April 28, 2003 by Blake Muxo
esta suave - me gusto esta bien echo este trabajo - April 6, 2003 by octavio mora
Very Good Concept - Very good concept. The VU meter does lag a little, but for the most part it is a very, very unique skin that is functional and fun to drive...er...use. Thanks for your contribution...Keep up the good work. - March 20, 2003 by Robert E. Lee
Drivers Choice - I love this skin, would be cool if you could have the F1 gear change paddles at the side, definitely recommended - March 2, 2003 by Andrew Whitelocks
Oh yeah! - "Remain civilized" the form says. TOUGH! This skin is THE reason I've finally downloaded Winamp 3!!! Who needs another skin?? - January 24, 2003 by Scott Novack
good work - i love this skin, everything work properly. Its the best skin i have. Keep up the good work. - January 18, 2003 by Luis Aburto
Great - Very good skin. - December 25, 2002 by grand bkk
COOL!!!!!!!!!!!!!!!!!!!!!!!!!!!!!!!!!!!!!!!!!!!! - I love this it is one of the best i have ever down loaded - November 28, 2002 by john jensen
Not bad - Not bad, its pretty good after all - November 24, 2002 by Alex Stanescu
Cool as ice baby - Unique, havn't seen one like it before, it's one of my new favorites. Good job. - November 21, 2002 by David Serrano
Well done - Very good skin. Well thought out. I haven't downloaded it yet but from the pic and previous reviews it seems like a good skin to have in your collection. - November 21, 2002 by Anthony Fish
Love it. - I love speed so I automatically liked this one. It looks like the inside of a racecar so I give it 5 stars. - November 16, 2002 by Felicia Glaze
THIS IS THE ONE - Hey man, this is absolutley the coolest skin, way better than the first one, I absolutely love it. Can you make one that looks like the steering wheel on my car, a '99 Trans-Am :) :) :) Keep up the good work dude. - November 14, 2002 by Rick Mason
This is cood - Now here is a skin, not like that craptastic ticket skin.... - November 14, 2002 by john bieker
So hot, my firewall's melting! - Mr. Novack shifted into high gear and burnt some SERIOUS rubber! This skin rules the road, no doubt about that. This sporty, smooth leather, fuel-efficient skin is even better than the first one. A must-have! - November 10, 2002 by Spike Spiegel
Cool - Yeah, This Is Better Than Any Other Skin, Great Man... - November 8, 2002 by nk182 nk
OH CHET!!!!!!!!! - this chet it's very good and i feel with if i drive a car. DOWNLOAD NOW!!!!!! - November 7, 2002 by duvan dario roncancio garzon
outta control - wish it had a nice low exhaust bass note to go along with it. - November 7, 2002 by daren gill
Keep It Up - the VU meter is actually responding very well, it is not lag.i dun know how to put it on words. study it carefully u will know it - November 4, 2002 by Ngo Hea Meng Jackson
OMG SO TIGHT!!! - WOW!!! As if Overdrive I wasn't awesome enough. THIS SKIN PWNZ ALL!!! - November 3, 2002 by Karl Troutman
DAMN!!! - DUDE! UR SKINS THE COOLEST! REMINDS ME OF A CAR I SAW IN A PARKINGLOT. MAKE ONE LIKE IT, ONLY THIS TIME, A JET! - November 3, 2002 by David Sylvester
GREAAAAAAAAAT - Very spiffy! - November 2, 2002 by Daniel Severin
Overdrive 2 TOPSKIN - My new Fovorit-Skin. I have more funny. Let`s GO! Brummm Brummm MUSIC. Thanks for you. - November 1, 2002 by ADNAN SIRIN
-- - - - - - - - - - - THIS SKIN ROCKS CAN YOU MAKE A BMW SKIN? - October 25, 2002 by Rhys Hollingworth
Good - Good (heck just wanted to say a comment different to Mohammered Ali Repeatzed) - October 23, 2002 by Jeremy Freemantle
CoOL - Hey, not a bad skin, its a bit better than the first one..i like it! good job - October 23, 2002 by j z
fk2u - nice player and getting better - October 23, 2002 by giacomo margarito