>
Skins

>
Stylish
OrbFace
Featured Skin, September 12, 2002.
I have address every complaint in the comments and from email. Please email with comments.

It now has eyes that follow the mouse, the eject button opens a file instead of having a menu, and it should be easier for 9x/ME users to get it working.

9x/ME users: you should not have Desktop Alpha enabled period, because it won't work.

2000/XP users: turn on Desktop Alpha for a much more pleasant skin.
Download skin
| | | |
| --- | --- | --- |
| September 16, 2002 by Mike Kantor | 240597 downloads | |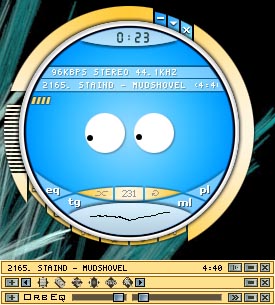 Staff review
Allright, we have a skin.
All components are there, and visible.
Comments
we need more like this - ...and less of those smooth metallic mobile phone lookalike skins. This is the best I've seen for a long time. Can't beat google eyes! - November 15, 2003 by ann gordon
Creepy... - Really freaky, but awesome non-the-less. Good skin! - October 27, 2003 by Phillip Thompson
!!! - his eyes move!! :P so far the thing that confuses me is what makes his eyes move. they seemed to follow my mouse at one point, and then stopped, and now i don't get it... :P - October 7, 2003 by kko n
summer-skin 2003 - mein absoluter favorit, er lacht und lacht und lacht... schon - August 2, 2003 by jan horstmann
real cute... - ...this skin is so cool! real interesting. i dont really care about the empty space. i really like how the eyes follow the mouse pointer. i just wish there were some color themes, so i can mess around with it. oh, well. just keep making skins as cute as OrbFace. - May 22, 2003 by Faaez Kamaal
Dude, your winamp is looking at me! - Kick ass skin. Super easy to use, shrinks well and when open full the eyes follow your mouse around, KEWL trick. - May 2, 2003 by Brandon Powell
It's grrrreat - I love it - been using it for ages now. Readable yet trippy, which is my main criteria....The eyes are a great touch as are the pulldown buttons. The only thing about it is it takes absolutely forever to launch, but I think this is a Winamp 3.x thing rather than a skin thing. - April 26, 2003 by Billy TwoBalls
Very interesting. - Very well done, an original concept. Worth the download. Get it now! - March 14, 2003 by Kilyn .
Neeeeat! - I love this one. Doesn't look like other teenage fantasy crap. And at least it's funny, makes me smile each time i use it. Thanx a lot, mate, nice job! - January 5, 2003 by Mike Zee
I cant think of anything wrong with it - only think i would like added would be more color choices and maybe diferent expresions. but it is a cute, nice clean and eficient skin, i can see what im doing read what it says and i enjoy looking at it. good job. - December 28, 2002 by Adam Dugger
This is pretty darn cool... - This isnt the best ive seen, but its a great skin none the less. =P - December 13, 2002 by Brandon Holland
Functional yet still adorable - This is a great skin for those who really like to be able to see what button they're pressing. The eyes are a really cute little feature, though some might find them kind of annoying after a while. - December 6, 2002 by Bridget Sweeney
I LOVE THE SKIN!!! - Seriously the most amusing skin ever! I love it soooo much!! There are so many crappy one's out there! Finaly a good quality skin!!! Awesome job! - November 27, 2002 by Melissa Wood
Really cute - Simple and cute! - November 7, 2002 by Kathy Stewart
:) - it's cute :) and nice to look at! - October 21, 2002 by Leonor Correia
finally! - I really like this skin... totally cute without being annoying, doesnt take up all of my desktop, and most importantly EASY TO USE!!! thank you Mike! - October 18, 2002 by Corian Po
Very , very good skin - The "OrbFace" is very , very good - October 2, 2002 by Peter Uscinski
Teste - Isso e um teste - October 2, 2002 by Gabriel Maranho
Wow.. - this skin is simply cool! i can make the eyes cross each other.. (cross-eyed!), but the buttons r a bit hard 2 find... anyway, great job! I simply lovee it!! - September 30, 2002 by Lin Liyi
Cute.. i guess - Good idea and was a cute idea but is lacking in what i look for. Again nice job and i like the drop down buttons but... it just erks me after looking at it for a bit. Didn't stay as my skin for more then 2 minutes. - September 27, 2002 by Joel Axner
Doesn't quite cut it yet - The empty space now has eyes! Come on! Put some visualization in it. Try something like zygote. the eject button doesn't retract once pressed, until you hover over it again. Look into it. - September 25, 2002 by Sankar Bhanu Gorthi
Simplicity Rules - This skin is so easy to use, in fact there is alot I would have missed had I not downloaded it, because some features are too well hidden for a newbie to know what to look for. So please:) if your new to winamp 3 check this one out, until we newbies(puppies on the porch) learn everything a winamp can do, we can never run with the pros(big dogs in the yard),lol,:) - September 23, 2002 by Deborah Edwards
What kind of loser gives this skin 0 stars? - I don't know who made the rule that the more crap you fill a skin up with the better it is, but they are retarded. I like this skin because it is creative and I can actually see the buttons. Crowded skins are nice to look at but only the really good ones are actually useable. Whatever happened to functionality? This skin is great. - September 22, 2002 by Lisa Zeeb
Unique and COMPLETE!! - Wow, one of the only skins I've found with a windowshade version of the playlist. To me, this is a MUST for functionality! all these compact skins out there either did not skin the playlist or they didn't put a windowshade, which makes the skin not exactly compact, does it!? I would love to see more differing color schemes, but that's just being picky. This skin is just damn cool. I joined winamp just so I could review this skin. NICE JOB! - September 19, 2002 by john smith
Soo Cute - I think this is so cute....I definately like the skins with all the buttons easily accessible and this one has it...it may not be the most "state of the art-high tech" but it serves it purpose and looks good! :) - September 19, 2002 by Debra B.
5 stars for a great skin - very, very nice :) - September 18, 2002 by Erin Murphy
Too bad - I very sorry for putting 0 stars on but... I had to because it didn't show up at all, Look good though - September 16, 2002 by Tihomir Pantovic
I stand corrected. - There is a load button. My bad. - September 16, 2002 by Pamela Howard
great, but... - great, but why don't you put the visualisation in the big empty blue area?? That would definitely drive it up to 5 stars for me. Clean, crisp, beautiful design. Just that empty space..... - September 16, 2002 by Matt Culbreath
DITTO - DITTO quote Donald Qualls gave it Doesn't quite work posted on September 4, 2002 @ 23:41 PM I'll admit it, I'm still in the dark ages running Win98, but this skin doesn't display -- the blue central section doesn't show at all, even against the desktop wallpaper. Too bad, looked interesting quote - September 14, 2002 by david adamczyk
Umm...well... - Pretty dull skin really. Big open space...i dunno, fill it with something, visualisations or sumfin. Well produced though, so 3 stars. - September 13, 2002 by c settles
Doesn't quite work - I'll admit it, I'm still in the dark ages running Win98, but this skin doesn't display -- the blue central section doesn't show at all, even against the desktop wallpaper. Too bad, looked interesting. - September 5, 2002 by Bo Jangles the Happy Cat