>
Skins

>
Entertainment
Official Smallville Skin
The WB
Lana Version
Lana Lang (Kristin Kreuk) is the untouchable girl next door; the girl Clark Kent worships from afar. Check out her new Winamp Skin and the hot new video trailer included. Be sure to watch Smallville Tuesdays at 9/8c on The WB , with surprises all through April and a two-part season finale in May that you won't want to miss!
Download skin
| | | |
| --- | --- | --- |
| April 28, 2003 by The WB | 237731 downloads | |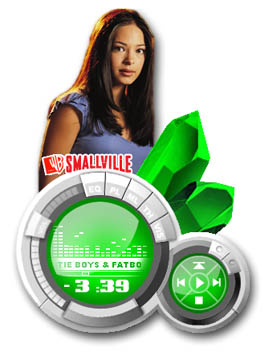 Staff review
Everybodies sweethart.
Catch the adventures of Lana every Tuesday. Only on the WB.
Comments
LANA - HERMOSAAAAAA - November 30, 2005 by franky lara
uhhhh...lana - lana is hoooooooooooooot~!!!!!!!! but this skin is not for me! id be too busy staring at lana and not listening to music, but 4 stars! - June 11, 2005 by sharad bhat
It's wonderful - I really like this skin alot - March 3, 2005 by Lar Miles
I love Smallville! - Thanks for making this skin!! I love it! - November 18, 2003 by Minkyung Kang
ok - its okit seems like she s the bad one cause its got kryptonite on it. - July 25, 2003 by ashley keenly
Hm... - The colors don't match very good, especially that red... And the girl...bleah!!!!!!!!!!!!!!!! She looked better as SnowWhite!!!! This..."thing" is a crap!!!!!!! No offence. One star for the kriptonite:) - July 19, 2003 by Anca Demian
ok - jeje, nice actress, thats all... and easy too use - June 27, 2003 by Joakim Jensen
................ - ..............her own face?!?!?!?!? - May 6, 2003 by james handshoe
kull - Cool but not so much - May 3, 2003 by Patryk Misztal
ha ha - this skin is very unique although its too big but lots of nice features so try this skin and see what you think for yourself - April 14, 2003 by brian chaloner