>
Skins

>
Entertainment
Official Six Feet Under Skin
Featured Skin, March 20, 2003.
Official Six Feet Under Skin. Life. Death. Afterlife. For the Fishers, the more things stay the same, the more they change. On March 2 at 9pm ET, it's time to break new ground with the Season Three premiere of the Emmy and Golden Globe-winning series Six Feet Under!Download this exclusive Winamp 3.0 skin. Be sure to check out http://www.hbo.com/sixfeetunder for all the latest information on Six Feet Under. UI and Coding by Petrol Designs.
Download skin
| | | |
| --- | --- | --- |
| April 3, 2003 by Petrol Designs | 546971 downloads | |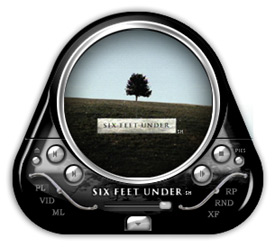 Staff review
A great skin for an award winning show.
Load up all those depressing tunes in anticipation of the brand new season of HBO's hit series Six Feet Under.
Comments
six feet under - AWESOME! I am the biggest SFU fan I know, and this gets me excited! Besides that it is great looking and easy to use. The pics is such a great added plus! Great job :) So sad this is SFU's final season, but I will still have this little momento:) - June 29, 2005 by JANET HARTZHEIM
Yes Yes Yes!!!!!! - Oh man i just adore six feet under and this is such a fantastic skin,can ya make desktop background that looks like this too?? LOL.. A job well done to Petrol Designs :) - May 14, 2005 by Tina Robinson
Nice :) - It seems that we were in the future! Cool! - October 20, 2003 by Tiffany Sun
good - mycousin likes dark stuff this is good for her she would love it. me i think its good it reminds me of the movie the ring actually. - July 25, 2003 by ashley keenly
great - Great skin! I do`nt give it five because it need some more, but i ca`nt find out what it is! It need the little extra touch u know! - June 27, 2003 by Joakim Jensen
Pretty Good - Pretty good, shame the edges are a bit rough and it disappears when you move but not bad! - June 23, 2003 by Blues Joshua
perfect - Perfect. this is exactly what I was looking for; small, simple, done. thank you. - April 25, 2003 by Anand Tanna
yes,it just what i find for. - it is very good! - April 23, 2003 by huang tingting
yay - so pretty... i love the starkness of the tree on a flat plain - April 19, 2003 by amanda malek
felicidades - hiciste muy buen trabajo - April 7, 2003 by octavio mora
Good! - It's very clear and the design is great! Good job! - March 31, 2003 by Michael Arnold
.... - WOW - March 30, 2003 by Ty Lee
Excellent Skin - You got an excellent skin. Congratulations! - March 30, 2003 by Jesse Awhayj
Sweet Skin - Not quite the pop culture of skins. Its not just a medal LCD, its something more. Note that Bizzy-d is the man who did the backend of this skin. - March 23, 2003 by John Drake
SMOOOOTH - Smooth, Plain and Simple. Nothing to say more. http://WeAreFriends.cjb.net - March 7, 2003 by Sikander Shahjahan
just one word - ELEGANT - February 26, 2003 by airam jimenez