>
Skins

>
Entertainment
Official Rolling Stones skin
The Official Rolling Stones Skin
The Official Rolling Stones Skin
In support of their new Greatest Hits album "40 Licks" in stores now! You can win a trip to LA and tickets to the show that no one can get into. Check out www.rollingstones.com/aolcontest/ for more details.
Download skin
| | | |
| --- | --- | --- |
| September 24, 2002 by The Rolling Stones | 506261 downloads | |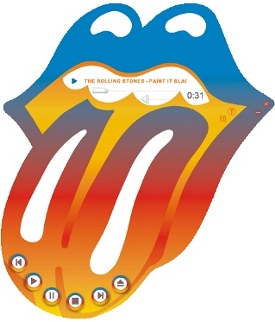 Staff review
40 years and their rocks are still rolling.
Help celebrate four decades of insanely good rock.
Comments
5 - estuo copado, el tema ms corto q escuche, 5 milisegundos, gracias, gracias - March 4, 2006 by gaston zitelli
STONES!!!!!!!!! - great skin man, one down side-media libary/playlist needs diffrent colors, ROCK ON!!!!!!!!!!!!!!!!!!!!!!!!!!!!!!!!!!!!!! - November 2, 2005 by x yz
LICK ME - simplemente magestuoso - September 2, 2005 by fabian dasilva
great - very nice skin, Great Colors and good Button location. But skin is too big and the font is too small, i would say. - March 24, 2004 by Eispizza S
awsome - Great skin, alot better then half the junk floating around this site. Best Ban ever, may they live longer then me. - March 6, 2004 by Michael Klink
awesome - great skin of one of the best bands around - January 19, 2004 by Al Bert
Rock On! - I like it! Love the colors...love it all! - November 18, 2003 by Stewie Griffin
he - man who ever dont like the stone can just keep the f****** opinons to them selvs...i say 4 1/2 so ill just round that up - August 26, 2003 by Travis Flynn
To cool - This is a very cool skin... Love it... Stones forever... Dem skal vi ha' flere af... - April 19, 2003 by Thomas Hansen
Quite rocking... - just love it! i'm no fan....but this skin is cool....love the colours... - March 22, 2003 by lola humbert
You did an awsome job - This awsome! No one knew that anyone could do this but now we can! - February 3, 2003 by Kathryn Herschberger
Official Rolling Stones skin - this is rubish dont download it just keep lookin for somethin better - January 18, 2003 by tim finn
UGLY!!!!! - uncool - December 13, 2002 by Martin Jensen
Stones Suck and So Does This - Horrible, please... a picture is not a skin, create something useful and interesting and maybe you wont have to kill yourself due to neg. feedback. - December 5, 2002 by eric w
rolling the rolling stones - this skin isn't the most comftible skin but very astetic... - December 1, 2002 by dino velvet
well done - its different, its funky and fresh it gets both thumbs up from me.... - November 16, 2002 by bindu paul
not good - not nice at all - November 3, 2002 by robert hac
Image is all - This is Image, but nothing new. For FANS. 3 Stars. - November 2, 2002 by ADNAN SIRIN
rolling stones - this skin is very good - October 30, 2002 by michael philips
friggin a - sure it's pretty, but what good is it if it's not complete? plus, too friggin big. pretty colors are all that are getting this skin any stars.. too bad i can't give it a half or quarter - October 26, 2002 by Steve E
Riiiiiight... - ... Right ... - October 9, 2002 by Niels Hietbrink
COOL!!!!!! - this is the coolest skin i've ever seen. i don't really listen to the rolling stones, but the skin is great. i have a pink, kinda magenta colored skin and it looks like it is part of the background. it looks really good. keep up the work. - October 8, 2002 by Melody Jane
This Skin Kicks Ass - I love The Rolling Stones!!!!! - October 7, 2002 by Eric S.
Nice idea, but... - The main graphic is great, but this skin is much too large, and is missing a bunch of features. It could benefit greatly from having the buttons integrated into the image, rather than tacked onto the bottom. Ah well...maybe next time? - October 1, 2002 by Benjamin McKenzie
Good but not great - THis skin is good but I have seen better. One of the things I dont like much about it is the overall size of it. But I must say I do love the colours on it and it's very nice and smooth looking - September 29, 2002 by Marcus Hanson
Theme skins - most themed skins suck, like universitieas and shit, but this one is actually good - September 28, 2002 by Jorge Pazos
Nice Colors, Waste of Space - This skin is huge even at 1152x864. Seems to be no way to make it smaller othen than to minimize it or switch to another skin (I chose the second option). Doesn't seem to have any additional functionality or features. - September 26, 2002 by Mike McCaffrey
fun skin - It's fun to look at and easy to use...i love it!! - September 25, 2002 by emily waranch
Les pierres roulantes... - Ouais bein pas tres rock'n'roll ce skin... mais bon ils se font vieux... - September 25, 2002 by elie blanc