>
Skins

>
Consumption
Official Powerade Skin
Featured Skin, February 6, 2003.
Official Powerade Skin.
Re-energize your desktop with the official Powerade Winamp skin, and get into the action on the Powerade website. Use the links in the mini browser to check out the site. Don't miss the awesome Powerade games, make sure to download the Powerjam track by Earthsongs, and check out the you-won't-believe-your-eyes TV spots. The skin features tip-a-friend functionality, customisable colours and desktop Alpha to smooth the edges. Yes, it's eye-candy and an adrenalin booster in one! For more, check out the official Powerade website at www.getupstayup.com
Download skin
| | | |
| --- | --- | --- |
| October 1, 2003 by Powerade Europe | 435697 downloads | |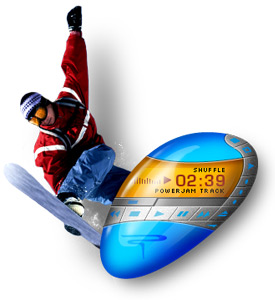 Staff review
Interesting how the equalizer occupies the same space as the thinger.
After visiting the hills, relax to your fav tunes on your winamp dressed up to the occasion.
Comments
Cool skin - Decent functionality, beautiful design - March 13, 2005 by Prashanth Srinivasan
Very nice - just as a note, to turn off the snowboard dude go to the thinger menu and find the image off / on with the arrows ^^; good work in the skin - October 26, 2003 by Bennie B
Go!!! - Very good one! I liked it much- simple but 'useful'. BRAVO!!! - April 29, 2003 by fajfus ok
Mmmmmm tastey - id have to agree with D link.... the egg is damn nice! so gooey.... except... there is a chunky, usless snowboard attached... and seeing as i dont get into snowboard.. this is no use to me... release a version without the snowboarder, and ill definalty use it! - March 17, 2003 by D p
Hey! - It's a cool skin! - February 24, 2003 by Nina L?ng
Boo to Brand Names! - Brand name skins always SUCK! Unimaginative skins designed by marketing jags who embed their Dot.Com adverts all inside it! Does every office at Powerade have this skin on their desktops??? NO BRAND NAME SKINS! Do you hear me, Fanta??? - February 14, 2003 by Father Time
excellent - i have a problem.i downloaded thid but i must have a file studio.Who know where i can download this file; - February 9, 2003 by giorgos perikleous
D LiNK WiT 27 there's mode w/o snowboreder! - It's very cool skin! but MMD3 is better :P - February 6, 2003 by TheCwirek! Poland
Opinion - It's quite good - February 2, 2003 by Adrian Ferrari
cool.!! - very cool! easy button, cool degisn, various ability and so on. I'll give you five stars! - February 1, 2003 by hye young kwon
Now... That I overlooked it... - I couldn't find a skip back or forth button? When I pushed the arrow toward's the right and left it only skipped through the song? - January 29, 2003 by Jacob G