>
Skins

>
Games
Official Midnight Club 2 skin
Rockstar Games Presents Midnight Club 2
Rockstar Games Presents Midnight Club 2
Rockstar Games presents Midnight Club 2 - illegal street racing in performance enhanced cars and motorcycles through the dark streets of LA, Paris and Tokyo on your PlayStation 2, Xbox, or PC. Now, Rockstar brings you the ultimate in digital audio receiver technology for Winamp 3 themed after this best-selling racing game. Featuring touch-screen LCD display technology with user-selectable color schemes, fully integrated spectrum analyzer with motorized slide-out ten band graphic equalizer, and slimmed down winshade mode that sacrifices none of the core functionality. Plus a slide out 3D navigation map patterned after Midnight Club 2 street grids and a glorious display of 3 of the most sought after in-game cars set against the night sky of downtown Los Angeles.
Download skin
| | | |
| --- | --- | --- |
| June 10, 2003 by Rockstar Games | 286408 downloads | |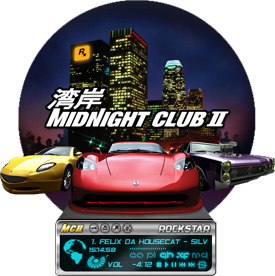 Staff review
Kick ass skin for a kick ass game.
Rockstar Games went overboard with this killer skin for Winamp3. Slick interface and groovy extras push this one past the redline.
Comments
Nice! - ...I wish my cars bumper could do that. This skin is awsome. - July 31, 2005 by brandon larkin
Hi - The Official Midnight Club Skin 2 is very cool i like it!!!!!!!!! - January 11, 2005 by ignas ignas
Nice - Nice looking skin. - April 8, 2004 by John Dettling
Midnight Club 2 - Yes, it rulez. I played the 'old' Midnight GT on my PC. Well done! - June 18, 2003 by Matthias Wenz
Cool - This skin have the style of Midnight Club 2 Rockstar Games..so its well done!...In Portuguese: A skin ta porreira pah e reflecte bem akele ambiente de jogos como o Midnight Club 2 Rockstar Games.Bom trabalho! - June 13, 2003 by Heitor vilnius
kinda nice skin,bad game - i like it cuz it's an official skin and looks sorta nice, nut i dun like the game cuz there are no real licensed vehicles!!! - June 12, 2003 by Moritz Bach