>
Skins

>
Entertainment
Official Mad Magazine Skin
Official Mad Magazine Skin
Official Mad Magazine Skin
The official Mad Magazine Winamp3 skin.
Download skin
| | | |
| --- | --- | --- |
| August 20, 2002 by Warner Bros. | 406971 downloads | |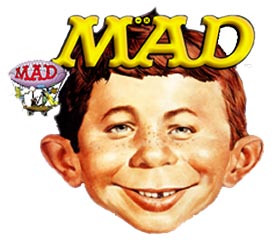 Staff review
No worries. Alfred E. is in control.
Not your typical Winamp3 skin here. Poke and prod to see what you can find. This skin is full of useless extras. What more could you expect from the guys at MAD.
Comments
Way Cool - This is a sweet skin - July 8, 2007 by Ace Woodson
ALfred E Neuman WINs Amps !! - Awesome - May 17, 2007 by Neelabh Bisen
Spy x Spy - Quem nunca leu MAD n?o sabe oque este skin tem pra mostrar. Como disse meu amigo Carlos Villegas "EU GOSTO DESTE SKINS E FODA-SE" - October 5, 2003 by Jeferson Vieira
good skin - i like this skin is funny, and had a nice animations too. - May 2, 2003 by carlos villegas
The PERFECT Mad skin! - This skin is so nostalgic it almost makes me cry! Everything about this skin is totally "Mad Magazine", from the blimp circling Alfred's head to the little Aragones-like doodles that slide out of Alfred's ears! If you don't like this skin then you've never read Mad Magazine, so you sadly do not know what you're missing. The button layout is clear and clever, too! - December 13, 2002 by Alex Thompson
Shaddup! - You no-sense-of-humor goth types. You probably couldn't crack a smile and do it for free, could you? Winamp 2.x was flooded with dark, boring, gray-steel crap. This skin shows just what's possible with the new Winamp in a whimsical and imaginative fashion. Long live free-form! The rectangle is dead. - November 10, 2002 by David Gates
VERY AMUSING - i love this skin! It lightens up my mood. - October 14, 2002 by Karen Ang
Brings back memories - I like this skin a lot,I used to read Mad all the time when I was a wee lass, and it's cleverly set up, especially the cute little blimp:) - October 10, 2002 by Kathy Stewart
Cool,but... - The skin is really cool and funny,but the buttons and the equalizer are very unclear. - October 7, 2002 by Kepler Verduga
Mad Skin - Why not ? Alfred E.Neuman is my childhood... Even in Slovakia !!! It's useful to have an uncle, who lives in Sweden, huh ?!? Dear comunist comrades couldn't interfere... Think about the skin once more and make it better. What about using Alfred E.N.'s ears, nose and tongue for the control panels menu or some kind of other crazy idea ? Sorry, I mean MAD... - October 3, 2002 by Juraj Kalasz
sergio aragones - this skin rules.... it has the silliest user interface ever... click his ears and two sets of tools come out... click his mouth and the track is displayed.... click his forehead and a link to mad magazine's website appears. they always were shameless at promoting themselves. best of all... a zeppelin circles his head for hours..... no equalizer display.... but so the **** whut. - September 25, 2002 by Kevin Anderson
Quite nice - But I just don't like the head. Never did actually. - September 24, 2002 by Dolores Burne
Stupid - what a shit fucking script. - September 23, 2002 by Ashwin Nand
Read Me - I love it I only gave it 0 stars so people would notice me, download it you won't leave your PC or sucky mac for days. - September 22, 2002 by Gordon Wintrob
Haha it's cute! - Ok, bad choice of words. Probably 'cause I love retarded things (newman). Points for the complex animation. Slows down the system though. - September 13, 2002 by psychelite *
GOOD $H!T - This is a great skin for all Mad fans. Now this is the last thing you will ever need to download! - September 12, 2002 by Alex Ketchpaw
Started a Skin Revolution.... - This was one of the first (if not the first) WA3 skin, and I had to say, when I first downloaded it, I was like, "WTF?!? Who was smoking what when they made this?" What I didn't realize was how far WA3 skins could go from old WA2 skins that were locked into the 'default' style of design. This one has ears popping out with features, his mouth opens to reveal player controls, etc... it's very animated too. It's really a cool little skin, especially if you like MAD Magazine. - September 11, 2002 by Johnny C
all you mofuc*ers that say this sux are fuc*ing stupid idiots!!! - this was totally rockin' i dafinantly think ya' should download it!! - September 9, 2002 by olivia nunyabiz
give him a break - come on this is a great skin... if you don't like MAD than why the hell would you download this? It's a great skin...nice quality. - September 6, 2002 by Tim Snyder
mad - cool - September 5, 2002 by dominique welt
alright! - i love MAD and i like the way that u click on anything and weird stuff pop out, very kool! - September 3, 2002 by veronica romero
Bleccch - Bleccch, and not in the MAD use of the term - September 3, 2002 by Chummy K
Funny ! - A large jowl smiling...It's cool! - September 2, 2002 by Luiz C. de Oliveira
ok but needs some improve ment - hey when you click the nose it should sneese - September 2, 2002 by Aaron Combs
What me? worry? - This is one of the best skins by far, orginal and usful. I like where the equilizer and the button bar is along with the play buttons. Very intresting. A good skin to mess aro8unf with it deserves all 5 starts plus 5 more - August 27, 2002 by Nick Young
"What, me Winamp?" - This skin is just so damned cool. It's wacky, tacky, and Alfred's body parts slide every which way to reveal different buttons and stuff. And that cool little blimp goes round and round... - August 27, 2002 by Kevin Allen
why - why did i even bother to download this - August 26, 2002 by Matthew Laclair
good - its cool - August 24, 2002 by tiago berry
Doesnt' work on WINAMP3 - Why the hell does it mention WINAMP3, but won't run on WINAMP3. - August 22, 2002 by rolland long
haha!! - this is awesome... and funny - August 20, 2002 by Marlie Karlsen
its kewl! - For a free skin, you'd think people wouldn't be as "Mad" as you all. I think it's kewl. - August 20, 2002 by Jake Benjifield
Sucks ! - I just tolerate it for a Winamp3 demo, but what an horror, taking all the screen space. How do you THINK it's possible to use winamp at work with such a stuff ??? - August 20, 2002 by Etienne Hilson
This suckssssssss!!!!!!! - This is the worst face of shit skin I had ever seen! - August 19, 2002 by Rob S
Did not work - If I could get it to work I would rate it 5 stars - August 19, 2002 by ?yvind Magnesen
Cute - I guess it is one of the cutest skin that I have ever seen. ;) - August 17, 2002 by moon noon
I don't like it at all - That skin looks so stupid that I haven't even got enough words to describe it. - August 17, 2002 by Jani Konttila
MONEY - VVVVVVVVVVVVVVVVVVVVVVVVVVVVVVBB People, VVVVVVVVVVVVVVVVVVVVVVVVVVVVVVBB! - August 16, 2002 by Some Guy
fun for half a minute - As with any "promo" type skin it's job was not ease of use but useless things that get your attention. This did a poor job of both. Hard to navigate and just plain ugly. Sorry Mad, but stick to the printed page. - August 16, 2002 by phil g
Hoppin'MAD - here's th' skinny... tried to download this cool seeming skin, my being the nostalgic childhood MAD reading type and all. To my immense dismay however, all that I was able to download, time and time again, was some crap song by some ersatz wanna-be emo band called 'new found glory'(note to band, change name to 'morning glory' after the prune juice 'cuz that's what yer style hopping waste makes me wanna drink in order to flush you from my system). What gives? Where the hell is my skin?? Why the plug for some cheezy band??? Was lookin' forward to MAD, but leave here depressed instead... - August 14, 2002 by Melvin Melvinsson
Video doesn't work - The video in this skin doesn't work, that's unacceptable. - August 13, 2002 by Matt G
One Star - I gave this skin one star for that poor guy who worked with the graphic. - August 13, 2002 by Jean Andre Flugheim
so cool!! - c%l x 99 - August 13, 2002 by Jacob Runneberger
Maaaaaaaaaaaaad! - This skin's MAD!!!!!!!! - August 13, 2002 by Ida Lundgren Hovde
Lol!!!!!! - OMFG! this skin is so friggin' awesome! - August 13, 2002 by dante gutierrez
Annoying - Its not a good skin at all, and probably the most annoying one I've seen for Winamp3. - August 11, 2002 by henry3k56 @
It's GrrrrrrEEEEeaaaT! - Very smooth looking skin. Lots of nice animations, clean cut, and awesome theme. Keep up the GREAT work! - August 11, 2002 by Cyb3r d00d
Wonderful! - Could have had more detailing, but i'll shut up! - August 10, 2002 by decepticonTnGa6 .
Awesome! - probably the best! MAD as ever ;-) - August 10, 2002 by Abhijit Muthiyan