>
Skins

>
Entertainment
Official Lord of the Rings Skin
Skin By New Line Cinema
Skin By New Line Cinema
The Official The Lord of the Rings: The Two Towers Skin This second installment in the trilogy continues the epic struggle for the One Ring. The journey continues - only in theaters December 18th.
Download skin
| | | |
| --- | --- | --- |
| December 13, 2002 by New Line Cinema | 2559996 downloads | |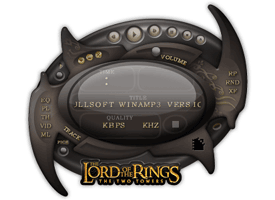 Staff review
Gollum would be envious of this skin
This feature packed skin has 5 incredible modes. You are able to watch a special Lord of the Rings Two Towers video trailer, Listen to the newLord of the Rings Two Towers Soundtrack, and see your favoritecharacters in the photo gallery. Beware of the ring, find the ring inAlpha mode and see what this powerful mode can do. Be sure to check outthe film when it is released December 18th. UI by Petrol Designs.
Comments
Volume doesn\\\'t work. - The volume does not work. - March 6, 2008 by Rofyle Bishop
misto - super tare!!!! - December 5, 2007 by milky m
no bad - super - November 28, 2007 by Onorina Tatiana
you can make him big or little - very reccomanded by many people you noy be sorry - October 2, 2007 by uria maman
I like eet alot - Nice skin. Easy to use. Some trick features. Visually interesting. Grab it today!! - July 23, 2006 by Mykor Damyth
shit - Alright but not very practical is it? :| - June 23, 2006 by Emily Sweetman
Cool LOTR skin - Cool skin w/ movie pictures from the Two Towers and a trailer. - September 14, 2005 by Luciana Labrgeo
Hmm... a little misteryous - Although I've said that in the title the skin looks pretty awesome anyway if I had the materials and if I knew how to make a skin(sounds hilarious that I don't know how to do that) I could have done a better job anyway this skin is a cool skin, plus that I'm a fan of LOTR trilogy so 5 stars from me guys. I think that the next skin (if there will be another) should b made like a bow or like a sword let's say Legolas style or Gandalf's . And I'm sure that the downloads will be over a million. :D Pretty awesome right?? And the skin should be made in a modern style : on the blade of the sword should be the play, stop, pause buttons be atached beside that the sword should be kept by Gandalf of course, his sword , or by Boromir, his sword. I can't say that I don't like this skin but it should be improved. You can also make a Nazgul skin: you put the picture of a nazgul and on one of his wings , there will be the stop, play pause buttons and on the other wing the equalizer, this way it'll be occupied a smaller space on the desktop. Hope you'll email me if my idea's good . I'm from Romania and till then see ya. Oh, I almost forgot my email adress is [email protected] Now if you don't mind I want to read the trilogy 'cause I saw the movies - September 1, 2005 by Legolas The_Elf
i love the lord of the rings - this skin is really cool and i enjoy to have it - August 7, 2005 by sarah jaffre
Coolest!!!!!!!!!!!! - I think that this SKIN it's very cool. I'am a BIG fan of The Lord Of The Rings. Thank you Winamp for this skin. In the world exist many fans of the lord of the rings. I' am a Portuguese fan. - May 9, 2005 by paula alexandra
Nice Skin!! - Hey!! This skin is good, although it could do with maybe a picture or two to really get people's attention and maybe more colour and decoration, but other wise it's good!! :) from Kyra - March 15, 2005 by Kyra Potter
COOL - Hey this skin looks awesome... but I cant get it to work! How do you apply these? My comp wont recognize it!!! help me! - December 31, 2004 by Kris Wolf
GREAT SKIN - This is the best skin for winamp. - October 3, 2004 by Matjaz Cizej
I can't put it on my winamp!! - Someone can help me? I download it, but it just reconize like a mp3. So, I can't put it like a skin. It doesn't function. Do you tell me how you get it well. Thanks - September 11, 2004 by Jeanne Dorion
Very cool - Very middle-earth'esque. The skin is awesome, just wish the compact size could go a bit smaller. Still 5-stars. Best skin here. - April 6, 2004 by Carol Chow
Sweet dude! :o) - I'm a big fan of the LOTR trilogy... Now I have a Winamp skin to go with my desktop & icons! Thanx! :o) ~Riddlz. "I live in the Light, but carry my Dark with me..." - March 29, 2004 by Krystel Rivers_Lloyd
interesante - y pense que LOTR tenia poco campo de accion - March 5, 2004 by ernesto grundy
looks nice - the buttons are easy to see, and overall, its easy to use. Looks good, so i'll keep it. - February 20, 2004 by Veronica Martinez
I love it but a little confused - I think its a great skin an all fantastic in fact (also ppl who dont realise sum of the relevance, the elvish kinda writing design on the side is part of it), But one problem is that i cant work the trailer the soundtrack or the ring feature woteva that is and i do have version 5. The pics work fine though. If someone could email me at [email protected] with some help or tips thatd be great. Even though im havin problems i wont blame that on the skin like some other ppl have but on my computer so it still gets five star rating from me. - February 17, 2004 by Naomi Brooke
My precious-ss... - This-ss ss-skin is-ss great, we think! We musts ss-steal it from mr Frodo! - January 10, 2004 by Adam Heurlin
lotr - good, nice - December 15, 2003 by how gwo shiun
unbelievable - this a really exquisite skin.the pic gallery is really awesome, infact i have set everything on my comp, right from the wallpaper to the screensaver to match this skin. the onlt problem could probably be that the playlist disappears everytime the editor is closed. even then, this skin is the best.....LOTR rules!!!! - December 8, 2003 by divya iyer
yaikks - awesome?nice?good?TiS SkIn iS SUCK, only people with a bad taste liked it - December 5, 2003 by harry kewell
good skin - i like this skin because it is nicely made and the buttons are nice and clear but i couldnt get the different modes to work - November 30, 2003 by Albert Suarez
As AWESOME as the movie!!!!!!!! - Freakin' awesome! Love LOTR and love the skin! - November 26, 2003 by Dianalyn Larsen
huh - cant use - November 24, 2003 by j r
Someone mentioned Ring-Mode - Well, 5 modes total have been mentioned...how do you get there? Also, I get a big hang on both trailer and soundtrack. Translation: tips very welcome... Otherwise like it muchly, its got character, but yes, not much is the basic design to do with LOTR, my imagination obviously failing! - November 19, 2003 by Michael Sewell
NIIIIIIIIIIIIICE - NNNNNNNNNNNNNNNNNNNNNNNNNNNNNNNNNNNNNNNNNNNNNNNNNNNIIIIIIIIIIIIIIIIIIIIIIIIIIIIIIIIIIIIIIIIIIIIIIIIIIIIIIIIIIIIICCCCCCCCCCCCCCCCCCCCCCCCCCCCCCCCCCCCCCCCCCCCCCCCCCEEEEEEEEEEEEEEEEEEEEEEEEEEEEEEEEEEEEEEEEEEEEEEEEEEEEEEEEEEEE!!!!!!!!!!!!!!!!!!!!!!!!!!!!!!!!!!!!!!!!!!!!!!!! - November 11, 2003 by audun martinsen
just beautiful - very good skin - November 10, 2003 by younes tahiri
Ok, I've downloaded it, but I have no clue on how to apply it! - Please someone email me at [email protected] if you can help me apply this thing! I am having such a hard time. :[ - November 8, 2003 by Melissa Jones
Help! - Okay, I downloaded the skin, but how the heck do I apply it!? sorry if its a dumb question... if anyone can tell me how to apply the skin, email me at [email protected] - November 2, 2003 by nicole parrillo
This is my favorite skin - This the most beautiful skin I've ever seen and very easy to use!! - October 31, 2003 by wilma westerbeek
HELP! - This skin looks really cool...but after you finish downloading it...what do you open it with? I don't know what to do and it's confusing me...E-mail me at [email protected] - October 26, 2003 by Drew Desmond
Great skin but the soundtrack doesnt work - I downloaded this skin. The music doesnt play it says canot connect. The pictures adn video dont play either. Nice skin but the features dont work. - October 25, 2003 by robin Barr
Cool! - I like this! Lord of the Rings is a great movie. :) - October 19, 2003 by Tiffany Sun
super - This skin i excellent! No problems what so ever if you use winamp3.0. Nice design and easy to use. A top skin according to me. - October 14, 2003 by nicke oster
Official Lord of the Rings Skin - I cannot download it. It seems taht it won't paste it in the Winamp skin. Please help - October 4, 2003 by Ariff Ahmad Tajuddin
Very Cool! - I'm Impressed, Especially with the ring.. 5 Stars from an old fart.. - September 25, 2003 by Fran Lang
Quirky - None of the special features work, but it looks soooooooo good...and I don't particularly like big skins. Even in shade mode it's still huge. - September 20, 2003 by Dante _
Hate It - You know this LOTR skin suxx..it's soo.. boring.. They should make a harry potter skin..coz Harry Potter RULEZZ!! - September 17, 2003 by L Bar
2nd best ever * that ive seen * - like i said 2nd best..i still love the godsmack one with the face. anyway..great job on this - September 17, 2003 by ashley harris
plzz...help me.. - i luv the skin! its beautiful but.....whenever i edit my playlist, or whenever i add files or folders on my playlist! the winamp will close......it says.....the winamp has cause ....blah blah....... - September 5, 2003 by jhaycee ferrer
What could be better? - This is so sweet!!! You can watch a LOTR slideshow while listening to the soundtrack. For those of you having a hard time getting it to work, download the newest version and it'll work just fine. - September 5, 2003 by Dominique Lichte
Lord Of The Rang - It's quite good, but not to good coz...we still found a conqueror. and please... use a good things - August 17, 2003 by Prana Jenggot
Perfect,pefrect,perfect!!!! - Really cool skin,nice futuristic design!!!I've seen both films more than once,I'm totallly LOTR freak. Anyway,I love it!!!! - August 12, 2003 by Rachel Green
very cool skin - nice color perfect design what do you want then this - August 9, 2003 by nitipat chantanintorn
lord of the rings! - Everybody knows that Lord of the Rings is the best movie series ever made. So,if the movie is good,and somebody makes an official lord of the rings skin,then,duh,of course it will be good,and yes it is very good,this skin deserves more than 5 stars. - August 5, 2003 by William Dedrick
excellent - a must for all LOTR fans.... thanks to New Line Cinema for this incredible skin...cant wait to see the return of the king jhay2k2 - July 20, 2003 by JHAY CLAVERIA
Muito bom! - se continuarem na mesma qualidade espero por mais. - July 11, 2003 by Gustavo Perrot
great - As skins go, this one is very beautiful... although, just looking at it, doesn't seem to have much to do with anything you know? Without the logo, it would just look like a cool metallic circular... thing - July 7, 2003 by Chin Teck Loong codys
Very nice - As skins go, this one is very beautiful... although, just looking at it, doesn't seem to have much to do with anything you know? Without the logo, it would just look like a cool metallic circular... thing. I know what I'm talking about :) - July 1, 2003 by Vicky Moogle
Niftafied - man, this skin Roxers me soxers! I love the books and the film, and well, wow! - June 29, 2003 by Beckey Linn
"Official Lord of the Rings Skin" - Super - June 26, 2003 by Ivan Ginchev
other - I say! it's a very good work and WOW - June 25, 2003 by Conny Wasell
It Won't Work!!!!!!! - ok, i download it once while Winamp is running, after it finishes, it says it's not a winamp 3 skin!!!!!! i continue to d/l it, but the same thing happens and it crashes winamp and now i can't re-open it! then i try to download it after winamp is down and i get this(what do i do![email me at [email protected]]): "tell francis to handle lack of db component" Expression:xdb!=NULL File: C:\projects\studio\studio\metadb.cpp Line:348 - June 17, 2003 by Travis Hoggard
Wow - That's a great Skin! Lord of the rings is the best film I've ever seen!! - June 14, 2003 by Daniela Maier
Lord of the rings skin - This is so awesome I am such a BIG FAN like all the rest of the ppl that like LOTR - June 8, 2003 by Alexandria Bennett
Pretty good - What can i say?It is simply one of the best.But i have to agree with another user about seeing a skin with the one ring.Keep up the good work! - May 31, 2003 by Andreas Bouras
tema - very nice - May 29, 2003 by michal mike
over all Good BUT.. - I think it could use a picture of the ring of power in the back or something like that, just my opinion i like it alot nice colors keep it up - May 8, 2003 by Alpha Zero
Love it! - I would love to see a LOTR skin showing the ring, but this skin is awesome. Gotta love it. - May 5, 2003 by Grey Haven
i love - i like this move - May 4, 2003 by Andre Luiz Teixeira
it's what i was looking for! - cool... - April 29, 2003 by areum red
"HTTP:CAN'T CONNECT" - It was 5 stars until about a month ago when it suddenly stopped being able to play the soundtrack from TTT (consistent symptom as shown in the subject of this comment). I have emailed the provider's admin (lordoftherings.net) a few times but no response. Anyone know a fix? Thanks in advance. - April 26, 2003 by Richard Elkins
hey - i'm a big fan of the lord of the rings!!!!! - April 25, 2003 by evita ortiz-oller
Too CoOl to be said with woRds - Cool...this skin is just great....everything fits in just right..... - April 3, 2003 by SiMin Low
Good skin - This is the best skin I've used. Even though, well, when you take a first look at it, the only thing relevant to TTT, is the title of the movie, it took me ages of not using this skin to finally work out what it does. - April 1, 2003 by The True God
ghthgfujhgsjf - eahyjdknrefivjdkneivjskmneldgdjwnjsifsnem scx - March 27, 2003 by ellie martinez
downloading problems - I would have given this skin a 5-star rating, but I could not even download it. I tried to download it about 6 or 7 times and it simply would not download. If it downloads for you and if it does not screw up your computer when you get it downloaded (check other reviews), then more power to you! - March 23, 2003 by Nicole Davis
not the movie but nice - yup , well it's a shade under the impact of the movie , but a very tasty skin , polished,professional and funcional - March 21, 2003 by phlob alob
Incredible - I dunno...It's perfect. What more can i say? - March 17, 2003 by Vinny Mahida
Outstanding - The best Movie Skin I have ever seen. Thanks from a Hobbit - March 13, 2003 by Jit Gill
awesome - very sweet skin. well designed, nice features, and includes everything you'll ever need (aside from a drink). - March 13, 2003 by heather washburn
Hey... What can I say... Im A Fan... - Excelent Design... A Modern LOTR Skin... 10 stars for the designer... - March 13, 2003 by Dankmar Garcia
WOW - Alrighty i got two words for this one HOLY BIZCUITS! This is the best and theme song included, Ive looked everywhere online for that song! - March 13, 2003 by Aragorn Strider
New Line rules! - New Line did the book justic when it agreed to do Mr. Jackson's movies. Itdid the movie justice with this WinAmp skin. Little confusing at first, but it rocks! - March 10, 2003 by John Thompson
WHY? - Dear Winamp, My Two Towers Trailer is not working, and niether is the soundtrack! PLEASE HELP! MEG - March 8, 2003 by Meg Hahn
genial - olaaaaa - February 23, 2003 by zyn ur
7|-|I5 I5 73|-| r0XX0r j00 4r3 73|-| 0VVn4&3!!!* - Totally rules!! Anything pertaining to LOTR totally rules! Must-have for all JRR Tolkein fans, whether you're the biggest fan or just like the cover art! *Translation for those of you who can't read it: "This is the rocks you are the ownage!!!" or, "This rocks! You're awesome!" - February 17, 2003 by Ileia Brashear
Easy - Nice graphics and easy to work with. - February 10, 2003 by Vincent Boelaart
Wow! - This is the skin for any LOTR fan. It has a picture gallery, a trailer preview (teehee), and it has a direct link to lordoftherings.net. This is a great skin. ^_~ - February 9, 2003 by Rachel Rowland
bug - hmm it crashes when adding songs to playlist. i've win98se. - February 6, 2003 by Lukasz M
Gorgeous !!!!!! - Is something better than simple skin? - February 4, 2003 by Grzegorz Olszewski
nice - Although it wasn't the best skin i have ever seen,it gave me good feeling when i saw this skin and listened to original soundtrack of this picture!! - January 31, 2003 by leeu dan
Nice - A little dark, but a very original shape. I like it! - January 30, 2003 by Luna Fuentes
Controls easy to get at. - A simple Interface and ALL the controls are easy to get at. For me that's the most important thing. It of course has the obligatory links to LOTR sites. - January 28, 2003 by dansk macabre
What can be said? Quite a bit. - It looks good. Plain and simple. The color scheme is well thought out and the design is original. An added plus is that it doesn't sacrifice any functionality for aesthetics, nor vice-versa. It even has a couple of links embedded which surprised me when I was clicking random buttons on it. It features, among other things, a link to a webcast of the soundtrack. Well done. Very well done. - January 27, 2003 by Michael Cordingley
VINTAGE Power Metal - Sencillamente impresionante!!!!!!! Awesome!!!!!!!! The Best Skin of all times! and ages! Keep Going!!! http://www.vintage.8m.com Ideal para metaleros!!!! - January 27, 2003 by Jim Boynton
I'm going crazy!!!! - Each time that i want to download this file appear : What must i do to download this file without any problems ? - January 22, 2003 by iolanda goncalves
Really Nice - This skin looks very nice, but the only downside is the buttons, they are a bit confussing, but I love how it has the sound track from The Two Towers on it, but too bad you couldn't choose which song from that soundtrack you wanted to listen to, but oh well, it looks really good! - January 21, 2003 by Rebecca Kollmann
One Tiny Prob Here - This is a great skin, and I loved the addition of the trailor, gallery and soundtrack, but I was just wondering HOW IN THE WORLD COULD THE MISPELL PRESETS!? - January 21, 2003 by Pat Higs
Awesome - This is a great skin. Sometimes the soundtrack doesn't work. Has anyone else found the Lord of the Rhyme rap? I found it by accident but can't figure out how I did it. - January 21, 2003 by Betsy Dadabo
What a skin! - I loved the book, I loved the movies and I love the skin! This skin is fabulous! I've had many skins but this one is complete and great...maybe it's a little too dark but it's the only thing I can say! Great job! - January 18, 2003 by Viness K�fl�ann
Amazing - It's all I can say.. just amazing - January 18, 2003 by Claudia de Pointe du Lac
YIR - SO COOOOOOOOOOOOOOOOOOOOOOOOOOOOL! - January 18, 2003 by Andreas Hansen
best - good - January 17, 2003 by hang man
OOOOOOOOOOOOOOOOOOOOOOOOOOOOOOOOO - i like the LOTR skin winamp. its very cool you see pics listen to the soundtrack and wach the trailer! its great! - January 16, 2003 by Galadriel From Mordor
Great skin - Ola spanish dude! We don't all know spanish so can you put your review in english please? Or else my review would look like Jako fina koza za Winamp, bas mi se svidla i odma sam si ju instaliro i stavio na kompjuter i jako mi se svidja i cijeloj mojoj obitelji sad svi stavimo tu kozu i piljimo u nju cijeli dan. English version: good lookin'skin. - January 16, 2003 by baba baba
ultimate_power - i need help..switching modes i realli do need help plz anyone knows the five mode?! TELL ME OK? thx - January 15, 2003 by ashley lau
Get help................ - I can't put this skin on my winamp. Is it because the file format is .wal ? and my winamp ver2.7. - January 14, 2003 by Joie Chiu
Good but..... - this is probably the best skin ive seen yet. Looks good. Easy to use, but ties up my entire computer to run it! eeven without playing anything. I had to switch back to default so i could get anything else to run at the same time! And this is on my brand new computer! shame i had to put it in the trash. - January 14, 2003 by dave williams
Kuru tanka! - this skin simply ROX! it's just...perfect! i mean,it's as perfect as it can get,coz lotr is unreachable! i really liked it,u shoul download it NOW! c'mon,there's a direct link to the TRAILER! what more can you ask for?? - January 13, 2003 by Tarhiliel GreenLeaf
Mas o menos - Esta muy bueno! me gusta mucho las imagenes... pero es muy peque?o y oscuro.... - January 13, 2003 by Justo Debarbieri
Da Best - This is like Da Bomb! The best EVA!!! - January 13, 2003 by Felicia Joiner
this is so cool - i like the LOTR skin winamp. its very cool you see pics listen to the soundtrack and wach the trailer! its great! - January 13, 2003 by amanda calderon
???? - how do u get to alpha mode???? - January 11, 2003 by Vicki A
LOTR rules - Awsome, nothing less. Like the ring mode a lot. - January 10, 2003 by F A
HELP!!! - somebody guide me on installing skins please im stupid when it comes to this..... - January 9, 2003 by Erick Lira
How do i download ? - when i press download it downloads the skin but it never shows. cant find it under "skins" either.. =S - January 8, 2003 by Robert Carlsson
Dammit - why isn't my skin working..I downloaded it i opened it on winamp and its not working - January 7, 2003 by Victoria Pena
WOW - WOw this skin is one of my favorites skins becuase is just amazing - January 7, 2003 by carlos antonio sibrian silva
wow - I love the books. I love the movies. Now, I love the skin, esp. in transparent (ring) mode. Except for the rough edge that often appear when it's on the top most, I love the details and the the LOTR pictures. - January 5, 2003 by Kevin Kee
It LOOKS and SOUNDS GREAT - It looks absolutly awesome if only I could get it to work. It says something about not being able to run it on winamp 3 or something. Does anyone know how to work this? I really want to use it!!!! if you do can you email me at [email protected] Thanks a million - January 5, 2003 by erin moore
Perfect - It is the best winamp skin I have ever seen! "The Lord of the Rings" is the best movie I have ever watched! - January 5, 2003 by ?afak Eker
Masterpiece - i've seen the movie, and it's really a good skin. tasty and helpfull. thnx mate! - January 4, 2003 by Niels Lindhout
haaaaaaaa - Lord of the rings the books and the film are the most wanderfull ever y seen in the word - January 4, 2003 by mehmet halit adali
love you - missing you - January 4, 2003 by legolus napanurak
Cool - I think the skin is cool. I like the color it's beautiful. - January 4, 2003 by Jureerat Bloom
Good Skin - The eye looks good too. - January 3, 2003 by Sankar Bhanu Gorthi
Well... - After seeing both films out so far.. i saw this and thought wey hey i want this .. lol if only it would bloody appear!!! :-( ive downloaded it.. and it just wont come up :( 5 stars anyways hehe - January 3, 2003 by Clara Varaka
i o no - Uhhhh its good and i like the kewl lil video that comes with it, but yu no its not...perfect....yu no? - January 2, 2003 by Lukanium Baileroos
Evil!!! - Nice skin, but I can't really find all the modes... still, it deserves 5 stars. - January 2, 2003 by Karl He
great! - I especially like the feature to make it like "invisible" by clicking the ring. also the pics gallery is very nice. - January 2, 2003 by joris vandermeersch
!!! - This skin deserves a 5, cause the pics looks awesome. But I gave it a 3 cause......I CANT USE IT! A little message that says this is not supported by Winamp 3 pops up. - January 2, 2003 by Al Andrade
LoTR rocks!!! - this skin rocks just like the movie!!! - January 1, 2003 by enaranien cheung
EXCELLENT! - This skin is the best I have seen in a long time. The transitions are smooth, the edges are clear, and the special features are astounding. Great job, man, great job. - December 30, 2002 by Trauts Montolio
Woow, great skin - very good skin..anyone who would give this 0 stars should get his brains checked. - December 30, 2002 by Sander v/d Weijden
how does this works - i can't use this skin on my winamp it just wont open what do i do wrong? - December 30, 2002 by nick ingel
Stupid skin!!!!!!!!!!!! - It's not so original. Could be better! - December 30, 2002 by Nice Man
My own . . . my preciousss . . . - I say the movie (brilliant)and needed the skin. This is fantastic. Functional, attractive and effective. I just learnt how to use the alpha mode easter egg (I won't spoil it for anyone)and damn if a smile didn't cross my face. I love this skin. They wants it, but they can't have it, nasty hobbitses. Its mine! My own! My, precious . . . - December 30, 2002 by Max Gibson
good - It's very nice.^^ I like it very much. Ohohoh~~~~ - December 30, 2002 by Chiu Sheng-wen
Cool!!! - It's the best skin every I see! - December 29, 2002 by RADEK ADAMCZEWSKI
What's Wrong? - Hey, i can't use the functions of the skin - December 29, 2002 by Darkest Ken Mitsui
wtf - ooookay this lil skin here has me totally stumped. I am what is known as a computer fookin illiterate to begin with unless I devote 15 hrs to figure 1 damn thing out.. but okay anyway I want this skin... I click download it downloads this page addy to my temp intenet files .. thats all that happens ... is it just me or is there some great secret as to how to get the actual skin.. on my winamp?? =) please feel free to email me if you can help. [email protected] meanwhile.. Im in the dark...waiting.... =) - December 28, 2002 by Mellancholy Anderson
cant make it work - its a great skin...but theres a prob...i cant make it work! i dont know what to do...i've download the skin, extract to winamp/skins...and when i start it its the old skin...pls help! - December 28, 2002 by marre redondo
God!! - I have no idea how to work this thing!! i put it in the skins folder and it doesn't work! i think it is because of its file type. it's a WAL file. can't anybody help me?? email me if you know how to help me. Thanks. - December 28, 2002 by Elena Kang
Attention - finally I did it! Attention to everyone who can't do this. If your winamp doesn't see your wal file you must install winamp3 to work it and alpha mode can be activated in the options preferences advanced menu. Super skin thanks to everyone - December 28, 2002 by BUrak KIZILKAYA
What a great skin! - This skin is TERRIFIC!! i love it and also The Lord of the Rings movies too!! - December 26, 2002 by Tiffany Hang
fantastic film...equally best WinAmp skin - but i can't download and save to my current winamp skin file.... why????? help me to solve this problem because i want that winamp skin..... - December 26, 2002 by Hairul Izwan
HELP!!! - I know I'm stupid but how do I change into the alpha mode?? Tried everything, got no idea! Please help me! Otherwise, the skin is great! - December 25, 2002 by Fran Wandrey
Ringorific - It is awesome! It has a button were you can watch the trailor, you can view pictures from the movie, and you can listen to the soundtrack live!!! A must download - December 24, 2002 by Ryan Anderson
Pretty good - I love the looks of it, but there is one serious bug. When i want to resize it (switch to the smaller version), there is clearly a button to do it. But, when i'm in that small version, there is no button to go back. And that's really irritating, now i can't go back. - December 24, 2002 by Pavle Culum
good - it is very creative and famous among teenagers! - December 23, 2002 by yours woo
Beautiful Film...Equally Beuatiful WinaMp? skin - I can only say that this skin amazes me. Find out for yourself how good the movie is by going to LotR's website or go to the movies. In the meanwhile, download this. - December 23, 2002 by Wade Anderson
sea - Cool - December 23, 2002 by Lapoln Akarakajohnchai
Herr Der Ringe Skin - This skin is really dood and i have downloaded it when i saw it. - December 23, 2002 by Johannes Musbach
muy buen skin - Se nota que el que hizo este skin, demostro mucho trabajo. Lo malo es que aun nose como guardar los cambios en las preferencias. [i don't know how save the changes on preferences... damn.. somebody help me :(.. ] BUT THE SKIN R00Lz!! Stratovarius Skin? or Rhapsody Skin? sounds good!.. oigan si alguien sabe como guardar los cambios en las preferencias, porfavor ayudenme!! - DarkHaleN - - December 22, 2002 by Dark HaleN
Tolkien Junkie! - As an official Tolkien Junkie, I rate this 'Official LOTR' skin with 5 stars. Once you download winamp 3, and put the stats on alpha, it's perfect. I love the sound track, actually, i'm listning to it right now. The photo gallery was great, the graphics are great, and I love the ring effect. To all skin users with problems with the ring. PUT YOUR SKIN ALPHA MODE! This is my favourite skin, and I will be using it for a long time to come, that's for sure. ROCK ON fellow Tolkien Junkies! - December 22, 2002 by christine sherry
Great features! - It looks pretty good(a bit too dark), and u can listen to the soundtrack, the photo gallery was cool. I can't believe the skin is free! - December 21, 2002 by Lisa Du
Great !!!! - For I'm a big fan of R. R. Tolkien I hat to give this skin 5 stars. But it really ROCKS !!!!!! - December 21, 2002 by Jefferson Broady
Got it to work - just delete it all and download again. excellent! - December 20, 2002 by joel tarver
download problem - why cant i downloaded it - December 19, 2002 by rano kurniawan
Great movie, great skin... - ...this is the first "official" I've ever been impressed by, and I've downloaded many. This is also the first time I've felt the need to review a skin. Good job New Line, as usual you don't take the LotR franchise for granted, even with something as simple as a Winamp Skin. Nice touches such as the One Ring mode really stand out. - December 19, 2002 by Baer Bradford
Can't dl - This message keeps flashing every time I try to download this skin... "The skin you're trying to download doesn't seem to be a sking supported by Winamp3" What's the problem? - December 19, 2002 by Aurxiel Evenstar
Whoa! - Great skin!!! Love the 'ring effect' ;-p - December 18, 2002 by PL Lim
No Luck - A little more help here. There is no ring on my screen to click. Is there a law against instructions or a readme file? I am a big fan of the book and movie, but so far not of this skin. - December 18, 2002 by Paul Hammond
Fabulous - This one is for Hein Haraldson Berg: you can't just give no stars to a skin because YOU can't download it. Maybe your internet connection doesn't work. Why punish the skin for it? - December 18, 2002 by Ioana Cozar
Whats this - tried it.... and deleted it. Nice looks but... what eles can i say? buttons are easy to find... good. Better luck next time - December 18, 2002 by Bonnie Assoe
What have ya'll been smoking?! - This is a great skin that lets us LOTR geeks enjoy the rings ina new forum, which is thru Wa3. This skin has great features and this is an excellent skin. - December 17, 2002 by Roxy Crist
pablo - jest swietny - December 17, 2002 by paweďż˝ Dembski
The secret is.... - 1. If you're trying to use this with winamp 2.x forget it. 2. If you wonder what the ring does, make sure Alpha mode is enabled in Options/Preferences/system/advanced.... THEN click the ring (it's a suprise). - December 17, 2002 by Justa Zero
Tolkien rules(5th book as well) - the best official skin ever, it's suposed to have 5 modes but i only have 2 so don't know what's happennin' and "windows xp" skinners should erase all the thumbs.db files before ziping the skin. - December 16, 2002 by Roberto Cuellar Cuellar
hmm - Maybe I am the only one with this prob. The files downloads with the .wal extension, which I cannot get Winamp to recognize. I even changed it to .wsz just in case an no luck. Any ideas or suggestions? Or am I such a noob that I have missed something? - December 16, 2002 by Laivindil ^-^
Unfuctional skin - I have download this skin but i hate it & unfunctional !!! I can see there pixels !! MMD3 v2.2 is much better !!!!! Forgicve me my english ;) - December 15, 2002 by TheCwirek! Poland
Playlistbutton - This is a very good skin! In the normal mode it has all the buttons you need.. but in the winamp shade mode.. I miss some buttons, like the playlist button.. I always use that one.. So 4 stars, because there are no buttons in the shade mode - December 15, 2002 by Klaas Broersma
Holy Schie?e - This is one of the best skins I have seen for winamp3. The detailing on the skin is so awesome that I think that maybe the people that did it are inhuman maybe even elfish ;) - December 15, 2002 by James Bonham
excellent - this is an incredible looking skin. what does clicking on the ring do though? - December 15, 2002 by Frazer Myers
Awesome! - The download finally went through and it was worth the wait. Awesome overall design plus direct links to the LOTR soundtrack, trailer, and a photo gallery. Very, very impressive work. Not a massive resource hog either. - December 15, 2002 by Daniel Gooch
LOTR - Says I do not have permission to download--what's up? - December 14, 2002 by Timothy Swartout
i have a problem - i can't install the skin, - December 14, 2002 by marge marge
Wohoo! - This skin is the best skin ive ever had! It not only gives you all the great standard features, but it also gives you the Lord of the Rings Soundtrack! And a picture gallery! This is defently for all LOTR fans out there! - December 14, 2002 by Lisa Hamilton
Lord of the Rings - This would be a great skin only if it would let me download it. It keeps messing up and it doesn't work!!! - December 14, 2002 by John Bob
Dead link - The download-link doesn't work..... It looks nice though...... I give it zero stars because I can't download it.... - December 14, 2002 by Hein Haraldson Berg
i can't download it!!!!Why???? - i can't download it!!!!Why???? - December 14, 2002 by Grayduck Grayduck
Wow! - Great Skin.. well done.. - December 14, 2002 by grand bkk
aleksandr Kuzin - super!!!!! - December 14, 2002 by aleksandr kuzin
GOOD FORM!!! - Damn Dawg! I dun think you did a mighty decent job on that there skin! Usually those "official" skins are shiat and are so far from what "official" should be that it's not even funny, but you represented the movie very nicely. Mad props dude, mad props. - December 13, 2002 by Spider Man
Yay!!!! - Finally a LOTR skin to go with all my LOTR wallpapers,and it's AWESOME! - December 13, 2002 by Kathy Stewart
FFFFFFFWWWWWWWWWWAAAAAAAAAAAAHHHHHHHHHHHHH - i like this skin a lot and i dont usually like official skins now im just a normal person im no skin maker or coder (but i wudnt mind makin a skin i just dunno how)but i do no a gd skin wen i see 1 nice 2 see everything skinned and added parts neway nice skin & keep it up This has been a first time post by ME p.s. the nu movie roks - December 13, 2002 by Jimmy Nuetron
Default - without a shadow of a doubt, my new default skin - December 13, 2002 by Darren Horrocks
LOTR is sweet - besides the MMD3 skin ths is the sweetest skin for winamp i've seen,the skin is pure artistry at it's finest!!!!!!!!!!!! - December 13, 2002 by Brian Moore