>
Skins

>
Games
Official GTA Vice City skin
Featured Skin, January 9, 2003.
A small thanks for fans of the game who want the ultimate Vice City desktop. All windows are fullyskinned, alpha blending gives a great desktop effect, and the skinautomatically switches from day to night mode (there's a hidden switch ifyou want to check out the alternate mode immediately). Also ... you knew itwas coming ... we recommend listening to only the finest in 80s music withthe skin. Happy New Year - Rockstar Games
Download skin
| | | |
| --- | --- | --- |
| January 8, 2003 by Rockstar Games | 1021658 downloads | |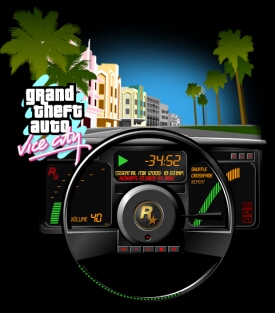 Staff review
Sit back, crank the tunes, relax with a nice drive by.
Makes you wanna pimp more ho's than you can find on O'Farrel and Jones. And it's nice to use. The art is nice and the design pretty functional, enjoy.
Comments
To rate - Grand theif auto is the best - June 17, 2005 by noor azrul
I Like, I LIKE! - I like this skin. It's no-nonsense, but at the same time it's packed with everything you'd expect from the game. THe only worry I have is whether this a a Cheetah or the Infernus? Lovely Jubbly. - October 3, 2004 by Adam Rogerson
not as good as I'd hoped. - Although VC is one of my top all time favorite games, I found this skin lacking and was disapointed with how cluttering and un-streamlined it was. - June 24, 2004 by Alfador Ookami
Too big and annoying... - GTA:VC is an awesome game, but this skin is just annoying. Not very streamlined, not too user-friendly, and it's just too spread out in terms of shape/size... - November 24, 2003 by Saiolfaz Frazier
yuck - dustbin ya go naw! - November 16, 2003 by BackPack ComeBack
Yeah! - I like this game,I like this SKIN !!! - November 12, 2003 by Thomas Tian
Good! - Looks very nice! - October 27, 2003 by Ton Gelissen
WHAT?! - I downloaded this file with huge expectations, I'll admit that. But I had the notion that an OFFICIAL skin would convay the same sence of freedom as the game did, the same feeling of "I WANNA KILL SOMEONE!", the same energy of the 80s... ...but, alas, it's a car...wow... ...zZzZzZzZzZzZz... Great Game Lame Skin - October 26, 2003 by Phillip Thompson
YO MAN THI IS IT - JUST A COOL SKIN ONLY AN ANIMATED DRIVE BY WOULD BE WELCOMED and ROCKSTAR's DONE IT AGAIN - October 25, 2003 by Vidyadhish Desai
Ummm....No. - COME ON!!!!GTA3 and vice city would be such a cool theme for a winamp skin....What is this? Out of all the weapons, all the radio stations, all the cars, and all the Franchises in the game.....Why this? SOMEONE PLEAS CONTACT ME!!!I HAVE GREAT IDEAS FOR SKINS...I JUST DON'T HAVE TIME OR KNOW HOW TO MAKE THEM! A chainsaw skin? How about a Amunation them? Hand grenade? If you want a less violent them(Why?) you could make a GTA Pager Theme! - September 28, 2003 by Fred Taylor
Bwa - I expected more of this skin... But well, it is a nice skin, but not GTA-kind of nice... BTW, I've found the hidden button... don't expect too much of it... - August 14, 2003 by Jan Pollet
rubbish!!! - this was sooooo boring trust me dont download it (eva) errrrrrrrrrrrr - July 31, 2003 by GaZzEr BAAAAAAD
GTA Vice City - The game rulez more than any Grand Theft Auto. But this skin is non-sense... Sorry, but this is really **** - June 17, 2003 by Matthias Wenz
Pretty Good - I liked the game a lot, and this was a pretty good skin for it. To be honest I like the winshade better than the full-sized better, but otherwise good. - June 12, 2003 by Paul Fontenot
i didn't like it - stupid skin!!!!!!!!! - May 5, 2003 by doron nacash
Great - This skin is almost as cool as the game. Awesome job. - March 31, 2003 by Reilley Adamson
SUCKS!!! - it chokes cock.my grandma can come up w/better shit than that piece a crap.what kinda corvette has 1 light on each side instead of 2.i gave it 2 just because it's a cool game. - March 31, 2003 by ERICK YUMAN
Shet - ar jus durniai ar ka jei toki shuda kuriat? - March 22, 2003 by Aurimas Liutikas
Goooooood Skins - it's a good skins.......i'm fan of GTA - March 14, 2003 by Jack Demon's
good - it's very good,i like it - March 14, 2003 by Elva Hao
Bravo - des isch wirklich eine sehr gelungene skin - March 11, 2003 by Sven Dangel
Just Say - yahooo....it's a good skin. hehehehehe - March 11, 2003 by Joy Oren
Perrrrrrrrrrrrrfect................ - This is a cool skin. Anyone objects, have to face ME! - March 4, 2003 by Billy Dowden
Doesn't work - it doesn't work.. there is an error with the path.. can you fix this????? - February 28, 2003 by derek baltimore
awesome skin - this skin is sweet as, i love the garish 80's night colours as well. - February 19, 2003 by antony stevens
aaaaaa - the skin is good but do more things to use this better. - February 6, 2003 by jonathan restrepo
Du caralho - Bom, muito bom ( portuguese ) Good, very good ( England ) - February 2, 2003 by TaNk DiZzY
This skin rulz - Whoa, finally a great, real great skin. Rockstar must keep doin'em like this one. Rulz! - January 31, 2003 by Eduardo Klein
GTA Vice City skin - wow.....this the best skin - January 29, 2003 by arya sedhana
COMMON - WHERE IS THE BLAST LITTLE SECRET BUTTON AT I CANNOT FIND IT! - January 26, 2003 by mike hunt
pretty cool - I think this skin is not the best one. but i will give it 4 stars because i like the game :) - January 25, 2003 by Marc Schmidt
Most reliable one - I never give these reviews, but I was willing to go through the member registration to rave about this skin. It's AWESOME! I even think it's easier to use than the original that came with the winamp. Everything's easy to see, the color scheme is awesome (especially since you can choose certain colors) and everything is use friendly. I finally can play, pause, stop etc.. with comfort and ease. Thanks to the dude who designed this. Simplicity has never looked so sweet. - January 25, 2003 by Amy Oung
good - someone crack dfx 6 - January 24, 2003 by saurabh soni
I got the whole box set soundtrack... - now I know what skin I'll take when listening to it on my PC... sadly I don't have a PS2 but I heard something that VC will come for PC too... yippie. I love this game. And the soundtrack is just excellent... especially the V-Rock Cd is getting hot at the moment rotating in my CD-drive... - January 20, 2003 by Martin Bisanz
BOTTA-BING!! - Great idea making a skin for that bad@$$ game! Yeah, it could have been a wee better, but really it fits the overall theme of the game (autos and Vice City for those of you at home) pretty well. I like it! - January 18, 2003 by Spider Man
Meh... - It's ok, but it'd be better if there wasn't any blatant self-advertising (hint hint). - January 16, 2003 by Lisan Al-Gaib
hmm.. - ok, it's a good idea.. but there's much to do to make it usefull.. - January 16, 2003 by Jocke F
sweet!! - Finally it works!! This one pretty damn sweet skin. You should all add it to your collection if you havent already. - January 14, 2003 by ryan holden
Nice - I dld this skin and it's really cool. GTA rocks! - January 11, 2003 by Magz I
hola - esto esta calidad,, - January 11, 2003 by jimmy garnica
great skin! - the whole style on the top part of the skin is of a really good style i've yet to see in a winamp skin. the bottom needs work tho - January 10, 2003 by eh? one
It's fry - I think...that's great. - January 7, 2003 by Toyo Huang
Awesome - I love GTA and especially Vice City, this skin is sooooo cool. It has great graphics and great use of things. I love this skin. - January 7, 2003 by Phil Enzler
It works now - wasn't there a minute ago but it is there now. - January 6, 2003 by Jonathan Ward
GTA = Life - GTA Winamp Skin = Life More Bearable. First, if you can't download something, how can you review it? Don't leave reviews and bad ratings for files you haven't seen. Anyway, NIIIICE, but the Day/Night switch is a tad bit obvious, seeing as how the square its in is kinda.. well, lets not ruin it for everyone. That square glitch is the only thing holding this back from being perfect, though.. - January 6, 2003 by Jimmy Fondren