>
Skins

>
Entertainment
Official Foo Fighters Skin
Official Foo Fighters Skin by Petrol Designs
Official Foo Fighters Skin by Petrol Designs
The Foo Fighters' have released their fourth album called "One By One", and Dave Grohl declares that "I'm a new day rising/ I'm a brand new sky!" Check out this killer Foo Fighters Winamp 3 Skin built by Petrol Designs. Features include 2 Drawers, a Photo Gallery, and a sleek UI. Be sure to check out the new album and www.foofighters.com.
Download skin
| | | |
| --- | --- | --- |
| November 19, 2002 by Petrol Designs | 765485 downloads | |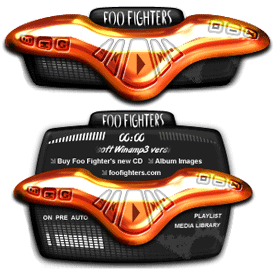 Staff review
A great compact skin to compliment the new album.
This skin is simple and sexy. Click the magic button and the upper and lower window retract to make a very compact skin that doesn't use up all your desktop real estate. Very nice.
Comments
is excelente - esta increible el skin ,excelemte. - September 2, 2003 by daniel alejandro
!!!!GREAT SKIN,FOO FIGHTERS IS GREAT - You are awesome,such flashyness @_@ just a shame i havent found ne Alice in Chains skins yet 8,(( - August 25, 2003 by Tripod Amen
NOT BAD - this skin is'nt shakin as it should be - March 20, 2003 by raj velegalati
It's okay... - It like the photogallery wich is included, and i like the colours and I LIKE FOO FIGHTERS!!!!!!!!!! - February 19, 2003 by Peter Gottschalck
looks cool - looks cool! - January 11, 2003 by Raffaele Izzo
wowsers! - although the buttons arnt really clear, this skin makes up for it in detail. bright orange is bound to get someones attention. - January 2, 2003 by Natalie Zeledon
FOO FIGHTERS RLZ - Man, this Foo Fighters Winamp is everything i need it's so cool!!! It's beautiful! LIVE FOO FIGHTERS!!!! - December 25, 2002 by Renata Lima
This sucks - 2 stars only cos i like foo fighters.the skin is boring,has nothing to play with on it and is a waste of my screen space. this skin sucks. - December 20, 2002 by chris wilkinson
Attractive, functional skin - Like the black and orange colour scheme(very Halloween!)Not a lot of bells and whistles,simple and functional. Overall quite nice. - December 8, 2002 by Kathy Stewart
LOVE MY FOOS!!!!!! - FF are my all time fave band EVER, and I HAVE to collect whatever I can where they're concerned!! I fucking love Dave Grohl and the band!!! This skin is awesome, and it really represents the band. THE FOO FIGHTERS ROCK!!!!!!!!!!! - December 6, 2002 by Genia K
Winamp Skin with a TWIST!! - This skin is great!! The orange color makes this skin really unique, something that we need in a land a "bubblegum" Britney spears skins!! I love the foo fighters and this skin really represents Dave Grohl!! i hope they keep on making the great cds they have! Keep up the good work!! - December 1, 2002 by Nicole Reber
Superb! - Quality skin!Once you've scratched around and found out where everything is,its a nice skin,what more would you expect for the best band on the f--kin planet!!! - November 29, 2002 by T C
Awesome Skin - Great skin. Foo Fighters are the best! Keep it up guys! - November 29, 2002 by Michael Senter
Great Skin - This is the first skin I download for the new Winamp... and I LOVE it, Great work Petrol Designs ... - November 25, 2002 by Jonas Lundin
Foo Fighters ROCK! - The coolest thing I think about this skin is that it is in the shape of a UFO. Which any true Foo's fan knows is what a Foo Fighter is. It is a term for a UFO in pilot slang. Way to go!! p.s. I love Dave Grohl. - November 23, 2002 by Sara the Stoner
Good skin! - Coooooooolllll. Nice skin man... - November 21, 2002 by Anthony McGivney
Well... - I LOVE Foo Fighters bit this skin isn't so good as I expected...It's a pity, becase thats a great group and it deserves a better skin :/ - November 19, 2002 by Karolina Radecka