>
Skins

>
Consumption
Official Fantana Skin
Official Fantana Skin
Official Fantana Skin
Wanta Fanta? Official Winamp Skin of The Fantanas, the four fun-loving friends whose job it is to bring fun and Fanta to you and your friends. This Winamp 3.0 Skin by Petrol Designs allows you to bring the Fanta party to your desktop and even customize it with your favorite Fantana -- Calli, Leelee, Nina and Raquel. Who's your favorite? Don't miss the Fanta trailer featuring The Fantanas. And be sure to check out the links to send an Ecard and download The Fantanas Wallpaper. For more on this flavorful foursome, visit http://www.fanta.com now!
Download skin
| | | |
| --- | --- | --- |
| October 9, 2002 by Don't you Wanta Fanta? | 404371 downloads | |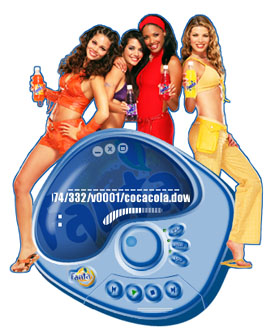 Staff review
ay carumba!
What's better than having not just one, not two- but four lovely girls on your winamp? We're not sure, but we'll get back to you on that... enjoy!
Comments
nice - ugly , you didnt see the commercial eh ... maybe youre gay ? j/k yeh , good skin .. - December 16, 2003 by nikkie c
fanta - its just not arount....for thos who dont know its a drink more popular in englend and so forth....like the girls thoe - August 26, 2003 by Travis Flynn
This is terrible - I do not know who Mike Miller is since his posting seems to have been deleted from this list of reviews. However, I can ascertain from the responses he received from his posting that his opinion of this skin was ABSOLUTELY CORRECT. - August 12, 2003 by J Landers
Only For The Skin... - ...Look. Ladies Drinking Fanta just is not what i want from my Winamp. I'm Looking For something more compact and am happy to push the gay looking girls out the top of my screen. If you make a skin, make it functional and decent-looking. Not shit like this. Skin Design: ***** Stupid Girls:----- Overall design:**1/2--- - July 16, 2003 by Geoff Stokes
Mmmm Grape. - And I don't even like the drink. - June 21, 2003 by Sam Hegarty
Not too good - Cohesion not there between components :p Can't Fanta just pool together their money and get 1 hot girl instead of 4 ugly broads? ... just a thought - April 17, 2003 by Fr0zeN KnighT
NO to brand name skins! - Brand name skins always SUCK! Unimaginative skins designed by marketing jags who embed their Dot.Com adverts all inside it! Does every office at Fantana have this skin on their desktops??? NO BRAND NAME SKINS! Do you hear me, Powerade??? - February 14, 2003 by Father Time
I Dont Get It? - What's Fanta? - January 3, 2003 by Chris kattner
Great Skin - Nice Functionability great use of of winamp 3 skins and the girls are hot especially the one in yellow - December 29, 2002 by David Marquez
I wanta Fanta - Nice,colourful skin. I love Fanta pop :) - November 7, 2002 by Kathy Stewart
Good Skin - It's a nice skin. Quite professionally done and it came out to give exactly what it promised, The Fanta Girls [who are great, by the way =)]. Just a comment in this Mike Miller guy. Why don't you have someone bend you backwards and pull that stick out of your ass. Cheers. - November 5, 2002 by Justin Matos
Mm-hm - not to make fun of anyone, but did u notice that Mike Miller copies and pastes the same message on almost every hot-girl-based skin? But other than that, the skin is pretty cool, even though I'm not a big fan of the soda... and Mike, I'm not trying to dis you. Srry if u feel I'm making fun of u - November 4, 2002 by Karl Troutman
good girls - Fanta Skin is with good girls look very pretty and FUN. - November 2, 2002 by ADNAN SIRIN
thoughts - My thoughts on this skin can ne summarized in one word: meh. - October 27, 2002 by Jesse Brown
Pretty good, but.. - A nice skin, would be better without the ugly chicks. - October 21, 2002 by T Maxwell
Ok skin but - I would feel like a loser if I was a guy and had it on my desktop,you know the kind who has no life and no girlfriend...not my cup of tea(maybe because I`m a woman)the player is well done alright.But,naaah,too sexist,too boring and btw I don't belong to the target group of this skin. - October 14, 2002 by Cecilia Bergkvist
hi - i love to see hot girls on all computer skins ;) - October 13, 2002 by yaser zayyad
Nice and clean design - This is one of the few skins which looks good with the photos on it.. Killer X: Incase you didn't know, Adil is the one who designed this skin. Not all skins SHOULD be interactive and functional and have a winshade mode. "Hot" skins like this make for a good mix. I like this one. -Plague - October 13, 2002 by Linus Brolin
I like hot girls in my desktop - My eyes are happy because they see hot girls every day in my winamp - October 13, 2002 by Carlos Garza
Not bad - ITs ok but why make a skin about soda? hot girls though :) - October 10, 2002 by sean tracy