>
Skins

>
Entertainment
Official 28 Days Later Skin
28 Days Later....
28 Days Later....
A group of animal rights activists frees a lab of infected chimpanzees and unwittingly unleashes a deadly virus that decimates the earth's human population. Twenty-eight days after the virus strikes, a trio of survivors in London struggle to escape from the plague while fighting off the attacks of fellow humans. Check out this killer skin with Bio Hazard User interface. Get to the movies June 27th to see 28 Days later. User Interface and coding by Petrol Designs.
Download skin
| | | |
| --- | --- | --- |
| June 9, 2003 by Petrol Designs | 285908 downloads | |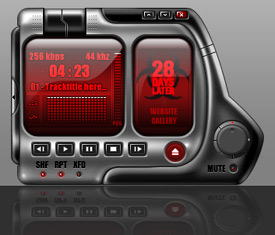 Staff review
Don't be the last person left on Earth...
get this skin now. Sick monkeys, flesh crazed zombies, and lots of dead people. Sounds like a hit summer flick to me. Hit the theaters on June 27th to find out for yourself.
Comments
skinz nice, but... - i'd like to leave a review on the staff reviewer.patronizing and over facilitating. lacks any signs of an informed opinion and serves only to mimic the back of the movie box - August 18, 2008 by G Miyata
I like it - I think that even the Infected would dig this skin its so cool. - March 9, 2005 by Stephen Dykla
Nice blood-colors - Normally I don't go for the commercial skins, with their "homepage" buttons and all that shit, but this one is actually quite nice, beautiful dark-red screen-color and dark shiny metallic color on the skin... actually everything I can ask for in a skin, which makes me ignore the fact that it's a commercial skin. 4 stars \m/ - December 4, 2003 by Aegrimonis Inferis
cool - Sweet looking, Its really neat aswell.. I like it alot.. And the movie looks Sweet, im prolly ganna convince my gf to come. lol. Great skin - July 29, 2003 by Mike Durrant
Not bad - Really good and clean design. - July 7, 2003 by Bassam Elias
Incomplete - You didn't skin everything; what's with that? And there aren't buttons (that I noticed) for the playlist editor, media library, and so on for the main. Not to mention the deplorable lack of color themes "Toxic Green," "Infection Blue" ... et cetera. Keep working on it; I hope to see v.0.2. - June 11, 2003 by Circ Aloriath
DUH - K, this skin is ok but really, its pretty boring compared to most of the skins that i have, and i have a lot. im usually not that picky, but this ones boring - June 11, 2003 by Ashley Me