>
Skins

>
Games
ODD AMP 1_5
ODD AMP 1_5
ODD AMP 1_5
Daniel Rosenberg's Comments:



To gear up for the imminent release of Munch's Oddysee, I decided to work on a new version of my Odd Amp skin for Win Amp. The new version is absolutely packed with detail and is taking a long time to finish, so I am releasing Odd Amp 1.5, a mix between the old version and the upcoming version 2. The new main window took me about a week to finish and I'm very happy with how it turned out.



Usage tips:



1)For the best look set the Spectrum Analyzer to : Normal style, no peaks, Thick lines.



2)Shuffle is on when Abe's eyes are open.



3)Repeat is on when Munch's thumb is up.
Download skin
| | | |
| --- | --- | --- |
| August 15, 2006 by Nullsoft Classicz | 47647 downloads | |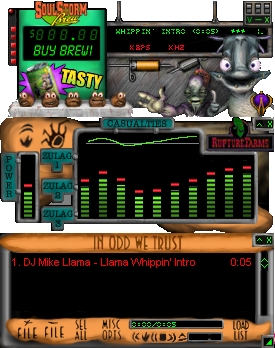 Staff review
Check this one out...



Best one I've seen all month, had me chuckling all night long.



A keeper for sure.



Original design by Daniel Rosenberg

WA5 update by Jones
Comments
Absolutely brilliant - I'm not very familiar with the games, but the way that all the animations and functions are integrated together is absolutely fantastic. Great skin. - May 11, 2007 by Luigi Hann
wow - im not to fond of classic skins but this one is a really nicely done one. its uzzing with time and pride. very very nice. good games too. - May 3, 2007 by Bryan Feldman
OMG - Im loving this skin! Great job and keep making awesome skins! - November 13, 2006 by Susie Garcia
**** - Thumbs up! :D - August 29, 2006 by Authrom A