>
Skins

>
Stylish
ocrana
Featured Skin, September 5, 2002.
ocrana v1.2
This is what you waited for!

Ocrana in BLUE!
And not only blue but also 20 new Color themes, the logo is now "dancing" to the music and that annoying close button problem is solved...

before you ask:

q: will there be more color themes ?
a: no 30 are really enough

q: why are the fonts in the other windows now white ?
a: cause winamp3 doesn't yet support switching of that colors so I decided to use the most neutral color... this might be improved when there is a winamp version which is able to handle this

q: how do I change the color of the text and the spec analyzer etc?
a: click on the little pen icon/button until you find your desired color, winamp will remember this on the next start

more questions ?
don't mail, go to www.tic.de instead and use the commentform in the filesection

have fun
Download skin
| | | |
| --- | --- | --- |
| September 22, 2002 by vorph of ocrana | 2334875 downloads | |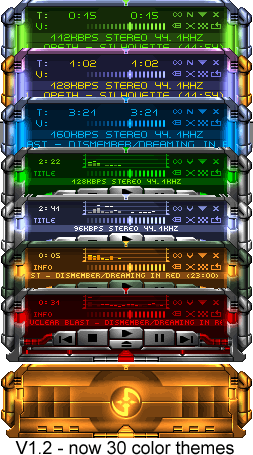 Staff review
Just plain kewl
All windows skinned- nice red and black theme- nice use of animations
Comments
Compact, but an absolute killer in look and design. It is easy to use and will never lose its style. - December 27, 2009 by Richard Coreno
Best Skin - This is by far my favourite skin. Its stylish, simple, has custom colors and takes very little screen space. Kudos to the creator. - September 13, 2009 by Vovas07
Love the size - I love this skin because it doesn't take up a lot of space on my desktop and the color choices are awesome.This is one skin I would recommend due to the size alone. - July 17, 2008 by Flam3 Phoenix
i love it! - this skin is really really nice! - April 22, 2008 by asfsaas asffafsa
Interesting looks - Wow perfect for my dark backgrounds, best feature compact/all in one. Color A+, not only you chnage color in applcation but in the letters perfect in dark backgrounds.Nice light effects and not bulky like others style A+, alll in one: whatever you need slide out of it, and video screen is just the right size the first time you open it. Simply the best 4 me. Million thanks for this one!!!! - July 7, 2007 by Stui Peri
Older version was better - I liked the older versions of this. The newer version of this sucks because when I extend the sides I cannot see the icons. Over all I think this is one of the best out there but hope that the icons on the left and right will be fixed so they can be visible again. - November 18, 2006 by Jesse Wilson
Nice - This is a very nice skin. I really love the gates you can close by clicking on the bottom in normal mode. It took me a while to find that, but I enjoyed looking for it. Overall, a very impressive skin for a clan. I'll be sure to watch out for Ocrana. - December 6, 2005 by Lev Astov
ladies and gentlemen, the new and improved jelly fingers - ................................ - May 24, 2005 by cole kerr
Very Good , Only one thing I don't like - Very good , only one thing I don't like , your k's and h's in the "Song tracker" look to much a like otherwise O. K. - November 20, 2004 by fred falcon
Love it - I use this one a good bit. Very simple and functional, but something you don't see every day. - October 7, 2004 by Petula Gothmuppet
ocrana - very good skin - July 2, 2004 by rodrigo ramos
v.nice, but no windowshade?!?!?!?!? - I love the colours, and the whole open/close thing on the main window, but NO WINDOWSHADE IS SO AMAZINGLY ANNOYING! sorry.. can't use a skin without windowshade.. its just not compatible with sitting winamp on the titlebar and using x-mouse hover=focus to change volume/tracks... fix that and 5 stars for you :) - June 17, 2004 by Triffid Hunter
best better the best - it?s verry nice skin!!!you can change the color!julian - June 1, 2004 by julian peters
super styling - Love the pulse in the logo. Love the way it opens up. A plus for style. - January 10, 2004 by Peter Omeara
Nice! - Best skin for winamp hands down. - January 4, 2004 by Z A
Oh yeah! - OMG this is the best skin I have ever used! UUH Keep the good shit up! - November 25, 2003 by Otto Sarvamaa
THE BEST - I love this skin! It's very sharp-looking, well-balanced, and compact. I love the color schemes! Some people might like something a bit bigger or more flashy, but if you prefer things a bit simpler and more compact like I do, then you'll love this skin. - November 24, 2003 by Saiolfaz Frazier
Sheer Class, Perfect Harmony - I have had many skins before but they do NOT compare to this one. This is the sleekest, classiest and easiest to use that I have had in 4 years of winamp skins. I will be watching for other skins from Vorph of Ocrana. Vorph knows how to design for function, class and minimal power usage. This is TOP SHELP ALL THE WAY !!!! - November 14, 2003 by Kim Bracha
Too small - This is a cool skin, but it needs to be a bit bigger. - November 6, 2003 by Steve Jolley
Great - This skin is great. By far the best skin I've ever used. I especially like all the different color options and the "Gates". Again, great skin, my favorite - October 26, 2003 by Mike Sweney
I like it a lot....... - This is a very good skin is very original and compact i love it. GOOD WORK GUYS. - October 24, 2003 by Michael Ferrer
evil.... - in a good way. dark chrome rules, and the gates are way cool. the toggle color button is nifty too. extra star for the new order color scheme - my fav testament album!! - October 21, 2003 by die scum
Only the best are good enough ! - Just love it ! Compact, wonderful menu's on the sides, great color themes, Aztek are my favorite After one year, it is still the master of WinAmp skins - September 27, 2003 by Justice Ironstealth
Screw it - It doesn't look like the picture. - September 22, 2003 by Harry Strock
Interesting - I hated this skin when I first downloaded it. But it is acutally kind of neat. The sliding cover on the controls was a neat idea, and it's quite compact. The EQ and the thinger pop out of the sides, and I thought that was cool too. It doesn't have a compact mode for the playlist though. All in all, it's a keeper. - September 20, 2003 by Dante _
looks cool - this is wack its looks real cool but is not easy to use and sucks - August 22, 2003 by michael john greene
This Is the Best Skin Made...... - This is probably the best skin out there. If you want a skin you won't get tired of then you better get this skin. - August 19, 2003 by Jaime Cazares
Used for a year - i have used this skin for a 1 year i have to say it is the best skin i have seen, it is easy to use looks interesting without being gaudy and is the perfect size all the time, most skin are too big and there shade mode is too small but this skin is the happy medium. - August 14, 2003 by Elaith Hornblower
MountainBoy - Very impressed different colors for equilizer!! little bit small but hey size isn't everything *grin* - August 12, 2003 by Mountain Boy
ocrana - this is a very good skin. small complicated, and uniqe. took me a bit just to figure out how to open it. but after a few moments, got it all figured out. great skin, thanks. you can change colors in the opptions. oppen it up you will figure it out. - July 20, 2003 by ripper 007
the pimpest skin around - this thing is even better than mmd3. it would be even pimper if the playlist could pop out of the bottom like the eq. and the thinger. the colors are sweet. im going to stick with this skin until ocrana 2 comes out. - July 9, 2003 by mark siegel
Best skin ever! - This is the best skin ever! Its simple and its clean :D cool skin! Go Ocrana ;) And there IS a playlist, just look a little and you will find it... - June 27, 2003 by Bernard Brkic
How do you change colors? - I didnt figure it out..Help mE! LOL pretty awesome SKIN! NICE JOB!!!! - June 23, 2003 by Aiste Guobyte
colourful - just go ahead and download this skin. this is something you don't want to miss - June 19, 2003 by alistair gomes
best - of all the years i've been using winamp, this is the best skin i've ever had! - May 31, 2003 by alan zhang
Compact and Coordinated - To change the colors of the player itself rightclick on the player,select preferences,select color themes,choose colors from the list and then click on the switch button. For script and meter color changing:click(ing) on the pen located near the right side of player (lower left group of six icons). Thinger pops out on left, EQ on right by clicking on the sidelights. 4 1/2 stars...one of my favorites! - May 22, 2003 by jerald deal
I love it but...error message - I love it, I have used it since a long time...I have reinstall my system recently, and if I use it again, Winamp fails to open, and I have this message : "Sting.printf overflow" Expression: real_len - April 29, 2003 by Alex Orosz-Balog
ocrana - the best - April 27, 2003 by ismail impraim tsaous
super - Cool - April 8, 2003 by Kostadin Dimitrov
bien echo - esta me gusta porque es compacta lastima que no pude escojer el color amarillo - April 6, 2003 by octavio mora
How the F*** do the colors change? - Ok, first of all, this skin is awesome. I love the gates and compact nature. It took me a while to figure out how to change the damn colors but once i figured it out i felt stupid. KEEP UP THE GOOD WORK!!! THIS THING RULES!!! - April 6, 2003 by Andrew Puksa
Dis Rokz - If I could give this 6 stars i would! I didn't get it at first but now i love it!! - April 1, 2003 by Bob Weoddababyitzaboy
What a Wonderful Skin!!! - Hey buddy, Wonderful skin. This is the best skin I came across so far! I specially like all the crazy things it does and the colours just add ****** to the beauty of the skin - March 29, 2003 by kunal jadav
Thats PERFECT - Hey dude thats the best skin I have ever seen before. Gates, useful menu, nice color themes and many more... Keep on working. And u stop looking and download that skin!... :P - March 19, 2003 by Kemal Kelesoglu
Just plain awesome. - This skin and MMD3 are the skins i use. i like the animations. love the skin!! - March 10, 2003 by David Ponce
Muy excelente! Pero.... - I love it! Coolest looking skin I have ever laid eyes on! However.....THERE'S NO FRIKKIN' PLAYLIST! Here we have another awesome skin that I won't use due to the lack of a playlist. How do you people live without a playlist? Bah..... - March 4, 2003 by Joel Hansen
ocrana lives up to it's name - Looks like the ocrana boys know much more besides playing very good... gg Vorph ;) - February 24, 2003 by practice mYe
Ocrana - Sutil , elegance, and agression at the same time. - February 24, 2003 by Alejandro Gabriel Valadez Mendez
The Ultimate Skin(Allmost) - Fits the skill of the clan, very easy 2 use and very nice to look at, it's allmost perfect, BUT, some buttons aren't easy 2 find, and that'sthe reason i gave i 4 instead of 5 stars. Im out... - February 18, 2003 by Peter Gottschalck
Great - this skin is very simple, and very pleasing. anyone out there who is a fan of clever, small and simple skins should download this, thi skin is the sh!t - February 16, 2003 by Willson Heine
Great - This is a great skin. But its hard to use. Good job though - February 5, 2003 by Richie Jones
Wish I could give more than 5 stars. - Great design, smooth drawering of components, all components skinned, and an amazing selection of color themes. I like the way the little thing in the middle moves to the beat of my music. Only one thing that I don't like, and that's not being able to find the pause/play/stop buttons, but that just isn't enough to lower the rating. This is really an awesome skin. - February 4, 2003 by Starla Pureheart
nice, but... - Its very small. I'm sure there must be a way to drag it bigger, but no handle appears to do this by moving the mouse across the edges. I could probably figure it out if I messed with it for awhile, but if its not obviously intuitive, I just move on to another skin. - February 1, 2003 by george henry
Awesome - This is the skin i've been waitin for; small, flashy and everything is useful. Thanks for the awesome skin, man! - January 30, 2003 by joe otterby
what a great!!! - This is a good skin. I find the way to change the color. click!! 'preferences' then U can find 'Color Thema' - January 26, 2003 by Myung Hee Yoon
good - the idea is good,especaily the colour of the face,it's attract to me.But in my opinion,it most properbly like a"heavy machine"-------"a video set" - January 24, 2003 by leeu dan
problem - is a really great skin but i dont seem to find the way to change the colors .... can anybody tell me the secret ? - January 22, 2003 by Nightwalker Daysleeper
Very Nice - One of the first skins i ever downloaded and I dont care what anyone else says I love it - January 14, 2003 by Cat C
Wow - This is my number one skin now. Kick ass dude! It matches my desktop perfectly. Wow. Keep it up - January 2, 2003 by Roy Loso
Beautifully Stupendous in every way... - Ha, this is a spiffy one, the colors make me gasp for breathe...i enjoyed that feeling, hence, i enjoy this skin. - December 30, 2002 by Al Andrade
piece of art - its great, not to large not to small its great!! great colours and the detail GREAT - December 25, 2002 by Cody Prizel
good - i like it but im missing the playlist.....put it in you it will be perfect - December 20, 2002 by Ashley Lee
This is my favorite skin!cool colors and very good design! - this is the best skin when i ever seen!but of course it can be better!greetings for the creators!!!good job :) i expect with impatience the next version! - December 18, 2002 by Rickard Aronsson
Other windows - how do i get the other windos out i only get the main window which is the red one. - December 17, 2002 by Emil Ivanov
Change colors - I think this skin is very nice, but how can I change the colors? - December 14, 2002 by Sergio Batz
WOOah! - I enjoy using tis skin! Very good animation. You gota d/l it if ya dun have one. Bravo!!! - December 10, 2002 by Bettina Kuffner
awesomeeeeee! - this is an AWESOME skin....its the 1st skin i ACTUALLY liked, and its also the 1st skin i downloaded...good job dude, its awesome ;) - December 6, 2002 by Jannis Tan
It's ook.. - It's ok but it's too small.... - December 1, 2002 by Meena Khatri
Amazing - Amazing!!! But how tf do I change the colours?? - December 1, 2002 by Jennifer Brewington
incredibly cool - I'm really picky about the skins on my PC. This one takes the cake. Way cool. Great colors choices and easy to use. Ocrana for all! - November 28, 2002 by Adrian Pandev
IM IN LOVE!!! - Wow. Amazing. Thank you. etc etc...I love this skin...so many colors, you can always find one that goes with your desktop and all that, its great. best skin ever in my mind. - November 25, 2002 by Joel Harris
WOW - Unbelieveable, If i made a skin then it would be just like yours :) - November 24, 2002 by Jay Brat
GORGEOUS!!! - This is the best skin I've d/l thus far!! Now if I can only figure how to change the colors rofl - November 20, 2002 by Alex Stanescu
? - the skin dont toggle color - November 18, 2002 by Stormy McNeal
Cool - Cool - November 16, 2002 by Freddy Fire
Whoa - The first word out of my mouth when I saw this skin was "Whoa..." And it just got better from there. All the color schemes stunned me (Especially Gold Rush, it's just so...gold!) and it is just generally neat. In other words, get it or regret it. - November 12, 2002 by Pedro Andrade
kewl - I like it but...can u tell me how u make skins??? - November 11, 2002 by The Cube
how to change color - how do you change color...?write now..!I need to now..! - November 7, 2002 by Lukanium Baileroos
Awesome - Excellent Skin - Colors are superb and user interface easy. Great job ! - November 7, 2002 by adde backstrom
Red! Red! Red - Red kicks ass, and so does your skin! - November 6, 2002 by ELANO FIGUEIREDO
Vorph of ocrana - bem diferente, sensual, transei com minha esposa ouvindo musicas com ela. Orgasmei fantasticamente. Parabens! - November 6, 2002 by Bulldog B
Amazing Talent! - I absolutely love this skin! The only one thing that I was wondering is: what about closeable shade on the playlist, like the one on the main window. Is this possible? I will be watching to see if you are able to come up with this. This is the only skin I use. It is so versatile with its many colors. Love it! - November 4, 2002 by Angela Owyang
Colorful Nothing - Just colorful. Nothing else... - November 3, 2002 by Bonnie Dolbeck
Sweet!! - This is the tightest skin I think I have ever seen!! All other skins seem like 2nd rate. More skins should look this sweet!! - October 28, 2002 by Murat SERTEL
quality - no need to say any more. - October 16, 2002 by Joshua Kwedar
I dunno - since this is the first post about playlist problems and I just loaded 549 songs without problem (except the list gets slow but thats not a skin prob) I assume thats more a system than a winamp problem... but hey why don't ya do it better? I always like to see new skins made by pro-guys - October 16, 2002 by Gordon MacIntosh
title - Hwy!Wazzz uupp!!!!Just wanted to say that the skin is the best.Never seen something like it,it's not to big,u can choose colors,simply "AMAZING".Easy to use,very nice style....OK!That's it from me,keep up the good work.Peace!!! - October 15, 2002 by vorph of ocrana
LOL!! - THE COLORS DUKE!! THE COLORS! - October 13, 2002 by John Senn
Love, Love, Love - I absolutly love this skin, its my favorite by far, osrry but i love this over the new MMK. this is just a great skin. and the new colors are great, but personally i'd like to see more red, But thats just me. I Love It!!!!! - October 13, 2002 by adi silajdzija
wtf - Ill tell ya it would be a really cool skin if i could figure out how to change the colors. i know how to change the color for the equalizer but other than that, nothing. Otherwise its cool, small and sleek. maybe a little too small. the buttons should be more visable. thats why i use mmd3, easy to use and great looking. - October 10, 2002 by Andrew Thompson
** ~ AMAZING ~ ** - 1 of the most amazing skin for w3 out there !! Just luv it !!!!!!! DLoad it right now.. - October 9, 2002 by mark jones
I love it =) - Yesterday I started checking out all the skins that you offer through winamp and I'm sure that I've viewed all of them and downloaded about 10 before I found one that was perfect...Ocrana! The size, color, options, and clarity is all that it should be and more =) Thank you!!!...If you're searchin' for the best skin, DOWNLOAD OCRANA NOW! You'll LOVE it! - October 8, 2002 by Roger Solano
My favourite - Wow!! the best skin i've ever seen, i love the gates, it has the perfect size. the aztek color theme it's awesome. 5 stars for that great skin. - October 8, 2002 by Chintan Shah
Best Skin Ever!!! - I've been looking for a skin to use for quite some time. Until I came upon this one! This skin is awesome... the color schemes are wonderful, the skin is compact but useable, stylish but practical. It is not only fascinating to watch but entertaining to use. I - I think I'm in love. :-? - October 7, 2002 by Amy Casale
me likes.. - im liken it. its got plenty of color schemes, its not everywhere at once, compact, but not too small, i want more. definatly my fave. id like to see more from vorph or ocrana, definatly has talent! not many suggestions, but keep up the good work..i havent found anything wrong with it yet. - October 6, 2002 by Hunter Tammaro
Annoying - This amp is obviously designed to be the centerpiece of your desktop; something it has no right being. The Thinger and EQ slide out from both sides, forcing you to keep it centered on your screen at all times to have any ease of use with it, thus getting in the way of just about everything (should you have it set to always on top) unless you minimize it. I very much dislike the textured 3D look that has flooded skin design in general; and this one is yet another metallic, texture heavy blob of garbage that does not fit in with any standard desktop, let alone any place in my skin folder. To the recycle bin it goes, and so shall Winamp3 if these are the only kind of skins that are going to keep coming out for it. - October 5, 2002 by Evil Flying Monkey From The Wizard Of Oz
Best - I've seen some pretty good skins in my time but this one is definatly the best. Rock on dude! - October 4, 2002 by The Warlock
Best Skin Ever - These colour schemes are absolutely amazing. Finally a skin that can change to fit my mood. It's easy to use and looks awesome. - October 3, 2002 by Leonce Bowie
BEST SKIN EVER - I don't know for sure but this could be it. Great work. What will "vorph of ocrana" come up with next? I cant wait to see. - October 3, 2002 by Bremu CaYon
Best skin ever ! - It has a pretty cool look !! - October 2, 2002 by Suns Deeva
super... - ...super - October 2, 2002 by claire bear
Beautiful - So beautiful at i can't say anything bad about this skin. In fact i can't say nothing when i saw this. I haven't see better skin ever and i will not come see better skin. Absolutely 5 stars. Best skin ever. Keep up a good work. - October 1, 2002 by kA chef
Id give it more stars but I cant.... - OCRANA KICKS ASS, The first version was cool, but with all the new color schemes it KICKS ASS! This Skin surpasses all...ROCK ON! - September 27, 2002 by Shahid X
Best skin ever... - The last version kicked, but this one has so many new color themes that its just crazy. And its still got all of those sweet animations. BEST SKIN EVER!! - September 27, 2002 by Sami Koivula
colourfull - small bit option to enlarge.. i'm happyy five stars BE! - September 27, 2002 by Another Guy
Suweet!!!!!!!!!!!!! - Great Work. Nice Work on Colours. Keep it up - September 26, 2002 by Nathan Goodfellow
weee - gots everything you need, but anyway its really compact and easy to use! and of course... i really like switching colors every 5 mins *tihi* - September 25, 2002 by Matt Seales
Ocrana - Well done! - September 24, 2002 by sputter supper
Nice one!!! - Cool animations and wery nice colors. keep the god worke up ;) - September 24, 2002 by Crazy Cow
a great skin just got better - it is impressive how vorph still improves this skin with every version.. I haven't seen comparable color themes on any skin yet - September 24, 2002 by *shazzer* b.
The "Gates skin"... - An ordinary hard worked skin... - September 20, 2002 by P?l free wares
GuD - It's a really good skin, a sort of futureistic fell to it, the olny flaw is the proportions, particually with the Main Window and Playlist. - September 17, 2002 by Bica Bica
Compact & Classic ! - I like it too much! It is classical and little and the combination of red and black is very mad !!! - September 16, 2002 by Alex Ulik
nice try - good looking a little too small and not the best lay out. like the open close thing though - September 15, 2002 by Jose Danino
Very Good! - Very well done no problems that i could find, been my main skin for omost a month. - September 15, 2002 by Dan Mashal
uhhhhhhhhhhhh.... - would be better if it was propotionalized and a little bigger. other wise not bad. - September 14, 2002 by Wes Hysell
Technical sleek and expensive looking - Best skin Iv seen for winamp yet. - September 14, 2002 by Sandman ...
This is simple THE BEST - I like this one because it is what it is! - September 14, 2002 by michael jordaan
absolutely wonderful - this skin is the hottest skin ive seen soo far for Winamp 3. I love the red. Keep up the good work!! - September 14, 2002 by Ghostshell ?
For a Clan.. but it's GREAT! - This skin might be a small wa3-promo for the clan ocrana (ocrana.de), but this is one of the best skins i've seen yet to come on wa3... there are so many features on this skin, and the coloring is quite amazing! I give 5 stars for this fancy handwork of Vorph of the Ocrana Clan! Excellent job I must say! - September 14, 2002 by Ed Car
Colors - It's a nice skin, but I think that when you change the colors, you should be able to change the screen color also, not just the outer part. - September 13, 2002 by Vokilos Slanikus
all of the skins - i tryed to download it but it wont go to the skin so i dont like it at all - September 13, 2002 by Justin Thompson
Bad Ass Skin! - This is an uberpimp skin that makes my insides want to scream w00t! The only improvement for this skin would be to add that rawking door to the playlist editor. - September 12, 2002 by jimmy tran
Kewlio - My favorite skin as well. Easy to use, nice animation and I love the color variations available. - September 11, 2002 by Thomas Ting
HELP ME, please.. - cool skin,but need yuor help.just dont know how this .wal extension skins work.usually its .wsz extension. help me please, what i should do... - September 11, 2002 by ho joseph
Only The Best - Outstanding, simply Outstanding! Almost GodLike! ...But definately a Class of it's own! so says the Vulcan Warrior... L8r... - September 11, 2002 by frostern frostern
cool - like it make some more - September 11, 2002 by E R
The reason for the missing star - Its nice simple..but godamn i dunnoe i have downloaded the skin too but the skin can be improve to a better one anyway good try ... :} - September 11, 2002 by Brian Merwin
perfection ? - this is as close as a skin can come to perfection...and miss it... Its nice looking, with some cool futures like "gates".. I cant get the playlist to look like I want it to, but hey there.. it just got much better.. I recommend u all give it a try and c if u like it! :-) - September 11, 2002 by Arcane Slave
um..? - Where are the buttons to see the playlist etc?... Very nice animations, very neat gate. - September 10, 2002 by Schism X
Wow! - My favourite skin yet, usability and style rate highly with me. - September 10, 2002 by Don Johnson
Tastey - After painstakingly downloading all the skins for winamp3 and using them for a while, i have found this to be the most suited for me, everything is easy to find and logical. Everything you need is in there, and i love the screen that hide it, to avoid those accidental bump of the 'skip' button. The colour schemes make it suitable for any desktop. All in all, 5 star skin, and my top pick out of all Wa3 skins! - September 9, 2002 by Mayank Aggarwal
ocrana - good - September 9, 2002 by Mark Olaveson
Absolutely fascinating - it doesn't come much better than this! - September 9, 2002 by J C
Sweet as a nut. - It's beautiful and functional, and the only thing I want that it doesn't have is multiple colour schemes - a choice of red, green or blue glowing LEDs would be fantastic. Apart from that, the only thing holding this skin back from perfection are some of the buttons; the hotspots are slightly off for a few buttons (eg playlist close button). Otherwise - sweet mate. - September 9, 2002 by Emil Butiri
The BEST EVER!!! - I can't say enough good things about this skin! The buttons, colours, and display rock! I especially love the sliding gate thing. The greatest skin ever in my opinion! - September 9, 2002 by D p
blooding - its good - September 9, 2002 by Benjamin McKenzie
woo - Fantastic Animations... but the buttons need to be improved especially the close and minimize buttons on the playlist editor, video editor etc cos they are kinda hard to click on.. - September 8, 2002 by Sale Sale
Without a doubt the best skin around - Everything about it is just perfect, only reason I'm not using it atm is because I'm skinning myself ... great job man! - September 8, 2002 by Eric Su
Really cool skin - I love the winshade mode, though it would be nice to be able to turn off the pulsing music note XD Other than that, this skin perfectly compliments my background (of a red kawasaki ninja) ... Though, it would be cool to see other colors besides red as well :) like blue. - September 7, 2002 by Tim Hsu
SWEET! - this is an AWESOME skin. i love the gates and its so compact! dl this, the last skin you'll ever want (and need). - September 7, 2002 by Steve K
loving it loving it! - the best skin i have ever seen, maybe a different color theme would be apriciated.. but all around nice! - September 7, 2002 by Sami Mahonen
BEST SKIN EVER! - this is the best thing ive ever seen. thouse gates r wicked! next time do something with the playlist editor! thanx - September 7, 2002 by mark eltzroth
I love it - jeeeee - September 7, 2002 by Lazy Joe
too cool - please teach me how to do that....PLEASE!!!!! - September 7, 2002 by felix word
Beyond Cool - The best skin for the Third Amp yet!!! - September 6, 2002 by Michael McCann
BUUUU - Stupid skin:))) - September 6, 2002 by Jon P
Great Skin!!!! 5 Stars - This skin is by far the best I have I have encountered. Very easy to navigate is a plus. This setup is very simple not like some of the other skins where you need a manual just to find the play button. Nice job I give you five stars!!! http://artists.mp3s.com/artists/351/acidblue0.html Acid Hurricane - September 6, 2002 by Dawid P
se merese 6 estrellas - chico este skin esta muy bueno - September 6, 2002 by Barrie North
OH SNAP! - This Skin is the Shisnick. The f*cking format is awesome. The only thing wrong with it, is clicking out of it is kinda hard. But everything else is the sh*ts. Get it! - September 5, 2002 by D R
Best Skin - This is now my favorite skin. Nice gates. I've been looking everywhere for something small and cool looking. I've found it. - September 5, 2002 by Alfredo Hupiu
it is mine:)) - I would like to have it .))) - September 4, 2002 by Jay Hilton
mwhahaha - Its All nice and RED! Woot! - September 4, 2002 by Dan Riedler
Wow - Wow...Wow... you get the idea - September 4, 2002 by bill cosB
Awesome skin! - I love the fact that it is so compact and still functional, and the gate aspect is fun to fiddle with if you're bored. The only problem I have with it is that the numbers are hard to read without my face being right in front of the screen. I also think it would be cool if you could make one with blue lighting instead of red. This is definatly my favorite skin. :) - September 3, 2002 by Suzana Stefanovic
Very Nice - Goes great with my background and looks like a part of my Trillian Skin. Vorph, I would almost go as far as to say that you are brilliant. Mostly because I can't skin worth a Sh*t. - September 2, 2002 by john sames
*claps* - Very, very nice. The whole opening thing is cool, because it really doesn't look like winamp or anything. I don't know how that's good, but it's cool... Mind makin one in blue? - September 2, 2002 by Dimitri Maelstrom
Like It.... - I want to see how long it'll take before I get sick of the color red. Great skin! And I'm feelin' the simplicity of it all. - September 1, 2002 by Nar Sterking
A very cool skin - This was the second skin I downloaded and was pretty impressed with it's dark Bladerunner/Futuristic design. The animated buttons were a plus. It hasn't given me any tech problems yet so I do recommend it. I would have given it 5 stars, but I was left wanting more. (hint hint) - September 1, 2002 by Justin Nelson
Slayer! - This is a great skin, I actually had a lot of fun playing with all the moving parts and just figuring it out. Keep on making skins chief! - August 31, 2002 by Simon Larano
Eh - Well I would have to say its a gread skin the 3D and I guess flash is good. One thing its all mixed up it could be just winamp3 but its hard to find the play list and other options. It took me 5 minutes to figure out how to get the the play button. Other then simplicaty problems Gread Job keep up the good work. - August 30, 2002 by Ivan Drago
Just awesome - This is one of if not the BEST skin out there. Every well done. Even their website looks great. I was going to leave a response here about some things not working and find out that they were on top of it. All seems to work great now. Hope to see some more skins from you. - August 29, 2002 by Micah Rose
Large impact, little footprint - I don't even need to explain myself. It's the best skin I have along with act2scene3. Download it, its under 200kb! I put the playlist right under the main window, and the avs to the side of that, everything just meshes so nicely. - August 29, 2002 by andrew vampire
omfg - this is like the best skin i've ever seen, ever. i always used the default skin for lack of a good skin, but this skin owns. all it needs now is the playlist dropping off the main window like the thinger/eq...that would win.. - August 28, 2002 by Smyth Smithers
hey!! - are you gonna update this awesome skin? im waiting for the update :) - August 28, 2002 by Jesse Wilson
awsome - it has that awsomeness and coolness in it, with some sweetness sprinkled on top. and the red is just soooo sweet. i like how the eq. and thinger are tucker in like that. and it could transform. - August 28, 2002 by Jenel Khan
Nice... - very nice indeed! - August 28, 2002 by Eric Will
wow... - this is amazingly scary... i would be scared to know ANYONE who could do something amazing as this... wow... you gotta keep working mate. - August 27, 2002 by Yakoff gUton
Yeth, Yeth, Yeth - This is tha skin... Everyone should have this skin... Love the different colour themes too... would give it 10 stars if we could change the red text and vis components to other colours too??? Funky animation with the eq and thinger - August 27, 2002 by tonny schwarzmer
:-x - :-) - August 27, 2002 by Sca Arab
wow - It's really amazing!! ...and that "gate".. :) Great job! - August 27, 2002 by Joe Karim
Damn! - Amazing skin, defenately going to be on my desktop for a very long time. keep it up it's amazing!!!! - August 26, 2002 by sHon Dempsey
Killer. - This is a really good skin. Great use of animation and lighting effects. The design is great as well. YOU CAN SEE THE BUTTONS! Which is where most skins slack off. SMALLER IS NOT BETTER. Overall one of the best skins I've DLed for WA3. - August 26, 2002 by Przemek Marcinek
Ow Yeah !! I was looking 4 somethin like this !! - ... cant find the words ... amazingly well done ! it sure looks damn hot, small and easy to use as well, also the equaliser and the thinger are nicely integrated aaahh.. Orcana.. aaahh.. u bet I got ya on my desktop for a few months at least... How to beat this? .. think not :D - August 26, 2002 by Joe Casha
Awesome - This is a great skin. The only thing is that the playlist doesn't pop out of the main window too, keeping it from getting 5 stars. Other than that this is the best winamp skin I have seen yet. ^.^ keep up the good work - August 25, 2002 by Wizler Daeminator
It looks good in the picture, but... - Mine doesn't work! It keeps bitchin' that a component is missing. anyone have any suggestions? - August 25, 2002 by Sean Slattery
Oh yeah, it's slammin' - Stylish customization and smooth transitions coupled with fierce color themes is why Orcana deserves a 5. Mind you, it's not my personal favorite cuz I'm a simple gurl. But vorph deserves the applause... - August 25, 2002 by Matthew Laclair
phat - this ones cool my only thing is were is the play list. if it had that it would have been 5 star - August 25, 2002 by Jesse Cherbak
Wonderfull - I love the way you can open and shut the main window... marvolus - August 25, 2002 by dan m
Kicks Ass - Good Size, color, animations, light effects, and button layout. I also like the proper spectrum analyzer and presence of the bitrate info...many of the winamp3 skins don't have either. - August 25, 2002 by c settles
Best skin ever! - This skin... ahhh... i haven't seen anything like it! It's just soooo perfect! Thnx m8! - August 24, 2002 by stijn swinnen
Absolutely Stunning - At last..someone who got what Winamp3 is supposed to be about. Bigger is NOT always better. This skin is sooo tight. Very impressive - August 24, 2002 by Carl Calderon
Very small and sweet - very small and sweet...coolest animations yet and all the functions are there...me likes! - August 23, 2002 by Jon Ma
Well done - An attractive skin, well designed layout, and neat interactive components make this skin one of the greats. All functionality is easily accessible, yet keeps everything out of the way when not needed, allowing you to maintain your precious desktop space. - August 23, 2002 by Jeremy Prince
Freaking Great - I really love this skin. It is up to date w/ programmable tech and deserves every star. - August 23, 2002 by Eric Shenk
The best yet - beats the pantz off all the others-some other skins crash winamp when you quit winamp in xp but this on is awsome and it doesnt crash. Very Very good job and snaps to vorph of ocrana. Keep up the god like skin work. - August 22, 2002 by Mark DeFalco
Visually, very good - As of writing this, this skin is probably the best I've seen in terms of the animations it delivers. It seems to suffer though, from the bug that a lot of winamp skins suffer from, that being that everything is too small! I don't wear glasses, but I'll need to if I want to read the words on this thing (not to single this skin out, because a lot of them have this problem too). A windowshade mode would also be nice, as well as seeing the song name and bitrate etc at the same time (as opposed to having to toggle between them). All in all though, It's what you want in any skin, a beautiful piece of eye candy for your desktop. If the functionality and readibility improved a little, this could easily be my #1. Keep up the great work! - August 21, 2002 by Mike freeman
well its simple GOOD!!!! - Well so far out of all the skins ive seen this has to be one of the best out there . All the new bits and bobs about Win Amp 3 are easy to control with this skin . Also its clear to see what you are doing unlike some where u have to sit there and stare at the screen for a good half hour . Anyways i hope you keep on making more , keep up the good job . - August 21, 2002 by Dave Shapel