>
Skins

>
Entertainment
Nokia 5800 XpressMusic
Play.Share.Touch.
Play.Share.Touch.
The new Nokia 5800 XpressMusic is a touchscreen sensation that feels right, looks great, and sounds even better.The Nokia 5800 XpressMusic offers a complete music experience and features a number of music and entertainment essentials, including a graphic equalizer, 8GB memory for up to 6000 tracks, support for all main digital music formats, and a 3.5mm jack. Built-in surround sound stereo speakers offer the industry's most powerful sound.Check it out and download it now...
Download skin
| | | |
| --- | --- | --- |
| February 18, 2009 by Nokia XpressMusic | 410802 downloads | |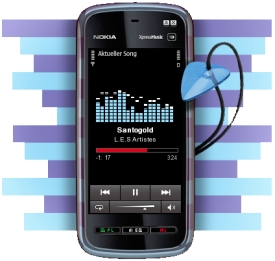 Staff review
nokia skin
nice design that fits this cool phone. give it a try!with smooth skin edges this would have came out even better.
Comments
Good - ..... - May 19, 2009 by teleklove
how to - install this program - March 24, 2009 by emin celen
cool.... - By looking at pic...the theme looks cool. I am new here so can some one tell me how to install the theme?Thanks in advance. - March 20, 2009 by Amol Bagde
Lots of nice features - Overall looks nice and buttons are easy to use, but the top and bottom of the skin are too jagged...use this tutorial to fix it! http://www.newtutorials.com/creating-smooth-edges-in-photoshop.htm Also, just can't get used to the purple and blue graphic on the left and right; spoils the clean job you did on the phone itself. Otherwise very nice. - February 20, 2009 by Michael Ludwig