>
Skins

>
Cool Devices
Nokia 5800 Xpress Music
Now your touch will create music. Be the world's first Mobile Jockey with Nokia 5800 XpressMusic
Now your touch will create music. Be the world's first Mobile Jockey with Nokia 5800 XpressMusic
The Nokia 5800 Winamp skin is for all you budding musicians out there! You'll soon be wowing friends and family with your musical prowess. The secret is this - your Winamp skin can now turn into a piano, a guitar or even a drum kit and you can play along with all your favourite songs. All you need is a touch of your finger. Ease of use and an exciting user interface make this a must-have. So get ready to flaunt your musical talents and have loads of fun while you do it. This is definitely your complete music experience!Check it out and download it.
Download skin
| | | |
| --- | --- | --- |
| June 23, 2009 by prixa | 546037 downloads | |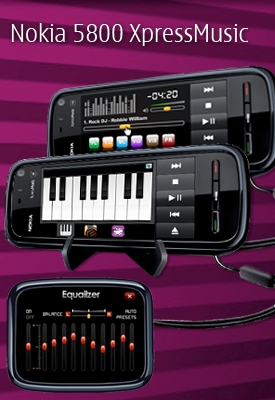 Staff review
This skin makes music!
This skin features somthing not seen in a skin till now:A piano, guitar and drum mode. So u can play the piano along with your current song! Check it out.
Comments
Very nice! - February 9, 2011 by Erwin Van Der Linder
love at first site - purple my favorite color, so i love this skin... - September 6, 2009 by roul.smita
Piano, guitar, and drums don't work! ;[ - When I click on one of those buttons that are suppose to show a piano, etc, they DON'T. ;[ They show a blank white box! ;[ Nice skin through. . . - July 11, 2009 by redwesley
Clean Interface! - I really like the visualizations, best eye candy in a while! - July 5, 2009 by sharkysharksden
Great! - Really cool one, i liked a lot. - July 2, 2009 by Shiva Kumar
Nice Skin! - Nice Skin! - July 2, 2009 by Shashikiran Reddy
jack - it is so cooooooooooooooooooooooooooooooool - June 28, 2009 by broken_heart_dude_5
hk - gh - June 26, 2009 by nirob9
so coooolllll !!!! - Yo....i was online this night and just saw this new skin getting featured out on the winamp site. I read the staff review and then just downloaded to check it out. And give this baby a 4 star...truly rocking skin. I was playing the Piano (what ever little I know)on the skin while listening to Laila. Now I want to check out this phone, hey somebody can tell me how much this baby cost? Hope they have good price for this in Mumbai. - June 25, 2009 by zumani