>
Skins

>
Consumption
Nokia 3200 Winamp5 Skin
Customize it!
Customize it!
Check out the new Nokia 3200 skin build on Winamp 5.03. The actual Nokia 3200 phone let?s you design and display your own cut-out covers on your phone. We have replicated this with a 3D animation that removes the old faceplate and updates the skin with a new one. Pick from 5 different faceplate modes. Just like the real phone you can chat with your buddies. Click the Buddy Icon on the display to launch AIM Express right from the skin (Turn off any pop-up blockers). Built for Winamp by Petrol Designs.
Download skin
| | | |
| --- | --- | --- |
| April 14, 2004 by Nokia 3200 | 518212 downloads | |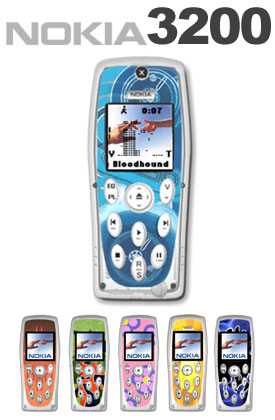 Staff review
Nokia is back and cooler than ever.
Nokia phones are innovative and so are their skins. Check out the IM feature, a first for a Winamp skin.
Comments
??? - Let me ask you how do you actually change the colour themes or do you get picked one randomly??? - November 10, 2007 by Kieran Lewis
Yeah Good. - Suprisingly hard to pull this skin off, but congrats. Nice theme, nice phone, what I like is the buttons are easy to find, thats why I downloaded it. - June 21, 2006 by A W
I like it... - I like it, but for people who aren't on the toppiest of technology (-coughs- me -coughs-) The sides and stuff look kinda pixely... But I'm not sure if that's your fault. Just a nitpick. The IM feature is nifty, but I found it easier just to sign on my account. =) Otherwise, good skin. - March 21, 2005 by Katana Akaissei
Neat Idea - Very cool. ^_^ - January 31, 2005 by Lindsey Faithe
Nokia 3200 Winamp5 Skin - u suck! - January 27, 2005 by Gwen Clutario
Awesome! - This Skin is Perfect! One question though, where is the "Yellow" wallpaper that's pictured in the preview? - January 9, 2005 by L BellShock
wrar - it's cool - June 4, 2004 by camilla iversen
cool - I'm nokia's fan, and this is the best skin ever... - May 28, 2004 by Pavle Obradovic
oh no - this is sooo bad! very ugly display, not creative in any way...one star for the fact that it'S a modern skin - May 23, 2004 by i rontz
1 - //////??? ??? ? ???? ?? ???????? ??????. - May 13, 2004 by ����� �
pri - 11 - May 2, 2004 by ���� prod
not what i expected - this skin is good and all but has one major downfall...what about the people who don't have desktop alpha? ive tried it without da and the case animations look like crap. also i think that the standardframe doesn't really fit very well...just stuck on and a region added to it. still a good skin tho, not taking n e thing away from nokia at all. - April 26, 2004 by Matt Adams
Repeat and Shuffle buttons - I think this skin has a bug on the repeat and shuffle buttons because they don`t have functionality. Thanks . - April 22, 2004 by Eduardo Dallana
Pretty Darn Cool! - Not my cup of tea, but still a welldone job :) - April 17, 2004 by Peter Manning