>
Skins

>
Nature
Nite Lite
Starrey night oh boy
Starrey night oh boy
Here's a gift to my girlfriend, I thought it was neat so I decided for some critizisms. I am very aware the balance and a few other small things are missing, ususally I do them but I left them out because I felt they weren't too important, and they would crowd things up, as I couldn't think of good way to slip them in. Critique appriciated.
Download skin
| | | |
| --- | --- | --- |
| December 12, 2005 by Star Kirby | 315995 downloads | |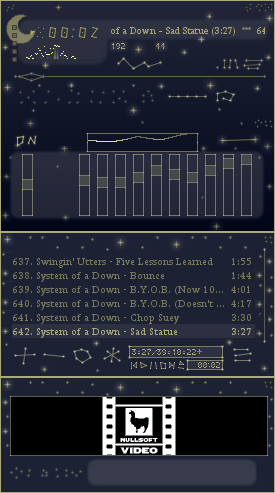 Staff review
Stary stary night...
Good, I like, it's original, very neat.
Comments
..fairy - Great idea! It's a good example about the less sometime the more.. - August 7, 2009 by CLA r
Neat! - It's a really cool and original skin - I've been looking for some more artsy ones that don't look slick or metallic, and this one is delightful! Connecting the stars to make constellations when you click on a button was a great touch! Your girlfriend is a lucky lady to receive such a thoughtful gift! - June 19, 2008 by Molly Ramsey
WOW! - This looks very cool.. but one thing I don't like are the buttons (play, stop etc.) that are disguised as stars. But it isn't so bad.- Milla Valkeasuo, 13.4.08 - April 14, 2008 by Milla Valkeasuo
5 stars - It's very original and cute! - February 13, 2007 by B G
luna lunera - esta bunisima - October 8, 2006 by Rodo Nico
starry starry night - An excellent job! I like it so much. - October 1, 2006 by Cherie Ye
Stylish - Clever combination of a nature theme with architectural line-style and technical font. AND it's uncluttered and non-distracting. Very good idea - April 27, 2006 by Eva Benz
Not Quite There.. - I think that the intention of your scheme is promising, but the result seems to lack the magic to it. Star, constellations, city lights, and the moon.. humans in different cultures have this fascination with night lights. It would be safe to assume that most people automatically relate these themes to sensations of myth, or maybe something pleasant. Perhaps that's what you're aiming at? Night-light magic? Comparing the intention with the result, I feel that the result is a bit "dull". Yes, star and constellations and the sky.. they're supposed to be atmosphere-ish, yielding to certain moods while not being overly controlling, but what are the strengths in this piece other than the symbolic representation of the moon and stars? Where is your emphasis? The moon in the upper left corner, being the largest and brightest object in this piece? What have you done to increase the usability of the design while making a statement about your idea? Is it the color composition strong? Although the dim color is easy for the eye, it is pale. Overall colors blend in too much. There isn't enough contrast to inform users which spot is of primary importance (usability) and which is of secondary (aesthetics). You have to make up your mind--that in here function comes first and should be emphasized by the design. And since this piece is 2D--flat--colors should be considered even more. Sorry, this gets a little long. But overall I feel that you're not doing enough to make a statement about this theme. Intention alone doesn't pull off.. Best & keep makin'! The following guideline should be useful.. at least it's a good review for art/design peoples.. http://faculty.harker.org/margaretm/Hero%20Project/curriculum/Art%20critique.html - April 6, 2006 by Andi Wong
I like your name and I like your style - First of all, due to some sort of language intuition I've developed during my internet life, I would have guessed a name such as "Star Kirby" would be the key whose value counterpart (pardon the dorky analogy) would be something I'd like. Though my discovery of your skin didn't go in that order, I have to say, well done! (and nice playlist, hehehe, that's only my favorite album of all time)... I love how the background is nearly but not quite black, and the stars are nearly but not quite yellow or white, it kind of tones down the shocking contrast that would have resulted otherwise. Some features were hard to pick out at first were it not for hovering and waiting for the tip panels to pop up, but after I've seen your logic behind the music control buttons and the volume bar, I take back the negative confusion and replace it with positive congrats to your clever interactive art. The conceptual art is just too cool! Great job. - January 28, 2006 by Antonietta Kies
Nice work - This is very original. Cute and pretty. nice work! =) - January 23, 2006 by Raquel Mazur
cute design - Nice images, buttons interesting on the bottom of the playlist editor but unless you are a diehard winamp user you won't know what they are for until you use them... Color scheme makes the words in the playlist editor a little difficult to see but not impossible, same comment goes for the font used... Babs - January 18, 2006 by BubblyBabs ***
most easing skin ever - For once when I look at my player I do not need to concentrate on navigating a gaudy skin! All the little touches are goregous and I have it installed on both of my PCs! GOOD JOB - January 15, 2006 by Lucy Gray
Now that is original! - Great idea. This one is worth keeping. - December 18, 2005 by Jon Brook
Nice start - This is a nice skin... I'd like to see less pixelation in doublesize mode. - December 17, 2005 by Aharon Varady
*****great***** - genial mascara es una mescla de estrellas y espacio en la cual tiene una gran animacion - December 16, 2005 by Ivan Palacios
My favorite classic skin for winamp - A damned very good job, I LOVEIT, I'll wait the next ;-) see you soon - December 15, 2005 by Alfio Budel