>
Skins

>
Animated
Neese II
Lodoss War
Version 1.2 (02/03/2004)
Espa?ol:
Uno de mis dibujos preferidos del libro de ilustraciones de Lodoss llamado ANAM.
Dedicado a mis amigos de #lodoss

English:
One of my favourite pictures of the ANAM artbook.
Dedicated to my friends of #lodoss :)
Download skin
| | | |
| --- | --- | --- |
| November 27, 2003 by Dragon Mycen | 159071 downloads | |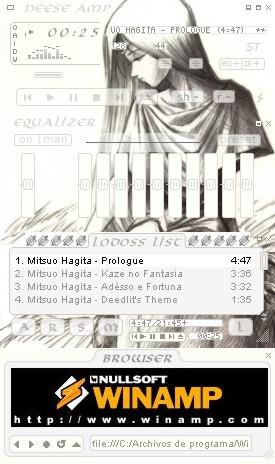 Staff review
Approved.
Complete anime skin for Winamp 5.
Comments
Omg - Great skin! - April 14, 2009 by Alisson Gomes
!!!WOW!!! - It's so beautiful. I love it so I decided to have got it. It's great for romantic girl in love. For example for me... ;)) - August 2, 2006 by Beata Ciesielska
Nice - Thats a cool skin...But its really light though. - February 10, 2006 by mai valentine
wow - oh my god, love this drawing. Mind if send me one plz ? - December 26, 2005 by Shirley Pham
All good - all include, looks good nice girl all good - February 3, 2005 by Tobias Lemser
mario - I like a lot this picture of a girl. It's beautiful - January 2, 2005 by Marius Sabutis
Cool - hope to see more - December 3, 2004 by David Meloon
Amazing - I love this skin. It is exceptionally beautiful and I love how the colors bring out the artwork. I hope to see something equally as beautiful in the future. - January 12, 2004 by Z. Codes
like the color - I really like the way you made the buttons. all in the same color but not plain. I love it!!! - December 1, 2003 by Kyrddis M.