>
Skins

>
Stylish
Nebular
Featured Skin, February 20, 2003.
One year of skinning.
My submission for the Hardwaregeeks.com 2002 Skinning Contest
Download skin
| | | |
| --- | --- | --- |
| October 1, 2003 by D Robinson | 558055 downloads | |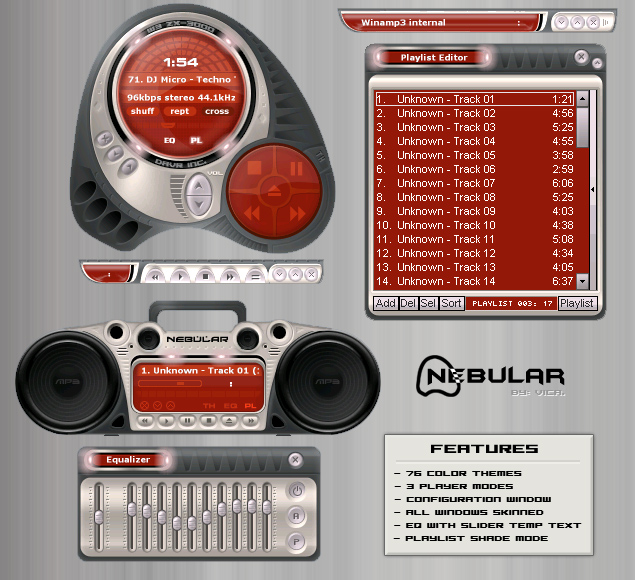 Staff review
Nice, very nice.
Clean layout, very good studio components. Overall, nice piece of art.
Comments
Good... nothing extraordinaire ! - The skin is definitely good.. scores for clarity.. u find things where they OUGHT to hv been ! Was a bit disappointed to c tht the PL n EQ arent docked with the main window.. - May 24, 2006 by Abhinav Kishore
it wont let me download it - why wont it let me download it?it says windows cannot acess the specified device, path, or file. you may not have the appropriate permisions to access the item.what's up with that? - October 27, 2003 by jiy chao
Really Great - I've used this one for months. I love the kickin boom box. That one is awesome. Great work. - October 4, 2003 by Megan Noble
nice, but one annoying problem - it's a great skin, looks great, nice color options. only problem is that when i play a cd, it takes my top listed playlist and changes all the files in it to those of the cd. so i have to reload the playlist constantly. the only solution i found was to make a blank playlist titled "A", that seems to work for now. but yeah nice skin - September 17, 2003 by colin odneal
Good - It's good! - June 23, 2003 by B Kim
Great!! - Cool skin! And these hell lot of color themes... -Amazing! There's nothin' more to say! Yeah!! - April 21, 2003 by Michael Arnold
SUHWEET!!!!!!! - I never thought this skin would be any good. I downloaded it and was just like, what a piece of crap if I had ever seen anything, but man, check out the boombox ws mode. Talk about good skin, keep it goin, cuz I'm hopin that you come out with more like this. - April 8, 2003 by C H
it s very good - i thank u for that - April 1, 2003 by renato momo
Niiice - Awesome skin. Good and compact. Looks great too. - April 1, 2003 by Reilley Adamson
Great - This skin is so good! It's even easier to use than the default winamp3. Thanks for such a wonderful skin! (By the way, it looks really cool with the blue/silver color scheme.) - March 31, 2003 by Julia Gulia
THE BEST!!!!!!!!!!!!!!!!!!!!!!!!!!!!!!!!!! - Well, maybe not as good as MMD3 but you at least deserved to win that contest! This is a great skin but I have one comment:MAKE SOME MORE!!! - March 29, 2003 by Joejoe Moralis
match met... - this is still a great skin, ive been using this since it first came out...finally this is something to rival mmd3...i wuz getting pissed cuz no one was making any good ones - March 16, 2003 by wesley krueger
This skin is awesome - I love this skin. Great Job! I love the PS2 color too. - March 16, 2003 by Dan Block
help me - this skin looks good!! but i don't know how to install it onto my winamp player, pls help me!! the download file type is *.wal, what should i do with this file type? - March 4, 2003 by luke shi
Good Stuff...... - Very pleased with this skin. Done clean and I haven't had any problems with it yet. Nicely done. - March 3, 2003 by Phoenix Lateralus
cool dude - yo i lie to say is the coolest thing on earth you should get son - March 1, 2003 by ronny barzola
Cool cool cool... - The boombox woofer action great fun! Very nice graphics! - February 23, 2003 by Bengt Strom
basma - great - February 23, 2003 by basma safty
uhm.. - First of all: I don't like the boombox mode, it's wasted space. Remote mode is too poor, but good the "toogle" button. Good colors. Not more than 3 stars. - February 9, 2003 by Stefano Bagnatica
Excellent skin - (the title says it all) - February 8, 2003 by Prashanth Srinivasan
Sweet - This is next to perfect.One bug i found though is with the winshade mode of the playlist editor. When stretched it distorts the parabolic curve on the left edge. NICE WORK, hope to see more skins made by you!!! - February 8, 2003 by Jon Carrier
My my my - Oh yeah, this skin is too sweet! Thanks for all the attention to detail. MMD3 now has some worthy competition. This skin will be my favorite for a while... The endless beautiful color choices with the fully functional boom box mode is truly inspired. - February 8, 2003 by c settles
I'm Impressed... - What can I say? I had ALMOST given up on trying to find a decent skin for WinAmp 3, but then yours came along. I am very impressed and would reccomend this skin to anyone. I am not sure I like the BoomBox Mode, but that's just me. I did, however, love your color themes! Great job. Anyway, thankyou for gracing us with your talent and keep skinning (I will certainly be the first in line to download your next skin)! ~ Just a Chic ~ - February 7, 2003 by Sara Campos
Great! - Possible the best skin released this year (to date) Great work vica. =) - February 7, 2003 by Robouk !
Very nice. - Clean and gorgeous. I like the vis best! Something is wrong though, I think. In your screenshot it looks like the thing to the left of the volume buttons reacts with an indicator of what the volume is set to, but on my computer there is no indicator. Just the gray boxes, and they don't move or change when I adjust the volume. - February 7, 2003 by BriAnna Shultz
Nice... - Very nice. - February 7, 2003 by ake system