>
Skins

>
Entertainment
National Treasure Winamp5 Skin
What a gem!
What a gem!
National Treasure Winamp 5.05 skin is a mystery. All his life, Benjamin Franklin Gates (Nicolas Cage) has been searching for a treasure no one believed existed: amassed through the ages, moved across continents, to become the greatest treasure the world has ever known. Hidden by our Founding Fathers, they left clues to the treasure's location right before our eyes...Be sure to check out the 3d animations on the main screen. See it in theatres November 19th 2004. User interface and coding by Petrol Designs.
Download skin
| | | |
| --- | --- | --- |
| November 4, 2004 by National Treasure | 444942 downloads | |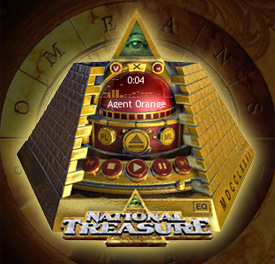 Staff review
I knew thought that Winamp was a National Treasure.
Maybe Nick will unearth a few llamas in the movie.
Comments
review - that is it? it's original skin. respekt to creator. - December 19, 2004 by Bitronix [����]
--> Nice I'll see this movie - November 13, 2004 by Bobby Field
i guess there went something wrong here :( - ... i downloaded, and if i open it i get the godsend winamp skin... 4 stars because the staff ratet like this and i don't want to rate it better/worse before i tested it! - November 6, 2004 by i rontz
cool.... - i have the god send skin now, but was it that one i mention to download? Maybe i can download this skin too one day, until then 4 stars for the other one. - November 6, 2004 by CarlosP Interactive