>
Skins

>
Computer/OS
MXP Rainbow Flavour
Break free of XP's colours...
Break free of XP's colours...
All the colours of the rainbow (16 new colours plus default silver) to match my original (M)XP Blue Flavour skin. Fits perfectly into default Windows XP title bars when maximised. Also now includes VOLUME SLIDER for those people without scrollers on their mouse. HOW TO CHANGE COLOR THEMES: In Winamp's preferences (Ctrl-P) there is a section titled "Color Themes"... use this to switch between the themes.
Download skin
| | | |
| --- | --- | --- |
| January 7, 2003 by Michael Soutar | 158746 downloads | |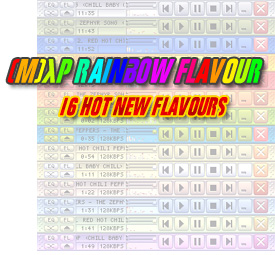 Staff review
The last XP skin.
No more are needed, all the colors are covered here.
Comments
Pretty thin and usefull - I love it being so thin, so it won't full all my desktop, what I hate. In add, I can choose among a lot of colors depending on my desktop theme. it can also be "invisible". Mostly I don't see the player, I just use Hotkeys. - March 20, 2009 by Nany Thery
Wish it had royale - Wish it had Royale - August 23, 2006 by Tim Gerety
Excellent! - Refreshingly easy on the eyes. :) - August 6, 2006 by Delirious Hologram
damn good skin - This skin is good for all my desktop appearances. Keep up the good job Michael, and add more colors ;) - November 15, 2005 by Deividas Gustys
Awesome!!! - It's cool but I think it needs a few more color schemes, like a bright magenta purple and other bright colors of the pastels. - June 15, 2005 by JoJo The Pez Girl
Hmm.. how.. - .. do I change the colors ? - February 15, 2005 by N E
Great, simple, amazing - Need to say more ? One of the best skins available for those who like windshade mode....like myself. - April 28, 2004 by Artur Nogueira
Everything you could need in one tiny little bar. - Wow. Incredible skin for XP. Has all the functionality of a normal sized skin, but will fit nicely anywhere on your screen. For those of you who like winshades, this is definitely worth a try. - October 20, 2003 by Joe Schmoe
lovin it - COLORS are great! love the compact size as well! very very nice - May 11, 2003 by Amy Slichter
Buggy? - Is It buggy? I have been using this skin for a long time because of it's simplicity and colors but Winamp constantly gets locked up for variable reasons. Could it be my computer? Winamp? or this skin? Time to change skins for starters I guess. - May 8, 2003 by Jennifer Bowers
In a word, buggy.. - ..and I don't mean like a baby buggy. Crashes winamp when I try to use the skin preferences. Nice art work though. - April 22, 2003 by Michael Hodgins
Just perfect! - I really LOVE this skin!Its everything you really need to have. Great colors too I love the pastel Purple. Its a very simple skin and I like that I can fit it right above my Start button:-) - January 10, 2003 by Michelle Keiper
de - Nyon - November 21, 2002 by Ayrton Senna
confused - how do you change the colors??i am so confused - November 11, 2002 by Julia Ingall
Great! - You have to make sure that the windows are maximized for the MXP to fit perfectly, but I think it would look better without the bumps at the edges to make it blend in all the way. - November 4, 2002 by P C
Finally! No more skin switching! - Now we have those colour themes that we all wanted for this almost perfect skin. It's the perfect skin for those who use their computer and like having Winamp visible somewhere. Power to MXP, your flavours are wonderful! There's just one problem though. The Blue XP theme doesn't match. - October 31, 2002 by Aquatakat the Kat
Nice 1! - Now i have one always on top on the middle of my window! And it almost melts away with my other windows! Great work - October 30, 2002 by Rick Hogervorst
errr... - I can't seem to get it to work. I guess it's because I was trying to fix something else and messed up something to do with the skins. - October 18, 2002 by Kyra Star